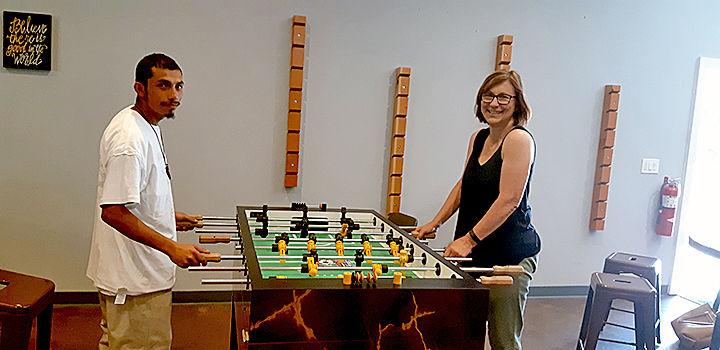 Ten years in the making, Youth Hope is a 501c3 independent nonprofit organization providing a safe space drop in center and group housing opportunities for homeless youth that range from 14-24 years old.  The donated building they are currently in comes equipped with classroom space, a computer lab, a basketball court, food pantry, clothing room and a reading area.  In 2018, the organization served 900 at risk, homeless, runaway and troubled youth with positive interactions and activities that provide hope and opportunity for a safe and healthy environment.   The founder, Heide Meyer, openly discloses that she is in awe of how her vision became reality and admits jokingly "All of this was really never supposed to happen."
Mrs. Meyer found her calling when she joined her teenage son in an outreach church mission trip focused on homeless services in the San Francisco area.   "I was challenging myself and trying to work through some closed minded judgements I had about homeless people in my personal life", said Meyer.   The preconceived judgements that she and many of us have included the belief system that all homeless people are mentally ill or on drugs.  Her theory started to be disproved as she observed many young people affected by homelessness due to dysfunctional family situations out of their control.  She observed a large number of young homeless people in need and desperation during this missions' trip and stated, "God put it in my heart that I needed to start doing more in the area of youth.  Kids need someone to love them, believe in them and say you can do this," continued Meyer.
Youth Hope has evolved and been housed in several different locations since their important inception in 2019.  Locations ranged from a basement location at a Redlands church, Sylvan Park and now a generous space in which many volunteers have donated electrical and construction type services to get the building in condition.  
The founders' reflective and biggest lesson during this 10 year journey is as follows, "We should not judge people, we should get to know them and hear their story.  Often what they have lived through and circumstances beyond their control is how they have landed where they are."      
When asked to share a success story of Youth Hope's work, Meyer recalled  a young 13 year old girl who was a product of her environment and ended up homeless, couch surfing and in need.  She recalls "Though she would attend Youth Hope services, she would not tell me her name for a year."  With a drug addicted mother and a homeless father, the young girl had limited options and it took a long time to build a trusting relationship with her.  "One day, she told me she was interested in joining the circus so I got her involved with the Redlands YMCA.  I also helped her get back into school where she started to thrive, graduated from Orangewood High School as a valedictorian and went on to Crafton for an Associates' Degree.  She is now studying at UC Berkeley and stays in touch with me often. "She's like my kid, in fact, all of these kids are like my own," said the passionate founder.       
Youth Hope
For more information on how to get involved, donate or volunteer -visit www.youthhope.org or call (909) 793-2345.
Youth Hope will host a "Day in the Park Car Show from 8 a.m. to 3 p.m. Saturday, Sept. 7 at Sylvan Park 601 North University St Redlands.