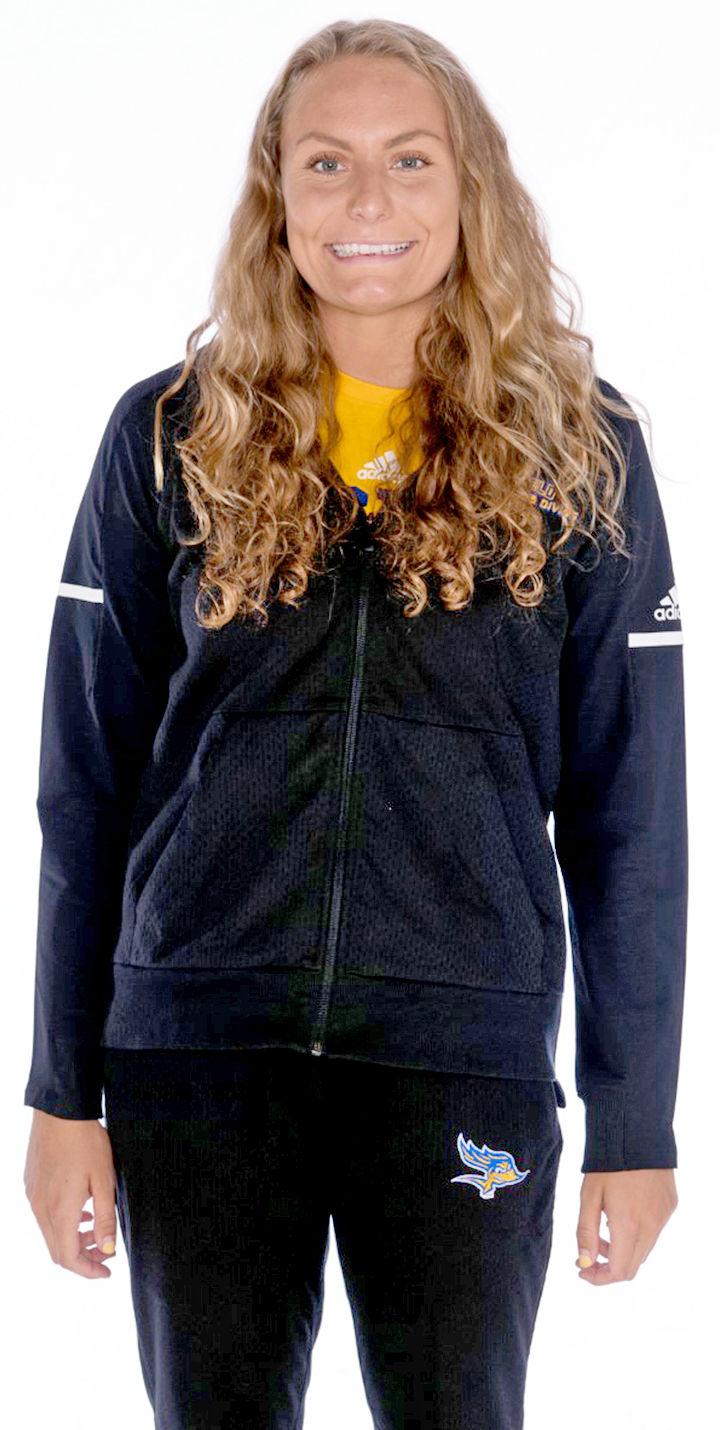 SPORT NOTES: D'Arcy wins WAC Swimmer of the Year … Terrier golfers Hopkin & Hartling Bros. shine … Norman-Thomas sizzles at early-season invitational … ACA, Citrus Valley softball girls ranked.
Chase Dabbs' run-scoring single tied the score in Redlands East Valley's Citrus Belt League baseball opener at Yucaipa, but the Thunderbirds scored in the last inning to pull off a 2-1 win.
Dabbs, who surrendered just two hits over six innings, and Yucaipa's Bradley Heacock battled into the seventh inning in their mound duel.
Get set for a highly-competitive CBL race this season, especially considering that all six teams — Citrus Valley (8-2), Cajon (6-3), Redlands (5-3), Rialto Carter (4-3) and REV (5-3-1) were all over .500 heading into a full-league schedule this week.
COLLEGE SWIMMING
At the Western Athletic Conference championships in Houston last week, Autumn D'Arcy emerged with the following season totals: A total of 25 NCAA Division 1 first place finishes, a Cal State Bakersfield record, three-time WAC Swimmer of the Week honors, plus WAC titles in the 200-IM, 100 and 200-fly, plus a leg of the 4 x 100 freestyle relay.
D'Arcy, a former CIF-Southern Section champion at Redlands East Valley High School, wound up as the highest-scoring swimmer at the meet. She'll compete at this year's U.S. Olympic Trials (June 21-28).
Her sophomore season nearly complete, D'Arcy has 45 career individual wins and should wind up with the school record of 59 sometime next season.
D'Arcy will swim at the March 11 National Invitational Championships.
BOYS PREP GOLF
Combining to shoot 198 at Victoria Golf Club in Riverside, Redlands High School's 16-shot win over Riverside Poly included rounds of 36 and 37 by brothers Cameron and Brendan Hartling.
At the Riverside Challenge Cup on March 2, Kamron Hopson's 75 stood tied for first place, the Terriers taking sixth place in the team standings.
COLLEGE BASEBALL
Catcher Michael Carpentier, who spent his freshman season at Citrus Valley High School before transferring to Yucaipa for his remaining years, left Arizona State and has wound up on the roster at California Baptist University-Riverside for the 2020 season.
CBU is now a transitioning NCAA Division 1 program.
The Lancers have a few Citrus Belt League players on their roster besides Carpentier, whose former Yucaipa High teammates — infielder Joseph Lomeli and outfielder Julian Alvarez — are CBU's squad. That trio was part of Yucaipa's CIF Division 2 championship in 2018.
Redlands East Valley products Damon Keith and Ryan Silva are also on CBU's roster.
The Lancers were off to a 6-5 start this season.
Carpentier, incidentally, was a 30th round draft pick by Tampa Bay last spring, choosing instead to play collegiately. He originally committed to Arizona State but, according to reports, left Tempe last year for CBU.
PREP TRACK & FIELD
Some high notes from early this season:
Citrus Valley — It's always useful to get into an early season invitational, like Murrieta Valley's Saddle-Up.
There were lots of good numbers — a 48.94 in the girls' 4 x 100, second place finish. Ciena Norman-Thomas, a standout in her early years, anchored that 48.94 clocking, won the open 400 in 57.16 and took second in the 200 (25.56).
Redlands — Citrus Belt League champion 800-meter champion Chelsey Romo hit the 2:24 mark in the Lady Terriers' dual meet against Beaumont, which will enter the CBL this fall. She added a win in the 1600.
Beaumont swept both Redlands varsity programs in team scoring.
Kevin Character's triple jump (44-3 ½), plus a 100-meter win from Lamar Ashley and hurdler Marcus Marshall, the Terriers only real highlight wins from the boys' side.
Redlands East Valley — A couple takeaways from REV's non-league dual against San Bernardino:
Boys: Keep an eye on sophomore sprinter Felix Espericuata, who won the 100 (12.1) and 200 (23.83).
Girls: Freshman sprinter Maylin Milds not only scored in the 100 and 200, but anchored the 4 x 400 in the 54-second range.
GIRLS PREP SOFTBALL
Will it be Citrus Valley (11-3) squaring off against Yucaipa (9-2) in this year's Citrus Belt League chase? Or will Redlands (5-3) and Cajon (6-6) swing into contention?
Chased by Redlands East Valley (0-5) and Rialto Carter (1-4) — all records coming in non-league play — the CBL schedule yet to start.
Yucaipa is ranked No. 1 in CIF Division 2 poll.
Citrus Valley is No. 2 in Division 4 poll.