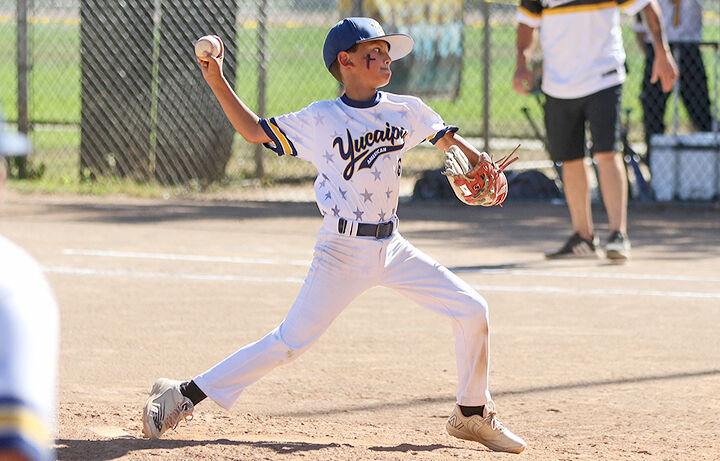 ----Last Sunday I rose like Lazarus after testing negative for COVID-19. Clean bill of health in hand, I covered a Little League Baseball majors' game between Yucaipa American and Tri-Valley of Yucca Valley.
Tri-Valley prevailed 8-5 to win the District 58 title.
Whenever I watch such a game, I'm momentarily transported to my youth. At age 12 I played third base for the Seals of the San Bruno Midget League.
We used wood bats back then and I flashed a Don Mossi autograph glove. Mossi had thick eyebrows, a long neck, and ears resembling satellite dishes, but he won 101 major league games.
Back in the late 1960s, our parents didn't automatically attend all the games and they did not cheer. Not like the Yucaipa American mom who chanted, "We don't want a burger, we don't want a Coke, we want a homer, and that's no joke!"
There were also no pitch counts back in the day. Managers didn't scurry over to the scorekeeper between every inning to check on the number of pitches thrown. They didn't care.
We had a kid named Steve Kane and I think he pitched every inning of every game. If he had fallen off his bike and broken his arm, I don't know what we would have done.
When Tri-Valley secured its victory against Yucaipa American, the fans poured out of the stands and a team photo was taken. Parents held cell phones aloft and snapped photos.
That didn't happen in the 1960s either — cell phones hadn't been invented.
Kistner's new post
Robert Kistner has been hired as the new football coach at Victor Valley High in Victorville. Kistner was best known as the coach at Hesperia and Oak Hills high schools. But before that, he coached at Bloomington.
An interesting thing is that after Kistner left Bloomington, a guy who had coached at Blythe was hired to replace him. I was at The Sun back then and a reader tipped me off that the guy's resume was as phony as a $3 bill.
After my inquiry, Kistner's successor was dismissed from the job without coaching a game and the iconic Don Markham was named as the coach. It was Markham's second tenure as the Bruin coach after his 1994 team set the then-national record of 880 points scored in one season. Bloomington should have picked Markham in the first place.
Batter up
Registration for Redlands Baseball for Youth (ages 4-14) fall baseball and softball has begun. See www.RBY.org.
Bulldogs No. 21
The University of Redlands football team is 21st in the College Football Network Division III Pre-Season Top 25 rankings.
The Bulldogs, coached by Jim Good, are coming off a Southern California Intercollegiate Athletic Conference title and an NCAA Division III playoff appearance.
They lose SCIAC Offensive Athlete of the Year Nathan Martinez to graduation, but return some top players including safety Scott Tinsley from Santa Cruz County.
Tinsley in 2021 was a second team All-West Region player.
John Murphy may be reached at jmurphy@redlandscommunitynews.com.
Follow him on Twitter @PrepDawg2.