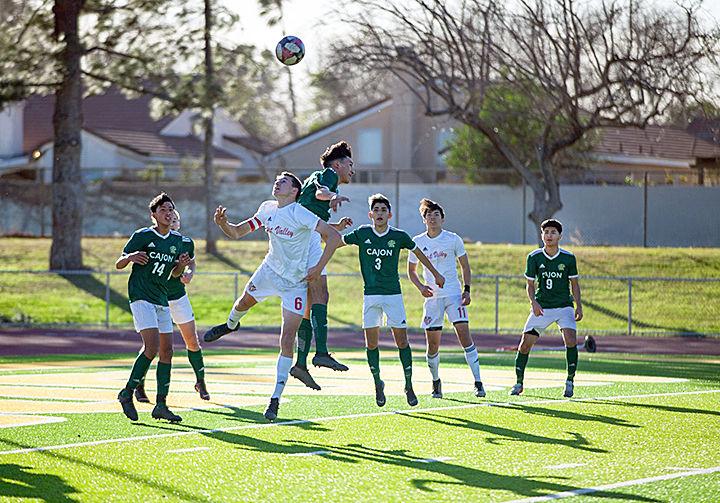 BOYS PREP SOCCER: Scoring trio plus a legit defense leave REV in prime pouncing position … Only Tustin remains ranked ahead of Wildcats in Division 2 … Terriers' soccer had won CBL title two previous seasons.
SAN BERNARDINO — If it wasn't that 25-mph wind sweeping Cajon High School's soccer pitch or if it wasn't those upset-minded Cowboys taking a shot at second-ranked Redlands East Valley, it might've been that 20-6 disadvantage in fouls whistled against the Wildcats by referees that stood out in a Jan. 29 showdown.
That REV beat the Cowboys, 3-2, on a pair of Garrett Lindfelt goals — plus a clever assist on Blake Dismang's match-winner with just minutes left — is just another building block for this year's CIF Division 2 playoff hopes.
"Coach," said Lindfelt, referring to third-year man Mario Urbano, "is trying to keep our heads out of that (spot in the polls)."
There are, he said, people who approach this brilliant Wildcats' side that are trying to be nice when they raise that little nugget.
Said Lindfelt: "We try hard not to think about it."
Rest assured, their opponents are thinking about it. REV is getting opponents' best efforts. Imagine the feeling in knocking off a No. 2-ranked side.
REV (15-2-2, 5-0-2), was coming off a 2-2 draw in a rivalry duel against two-time defending Citrus Belt League champ, Redlands, a week earlier.
Not only were they trying to protect first place in the Citrus Belt League, but second place Cajon (13-5-4, 3-2-2) was the Wildcats' closest pursuer.
Cajon, ranked 10th in Division 3, hasn't been much of a challenge for REV in years.
They are this season. They dealt REV a 1-1 draw only 19 days earlier.
Up front and center-midfield, where the Wildcats' scoring production rests — Luca Russo (9 goals, 7 assists), Dismang (10 goals, 5 assists) and Lindfelt (10 goals, 4 assists) — is the lions' share of REV'S attack.
Squaring off against the Cowboys' attack — sophomore Jose Garcia (17 goals, 18 assists), Hector Ortega (13 goals, 10 assists) and Jose Lara (11 goals, 5 assists) — would be a hard task for REV's defenders Gary O'Brien, Danny Starkweather, Jared Shea and track & field distance star Simon Opsahl.
Fronting for REV goalkeeper Robert Everhart, whose four saves included three outlandish efforts against Cajon attackers, those Wildcats' defenders turned away one Cowboys' attack after another — 15 shots against Everhart alone.
Then there was Lindfelt, a junior, whose presence with his other two attacking mates lends authenticity to REV's playoff hopes. Teams are built from the back where the defense makes or breaks a side's legitimate hopes.
Attacking skills like the ones provided by Lindfelt, Dismang and Russo only add to a side's strengths. In other words, watch out for REV in the playoffs.
REV's fighting midfield — Ricky Gonzalez, Cody Bell, Kieran Robinson, plus Dismang — each turned back as many Cajon attacks as the other. Urbano's subs, namely Rodrigo Hurtado, Jesiah Perez and Miguel Monroy, did what everyone else did:
Sacrificing a knee, a toe or a chest, making a full-on kick, or an ankle, head shots, maybe even an inadvertent elbow or forearm — forbidden contact under international federation rules — helped each of those Wildcats stave off Cajon.
On this tricky, windy day, Lindfelt scored a match-tying goal in the opening half, 1-1, then gave his side a 2-1 lead early in the second half.
Once Cajon tied the match, 2-2, at the 51st minute, each side warred against each other — and the wind.
It was the decisive goal that drew vibrations.
Cajon's defense focused around Lindfelt some 30 yards in front of the Cowboys' goal. A clever touch pass to Dismang helped disassemble Cajon's defense — and CBL title hopes.
"The wind made it harder, that's for sure," said Lindfelt. "When you're running after balls (upwind), you almost feel like you're standing still."
Goal No. 2 was astonishing, especially after he won the ball at midfield and either outworked, outraced or outmaneuvered two Cajon defenders for an eventual shot from the left of Cowboys' goalie
"I worked for it," Lindfelt said.
As for those 20 whistles from game officials, Lindfelt conceded, "There was physicality for sure."
Over the past decade, it's been virtually all REV — CBL titles from 2012-2017, a 2016 CIF championship and playoff runs that would make any campus envious — until Redlands cracked through with back-to-back league titles behind Eric Memory's impressive Terrier side in 2018 and '19.
Former Wildcats' coach Ted Small (149-33-24 between 2009-2017), a high school contemporary of Landon Donovan, left the team for Urbano, 43-13-11 since Small's departure.
Last week, only Tustin High School ranked ahead of the Wildcats.