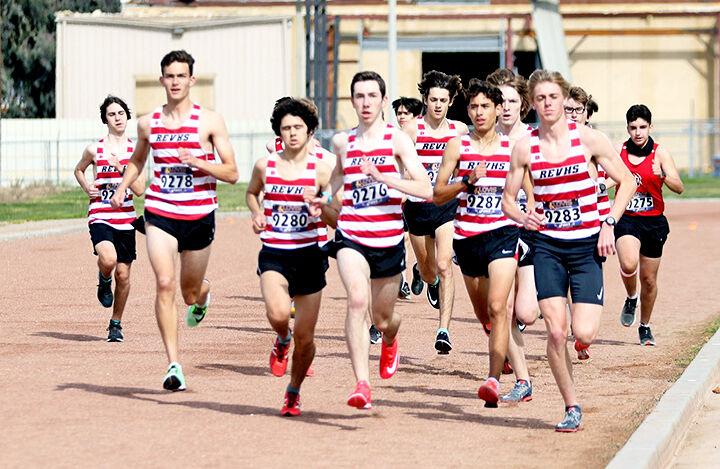 It was more than a cross-country race.
It was, perhaps, seen as more of a breakthrough moment.
Yucaipa's Kaitlyn Townsend broke through, all right.
So did Redlands East Valley's Matt Hornung.
Both runners bore full speed to a finish line on REV's dirt track to set the best time standards in last Saturday's Citrus Belt League time trials — five schools running separately for seeding purposes in upcoming races.
Hornung's mad chase to the finish after 3 miles got him a 14:57.8 clocking.
Townsend, a junior, tore through 54 other varsity girls in an 18:43.9 clocking.
"It's been tough for everybody," said Hornung, who is headed for Washington (Missouri) University after graduation.
Finally, racers got to race. "That was on my mind," he said. "I knew when stuff had shut down that I'd be fast this season."
It doesn't look like anyone can really challenge Hornung's form.
His coach, Matt Sartori, had predicted a handful of sub-15:30 times from his highly charged runners.
Sartori also predicted that his squad — if there had been CIF post-season meets — would have likely won this year's Division 3 finals. Last year, REV took fifth in the Division 2 championships.
"When they canceled CIF (finals) at the state meet," said Hornung, "we thought we could win. We were really hoping to make the (Nike Foot Locker Championships)."
As usual, Yucaipa's girls pummeled all comers — led by Townsend's powerful performance.
Said Townsend: "I was excited for today, but yes, I slept well last night. I was excited. I pushed myself."
Hardest part of the race, she said, pointing from REV's track to East Colton Avenue, "was going up the light hill."
In other words, it was an easy run.
Lost in the shuffle, perhaps, was the painstaking work of school officials — principals, athletic directors, coaches, medical trainers and support staff — to formulate this area's first known prep competition since last March.
There was, said Redlands High principal Kate Van Luven, "really clear instructions from the CIF."
A two-hour meeting between CBL principals and athletic directors, she said, outlined the protocols used for the meet.
• Each team ran separately, schools clearing the area to make room for the next team.
• Parents and spectators — not allowed inside the venue — were lined up either alongside East Colton Avenue and REV's parking lot, giving way when their teams concluded their run — outside the facility.
• Masks were worn by all until race time.
"CIF was incredibly specific," said Van Luven, "on what they wanted. The AD's ran the meeting. Principals did very little."
Parents, said Van Luven and echoed by REV Athletic Director Rhonda Fouch, have been highly supportive during prep sports shutdown.
"They want to vent," said Van Luven, "and I don't blame them."
Said Fouch: "People understand what's happening. They know we have zero say whether or not sports takes place."
For the moment, cross-country seemed to attract all attention away from 11 months of prep athletic inactivity.
If REV's boys continued their domination from fall 2019, then Yucaipa's girls ran as if no one else showed up.
If not for Citrus Valley freshman Gabriella Romero — 19:24, fifth place — and REV senior Ashlyn Walker (ninth, 19:57), Yucaipa would have claimed an entire top 10 finish.
Cali Good chased Townsend to the finish in 18:49, while Taylor Becker (third, 19:14), Cassidy Jarish (19:31), Clarissa Clark (19:43), Marisa Cole (19:45) and Kyla Gomez (20:01) claimed 3-5-6-7-8-10 in the non-scoring.
All five of REV's top boys — Hornung, Simon Opsahl, Liam Mapes, Emmanuel Wallace and Alex Miller — cracked the top 10 in a 1-2-4-6-7 finish. Since there was no team scoring, that 19-point team total was only a mythical outcome.
Throw this in: REV added freshman Sean Walker and senior Anthony Ramos at 11-12, displacing all other schools if scoring had been in effect.
Citrus Valley, missing Juan Montes, watched Jake Caliva run third with Univ. Montana-bound Ethan Woods of Yucaipa taking fifth. Beaumont's Marcus Shin and Dustin Barger, plus Yucaipa's Nick Bloom rounded out the top 10.
Scoring was a non-factor. In fact, it was each school's top five times added together that will seed the Feb. 27 meet at Citrus Valley.
Cross-country at Redlands East Valley, Saturday, Feb. 13
Girls results
1. Kaitlyn Townsend (Yucaipa) 18:43.9; 2. Cali Good (Yucaipa) 18:49; 3. Taylor Becker (Yucaipa) 19:14; 4. Gabriella Romero (Citrus Valley) 19:24; 5. Cassidy Jarish (Yucaipa) 19:31; 6. Clarissa Clark (Yucaipa) 19:43; 7. Marisa Cole (Yucaipa) 19:45; 8. Savannah Ganter (Yucaipa) 19:54; 9. Ashlyn Walker (Redlands East Valley) 19:57; 10. Kyla Gomez (Yucaipa) 19:57.
Others (Redlands schools top 5) — 11. Hailie Lomeli (Citrus Valley) 20:04; 12. Itzel Del Rio (Citrus Valley) 20:07; 15. Bridget McNamara (Citrus Valley) 20:43; 23. Shannon Cockerill (Redlands East Valley) 21:40; 25. Elizabeth Garcia (Citrus Valley) 22:07; 26. Danielle Robles (Citrus Valley) 22:12; 28. Kaitlyn Powers (Redlands) 22:40; 31. Jordan Dennert (Redlands East Valley) 22:49; 35. Jennifer Lopez (Redlands East Valley); 38. Aiyana Harris (Redlands) 23:56; 41. Audrey Yoh (Redlands East Valley) 24:23; 49. Michelle Clark (Redlands) 27:27.
Boys results
1. Matt Hornung (Redlands East Valley) 14:57.6; 2. Simon Opsahl (Redlands East Valley) 15:05; 3. Jake Caliva (Citrus Valley) 15:34; 4. Liam Mapes (Redlands East Valley) 15:38; 5. Brady Woods (Yucaipa) 15:45; 6. Emmanuel Wallace (Redlands East Valley) 15:47; 7. Alex Miller (Redlands East Valley) 15:58; 8. Marcus Shin (Beaumont) 16:33; 9. Dustin Berger (Beaumont) 16:35; 10. Nick Bloom (Yucaipa) 16:39.
Others (Redlands schools top 5) — 13. Ethan Romero (Citrus Valley) 16:59; 15. Arian Mayora-Ornelas (Citrus Valley) 17:19; 17. Christopher Ontiveros (Citrus Valley) 17:31; 23. Nate Caliva (Citrus Valley) 17:36; 27. Miguel Paz (Redlands) 17:43; 29. Evan Kusko (Redlands) 17:45; 32. Ayoob Amaar (Redlands) 18:06; 38. Brian Sanchez (Redlands) 18:42.