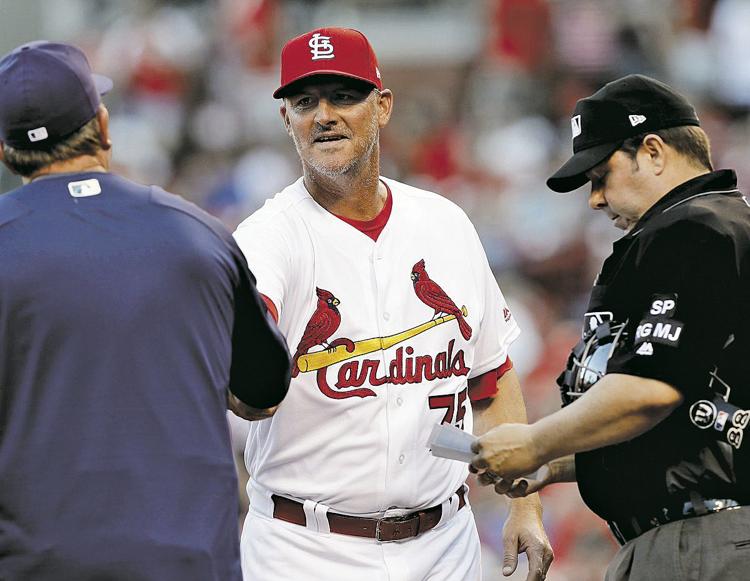 Some leftover notes from an early spring interview with Ronnie Warner:
Dateline, St. Louis:
Pop Warner is a household name around this Midwestern city.
Around Redlands a few decades ago, he might be remembered as Ronnie Warner, a 6-foot, 3-inch point guard in basketball, or a possible high school QB, even a would-be track sprinter, but definitely a baseball shortstop.
Get ready, Dodgers' fans, because the St. Louis Cardinals have gotten a wake-up call after a few years of sub-par seasons. Hall of Fame manager Tony La Russa's gone. His successor, Mike Matheny, was dismissed. Current manager Mike Schildt is head of the Cardinals' rebuild.
Warner, a Cardinals' lifer, is now coaching third base in St. Louis.
It's a long way from those days hanging around with his Redlands buddies Glenn Trunnelle, Jerry Requejo and Buck McGilvary. There was a shoutout for his old Redlands High baseball coaches, Bill Havard, not to mention Don DeWees.
"I learned a lot from those guys," said Warner, who could also be remembered for playing point guard on the Terriers' varsity basketball team. "Then we'd run into those Long Beach teams in the playoffs and I'd find out just how good I really was."
What he was really trying to say was this: How good he wasn't.
In baseball, though, Warner was the skinny, no-power, no-hit kid that was in the lineup every day for the Terriers at shortstop. "They DH'd for me," said Warner, chuckling, "because they said I couldn't hit."
Who knew what his future would be?
At some point, the kid went to his dad, Ron, now 81, and said, "Dad, I want to concentrate on baseball."
Concentrate, he did.
There was that appointment with Barry Martin, a counselor at RHS, who sat down with the younger Warner to chat about goals and ambitions.
Did he want to go to college? Play sports? The course set that day was more than helpful.
"I should've gone back to thank him," said Warner, "because he really helped me."
Armed with a plan, Warner left Redlands for Riverside City College. Afterward, there were near commitments to Univ. Pacific, St. Mary's and Cal State Northridge, but NCAA Division 1 University of Wyoming came calling.
It's where Warner stoked those fires that got him drafted by the Cardinals (17th round, 1991). If you're talking baseball history, you can argue whether it's the Yankees, Dodgers, Giants or Cardinals that gets the most positive historical recognition.
"I found out I'd been drafted by a telegram," he said.
The offer was for $1,000. Rookie ball. Hamilton, Ontario, Canada. A scout called him to find out if he'd accept the offer.
"I had no idea I'd last this long," said Warner.
Pop Warner? No, it's not the legendary football coach, Glenn Warner (Cornell Univ. and Stanford, among others) who has a current nonprofit youth football program named for him.
Pop Warner, aka Ronnie Warner of Redlands, got that nickname from his first manager, George Kissell, in Hamilton. At practice one day, Kissell explained to Warner, not to mention all the other players, about the legendary football coach.
"By the time I got back to my locker, the trainer put a piece of tape over my name. It said, 'Pop.' "
The nickname stuck.
Except for this: A few years later, when he was playing at Memphis, Warner heard someone calling him from the stands.
"Ronnie … Ronnie."
"I thought, 'no one calls me Ronnie around here.' I looked up in the stands and it was Randy Genung."
Genung had been Warner's basketball coach at Redlands High.
"Another big influence in my life," Warner said.
Forget his minor league numbers. Anyone can look those up. Getting to the majors as a player was another question.
"I think I was good enough to get there," said Warner, who never got that call, "but I wasn't good enough to stay there. I morphed into coaching.
…I used to coach some of the guys when I was playing. The organization wanted me to coach."
In the Cardinals' chain, he's done everything from roving minor league instructor to manager at Triple A Memphis, Double A Springfield, Class A Palm Beach — 1,500 minor league games as a manager — plus a batting practice pitcher for the MLB Cardinals in 2000.
Reminiscing a bit back to his playing days — 1991 through 1999, all in the minor leagues — Warner reflected on a spring training game when he was playing third base. The shortstop was eventual Hall of Famer Ozzie Smith.
"The (catcher's) throw went down to second," said Warner, "and Ozzie threw it to me. I remember thinking, 'Hey, I'm getting a ball from Ozzie Smith.' " Said Warner: "We still reminisce."
His best season as a player might've been his last, 1999, when he slugged a career-high 11 HRs and batted .290. Keep in mind that the Cardinals' shortstop during Warner's minor league years was either Smith or his replacement, Royce Clayton. By then, Warner was more a utility player than a fulltime shortstop.
St. Louis hosted the L.A. Angels in June, but that interleague duel didn't include a return trip to the West Coast. The Cardinals were in L.A. to play the Dodgers this week.
He, his wife, Laura, and their kids are Colin, 15, Ben, 9, and Callie, 7, live in St. Charles, Mo.
"The travel's a grind," said Warner. "Anyone who thinks this is easy … I'm lucky to have a good wife."
She's married to a guy with a household name.
Got a sports tip? Want to chat about sports? Check in at obrown@redlandsconnection.com.