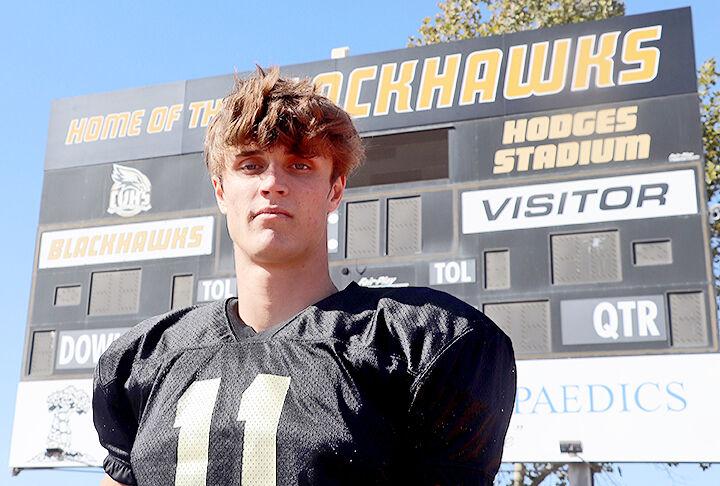 The play is vintage Brock Lium.  
The Citrus Valley High star catches a kickoff against Norco on his team's 15-yard line.
He sprints left and with his long, effortless strides outruns everybody to the end zone. Then he simply tosses the ball to an official like it's no big deal.  
So it goes for Lium, the senior star who scored five touchdowns against then-state-ranked Norco. Besides his kickoff return for the score, Lium caught eight passes for 104 yards and four touchdowns and made five tackles on defense during the victory two weeks ago. All in a night's work.  
"My teammates joke about it," Lium said. "They say, 'How many touchdowns are you going to score tonight?' But then to look back and think you did that, it's kind of sick, especially against a good team like Norco."  
Hair's to ya
Lium, a 6-foot-4-inch senior, appeared in the coaches' office last week in a gold Blackhawk T-shirt and shorts.
Most prominent was his spectacularly unkempt shock of brown hair.  
"Messy hair, don't care," is how area sportscaster Pep Fernandez of Redlands describes it.  
The Lium family — his father Boyd Lium is the Citrus Valley High athletic director, and his mom Kim is the Beattie Middle School of Highland principal — are close to Blackhawk football coach Kurt Bruich. Shortly after accepting the Redlands East Valley High job in the early 2000s, Bruich hired Boyd as an assistant coach.  
"Bruich has given Brock multiple haircuts," Kim said. "There have been a few occasions where we've called Coach B and told him to bring over his clippers and clean that stuff up."  
Al Bundy game   
Bruich calls it "an Al Bundy game." That's in reference to the Ed O'Neill character on the old TV show "Married with Children." Bundy humorously bored everyone talking about his "four-touchdown game" in high school.  
"Before a game I tell the kids that someone might have one of those games to remember," Bruich said. "That (Norco) was Brock's Al Bundy game."
But then, there's been a bunch of them.   
As a sophomore Lium caught three touchdown passes and made five tackles in a 42-7 victory against Redlands.  
Switched from tight end to quarterback last season after Hunter Herrera got hurt, Lium passed for two touchdowns, ran for another, and made nine tackles on defense in a 59-14 win against Yucaipa.  
Against Redlands East Valley, he threw for three scores, ran for one, and made six tackles in a 57-7 win.  
And so on.  
Down to Earth  
Given he is the son of school officials, it's no shock Lium is a high achiever. He carries a 4.2 grade-point average and excels on the basketball court.  
Asked what people don't know about her son, Kim said, "To lots of people he comes off as this bigger than life athlete, but he's really a shy kid with a big heart that's hard to see if you don't look beyond the athlete side of him."  
Said quarterback Herrera, "He's just Brock, and he loves football. I try to tell him how good he is, but I don't think he realizes it."
Colleges know. Lium has football scholarship offers from Rice, Fresno State, San Jose State, Cal Poly San Luis Obispo, New Mexico State, and Montana State. He has unofficial trips to USC, Fresno State and UC Davis planned.  
Boasting his gaudy stats and rocking that high GPA, Lium will not have to pay for college. That down-to-Earth personality is just a bonus.   
"He's the most unassuming kid you'll ever come across," Citrus Valley basketball coach Yon Okorodudu said. "You would think a kid (like that) would be cocky or arrogant, but he isn't. The accolades haven't gone to his head."