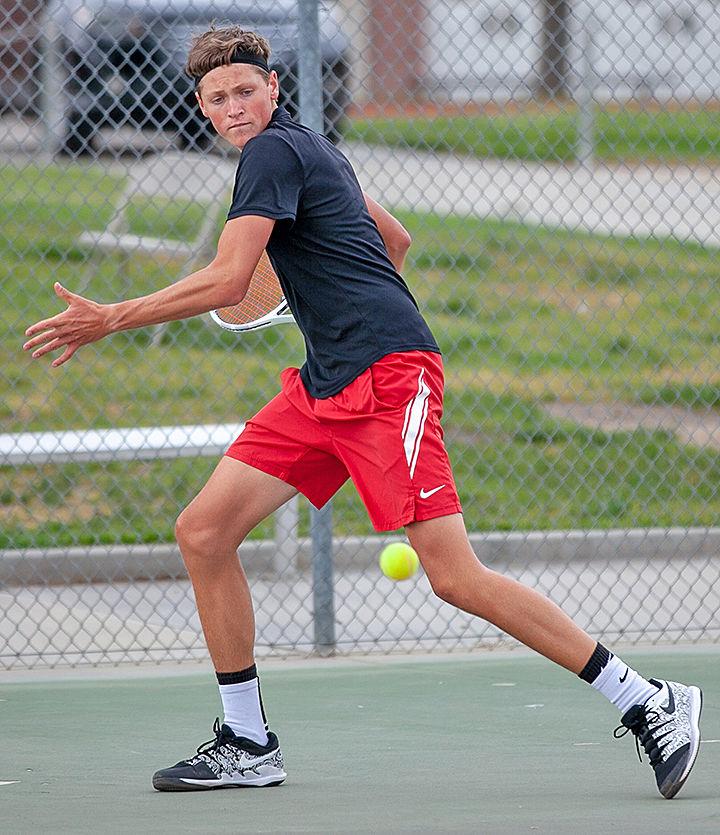 Almost everyone watching Tyler Davis — namely his high school coaches — remembers a short Redlands East Valley High freshman who was more of a basketball player than a tennis player back in 2015.
The old story: This kid was just a scrawny freshman.
Against visiting Aliso Niguel back on May 6, a CIF-Southern Section quarterfinals tennis showdown, Davis, no longer that scrawny freshman, was on top of his game.
His serve was powerful and seemed effortless.
His ground strokes were near flawless and on-target.
Every championship-level team needs a go-to stud at singles. At REV, Davis was that guy. He's the No. 1 singles player that every team guns for, but can't beat.
"Look at that serve," says REV assistant Terry Forrester. "Davis' 6-foot, 3-inch reach gives him a huge advantage."
Forrester was noting a high toss, a fluid stroke with an explosive blast — baseball pitching coaches might call it "movement" — headed toward Davis' opponent.
So much for that scrawny freshman.
Said Forrester: "The ball bounces so high that (any Davis opponent) has trouble getting it back."
Davis was nearly invincible during team play all season.
"He hits an hour before school," said REV coach Ed Stark, "then comes to our practice for two hours (after school)."
"Then he goes home to eat dinner and goes down to the University of Redlands to hit."
There is some concern about injury, "but how do you slow someone like that down? It's the kind of work ethic you want to see," said Stark.
"I tell him," said Davis' private coach David Braxton, age 72, "to take care of his body."
Richard Blackey, another REV assistant, never hesitated to fire off a set of well-heeled vibes — all positive — any time Davis finished off a point. Blackey's like the Little League dad sitting in the stands who loudly calls out the happy moments.
"He didn't show up here like that," said Blackey, referring to Davis' remarkable transformation. "He worked at it."
Sure, Davis had a little trouble with a strong player from Temecula Valley — both in a pre-season scrimmage and down at the Ojai Tournament in April. Both were losses.
Dozens, if not hundreds, show up to play in that out-of-the-way locale — with high-achieving marks in their tennis resume. Most entries are college-bound with tons of accolades.
Temecula Valley's Donovan Lilov, unbeaten through 48 matches en route to a semifinals loss at CIF individuals, also beat Davis at Ojai, 6-1, 7-6 (6). Lilov, a native of Bulgaria, had international experience under his belt.
For Davis, it was a chance to build his own résumé.
"He has some of the most unique shots," said Braxton.
There's a two-handed backhand shot that Davis puts right down the line.
"I tell him 'hold and explode,' " said Braxton.
Any tennis geek would understand. Keep holding the opponent off with consistent shotmaking until — presto — you get that chance to fire off an explosive shot.
Lessons?
"He comes to me," said Braxton, "when he needs help. There aren't so many lessons any more."
On May 6, visiting Aliso Niguel had its hands full with REV.
At No. 1 singles, Davis led the charge.
If it seemed easy, it wasn't.
"I still had to work for shots," Davis said. "Most of them threw a slice at me. My coach (Braxton) showed me what to do with that."
David Cheng, the Independence League champion from Los Angeles Le Lycee High School, needed a 10-8 third-game triumph at CIF Individuals in Seal Beach to knock out Davis on May 14. 
Davis dropped the first set, 6-2, then wiped out Cheng 6-1 to square the match.
Just to reach that Round of 16 at Seal Beach Tennis Club, Davis had knocked out three others a week earlier at Sectionals held at the University of Redlands.
Upon REV's concluding team match, Davis was headed for Point Loma Nazarene University, down in San Diego.
"I talked a little with the University of Redlands, their coach, Geoff Roche, a real nice guy," said Davis, "and I talked to UC Riverside."
Sea Lions' tennis, however, is in for $7,500 — tuition, living expenses, some other costs — for the sensational Davis.
"There aren't that many full-ride tennis scholarships out there," said Braxton. "Most teams might have 2 ½ to three total scholarships."
Point Loma, he said, saw him play. "That was enough," said Braxton.
Two days after edging Aliso Niguel in that CIF-Division 3 quarterfinals, it was REV that came out a 10-8 loser on the road.
Davis provided three of those eight wins with a series of 6-0 triumphs.
Point Loma, coming off a 9-10 season, probably found out about that. Davis should make a nice addition to a Sea Lions' squad that lost two seniors off a seven-man roster.
Tennis, at least in Davis' case, equals education.
"Without tennis," said Davis, "that doesn't happen."