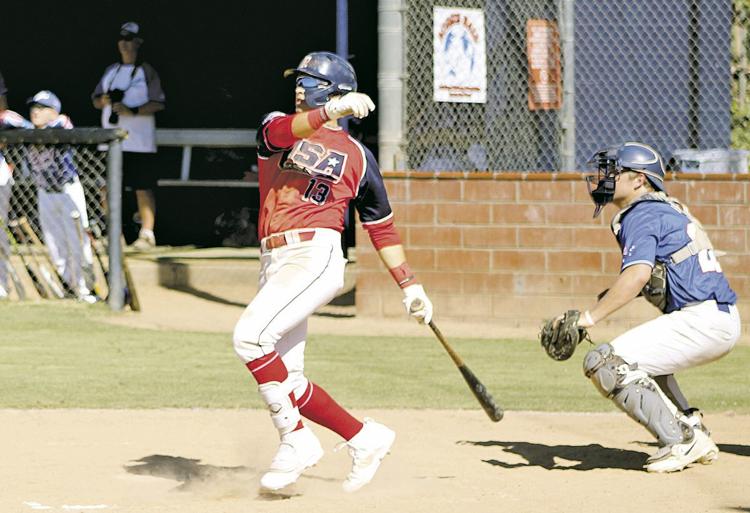 Powered with a three-run homer by Christian Diaz in the fourth inning, timely hitting, solid defense and pitching, the Redlands 909ers downed the Australian Expos 9-1 at Redlands High School to begin the Australian Tour of Redlands on Saturday.
The five-game series continues a 30-year-old baseball tradition — a teen-age touring baseball team from Australia will turn up to play a five-game series against a local team of Redlands-area players specifically picked to play the Aussies.
The local 909ers taking on the Australian visitors, the Expos.
The series is favored more for its organizers, Steve Chapman, who was president of the Redlands Baseball For Youth in 1989 when the series kicked off.
Chapman, a co-founder, has been seeing to the series continuation ever since, even sending Redlands-based teams to that nation on occasion.
Chapman described the first game: "It was tight, well-pitched game by both teams until Expos Cody Godbold surrendered a 3-run HR to 909ers third baseman Christian Diaz in the bottom of the 4th. The 909ers struck for 3 more runs in both the 5th and 6th innings."
A.J. Daniels, Arnold Regalado, Arturo Diaz, Bubba Correa, Christian Diaz, Cody Westphal, Colin Topeleski, Jacob Jacome, Jake Wear, James Boyd, Jared Benash, Jaxon Willis, Mychal Aguilar, Nevin Zerbe and Tyler Gianni are the players on this year's roster.
Chad Zerbe serves as this year's manager, flanked by a coaching staff that includes Cameron Kundig, Ron Moreno, Rick McBride and Devon Wright. The series includes dozens of past players, managers and coaches.
There has even been a Hall of Fame that covers three decades of visits and series, numbering nearly 100 inductees, including players and non -players that have contributed to the history of the event.