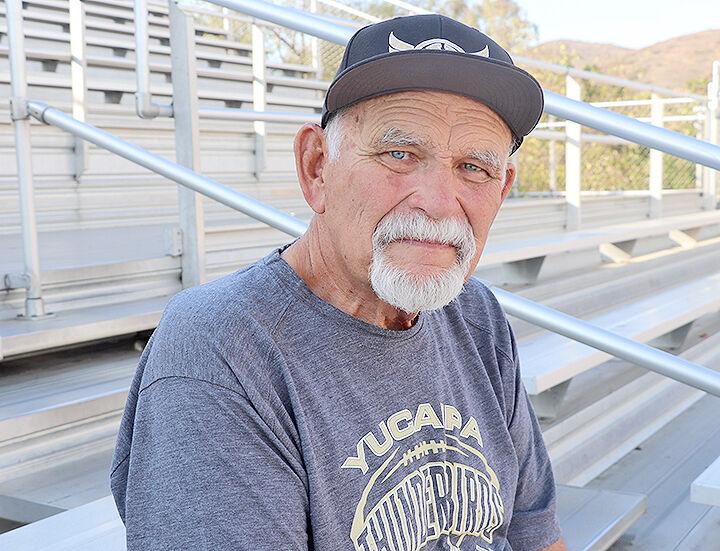 It is homecoming at Cajon High School in San Bernardino and a disc jockey is hired for the occasion. The sound of the proceedings is like a jet airplane engine.
Covering his ears in the press box is 73-year-old Yucaipa High football assistant coach Butch Price, father of head coach Justin Price.
"That's too loud," Butch Price says above the din. "There's no reason to have it that loud. It's going to make me sterile."
Laughter. Then he laments Yucaipa's inability to score near the goal line. He is also bummed that, because of his condition, he cannot join the team at halftime.
Showing his scar
Cars stream past on Yucaipa Boulevard before an early October practice. Butch sits in the shade of the stadium bleachers and lifts his T-shirt. He reveals an 18-inch scar that begins at his navel and extends to his chest.
The scar is compliments of a 12-hour heart surgery June 25 that shook his family to its core. That includes his wife, Diana, son Justin, and grandson Tyler who is a starting inside linebacker for the Thunderbirds.
Four months later, Butch has recovered. His return is a godsend.
"It's meant a lot," Justin Price says. "He came back for the fourth game, and it really helped turn us around. He keeps me calm, compared to my normal self. And the kids love him. He has such a positive impact on the team."
Yucaipa defensive end Nick Juarez agrees.
"He's a role model," Juarez says. "He's been through a lot and he's someone to look up to."
Butch's woes began last spring with a bacterial blood infection.
Antibiotics helped, but the doctors tested further. Butch had what he describes as "leaky valves."
"The doctor came in and said, 'We've got to operate,'" Butch said. "And they just butchered me. It was like an autopsy. It was a 12-hour thing. The next thing I know I'm done, and I had tubes coming out of me. Then they told me I needed a pacemaker. That was another fun experience."
Laid up first at Loma Linda University Medical Center and then a post-acute care center in Yucaipa, Butch was sidelined for more than three months. But he is back now and enjoying the team's ride.
"I haven't had any problems at all," Butch says. "In fact, I've felt a lot better once I got up and around. Before my surgery I couldn't get up and down the stairs, so I was on the sideline."
Poor nutrition was a culprit. Butch has since plummeted from 285 pounds to 225. Gone are the steaks, salty foods and milk shakes of the past. Chicken, fish, turkey and vegetables have replaced them.
Butch's first game back was against visiting Hesperia. That was significant since he was Hesperia's first coach from 1984 through 1988.
He spent the whole week traversing the stadium steps so he would be ready.
"I almost cried during the national anthem," Butch says. "There was a time there where I didn't think I'd ever see another game. So it was just like, 'Well, here I am.'
Cowboys stop streak
Back at Cajon High, Cajon's JeyQuan Smith is named homecoming king when not bedeviling Yucaipa on the field. The Cowboys end Yucaipa's five-game winning streak 20-3.
Justin Price gathers the team. Their dark blue helmets gleam under the stadium lights. He extolls their gritty defense and tells them they can "beat anybody." Then he turns to his father and says, "Let's go, Papa."
"I am only one, but I am someone," Butch chants.
"I can't do everything, but I can do something.
"And what I can do, I must do. And by the grace of God, I will do.
"I believe! I believe!
I am somebody! I am somebody! I am somebody!"
Cheers resound, and the T-Birds depart. Live to fight another day.
John Murphy may be reached at jmurphy@redlandscommunitynews.com. Follow him on Twitter @PrepDawg2.