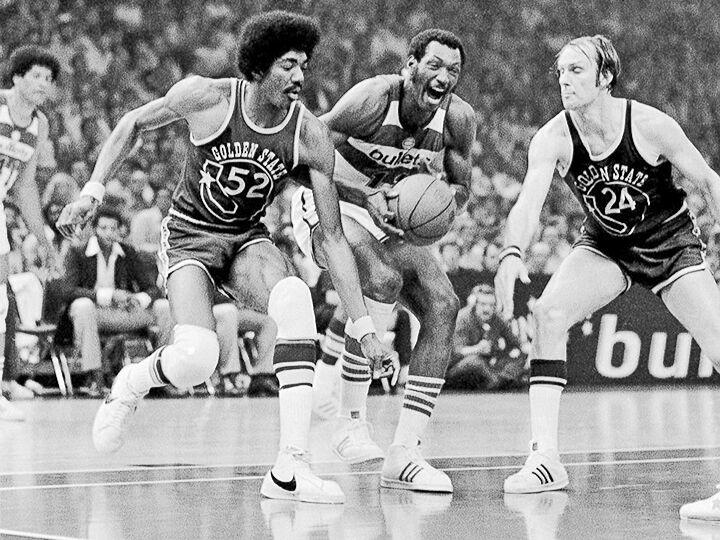 Growing up 12 miles from San Francisco in San Bruno, the Warriors were my team. So I was happy to see them vanquish the Boston Celtics last week for the NBA title.
How elated was I? Recently I won a journalism contest, but the California Newspaper Publishers Association didn't give out anything meaningful as a prize. But after the Warriors won, I was so giddy I paid $134.21 for the first-place plaque the organization offered. I'll sell a kidney to compensate.
When I was a kid, the Warriors practiced at the San Bruno Rec Center. My grade school was across the street. We knew the team was there because we could see the maroon Rolls Royce of Warriors' star Nate Thurmond in the parking lot.
I took my rooting seriously. One year the Warriors lost a playoff game to the Los Angeles Lakers by 69 points. I cried myself to sleep. Actual tears. It was pathetic.
In later years the Warriors acquired Jerry Lucas. One night at the rec center the power went off and Lucas left the court and sat next to me. He was nice — asked me if I played ball and we chatted a while. Lucas was smart, too. He had a photographic memory and legend had it that he memorized the New York City phone book.
Back in 1975, the Warriors won their first title in the Bay Area. Naturally we had to go out to San Francisco International Airport to meet the team.
They erected a square stage on the tarmac. The players ascended it after they departed the plane. Thinking quickly, I ducked under a rope and jumped on the stage with the players. I was up there for quite a while, waving to my friends and acting the fool. Finally, a Warrior official gave me the boot. It was my 15 minutes of fame.
Yucaipa grad pitches well with the Mets
Former Yucaipa High two-sport star Taijuan Walker of the New York Mets continues to excel.
Walker pitched 6 2/3 innings and gave up one run on two hits on Saturday, June 18. He lowered his earned run average to 2.88 and has a 5-2 record.
Walker is in his 10th year in the big leagues and is coming off his first full season back after Tommy John surgery.
The big guy (he's 6-foot-4) is also quite the cook, judging by his social media posts.
Maybe he can cook up a World Series title this year for the Mets.
Yucaipa baseball players honored
Graduating Yucaipa High baseball players Ethan Osborn and Peyton vonKaenel were recently honored.
The duo shared $2,500 in scholarship money in honor of the late Thunderbird player James "Big Country" Gilfedder.
Gilfedder died as the result of an alleged hazing incident while attending Lyon College in Batesville, Arkansas.
"Big Country was a big young man who was gregarious and loved being on the field and the kids loved being with him," T-Birds coach Ralph Grajeda said.
Football prospects attend U of R camp
College football prospects recently descended upon the University of Redlands' Ted Runner Stadium for an off-season camp.
Coaches from schools such as Arizona, Arizona State, Brigham Young University, Colorado, Hawaii, San Diego, UCLA, Utah and Washington attended.
247 Sports mentioned Citrus Valley's Brock Lium as one of the stars.
"Local standout Brock Lium from Citrus Valley flashed a well-rounded skill set at wideout, looking comfortable making catches downfield and showing a physical side in one-on-one battles," the site said. "The 6-4, 215-pound prospect is also being recruited for linebacker at the next level."
Wildcat rips it up in Single-A
Former Redlands East Valley High baseball star Damon Keith is ripping it up for the Single-A Rancho Cucamonga Quakes.
Keith at last glance was­ hitting .306 with a .513 slugging percentage, eight home runs, 13 doubles and 32 runs batted in.
The Quakes are a Los Angeles Dodgers farm team.
John Murphy may be reached at jmpurphy@redlandscommunitynews.com. Follow him on Twitter @PrepDawg2.