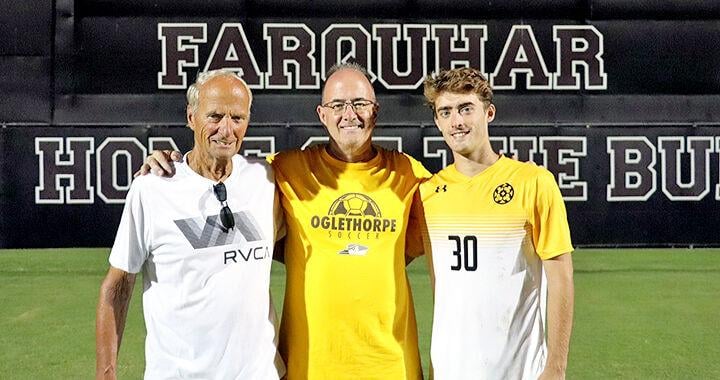 A Farquhar played soccer Sunday at the University of Redlands Farquhar Field. But he wore the gold and white soccer uniform of Oglethorpe University in Brookhaven, Georgia.
He is Ian Farquhar, No. 30 for the Stormy Petrels. And he played about 75% of the game as Oglethorpe fell to Redlands 5-1.
"Here we go Farquhar, here we go," a knot of about 20 fans from both Atlanta and California cheered late in the first half. Unfortunately for the Stormy Petrels, Redlands' Quinn Richards scored immediately after the cheer. That put the Bulldogs ahead 2-1 and was the game-winning goal on a sweltering mid-September day.
The Farquhar family (it is of Scottish descent) settled in Redlands in 1889. The family's original house is at 1898 Fifth Avenue and was built in the Heritage style.
The soccer and lacrosse venue at the University of Redlands is called Farquhar Field and was donated by Don and Kay Farquhar.
Built in 1997, the venue has a field that measures 116-by-78 yards. In 2006, lights were installed to provide more opportunity for use and ratchet up the excitement level of the fans.
The organizer of the trip from back east to see Ian Farquhar play was the player's father, Rich Farquhar of Atlanta. Rich is a fourth-generation Farquhar and his son is fifth generation.
Rich was with his father Bud, the last of four brothers who were third-generation Farquhars and grew up in the Redlands home on Fifth Avenue.
"Look at this field," said the 89-year-old Bud Farquhar as he strode across the carpet-like surface of the pitch before the game. "There isn't a weed on it."
Joining Rich and Bud at the game on Sunday were cousins, secondcousins, sisters, nieces, nephews, etc. They cheered on Ian and then posed for photos with him after the two-hour, six-minute match.
There were some lighthearted moments. Midway through the second half. Ian got juked by a Redlands player, prompting a female Bulldogs' fan to chide him about getting his "ankles broken."
Later, when Ian reported into the game and his surname of "Farquhar" was announced, another young woman rooting for Redlands said, "Farquhar – that must be a joke. There's no way."
Yes, way. Or, as the University of Redlands assistant track and field coach Andrew Clarey put it, "It's crazy to think there's a Farquhar playing at Farquhar Field."
It was a memorable day for Ian, a handsome 5-foot-10-inch, sophomore midfielder for the Stormy Petrels (definition, a sea-bird that is the portent of storms).
"It was a very special moment, especially to have all the family here," he said. "I got to meet some cousins I've never met before. I have a lot of appreciation for history, so knowing that my great uncle played a part in building the University of Redlands and putting theFarquhar name on the field is really special."
Ian also described what a joy it was to hear his last name announced before the game as part of the Oglethorpe starting lineup. He previously attended the University of Kentucky, but left after contracting lyme disease.
It doesn't even matter to the fifth-generation Farquhar that Sunday's loss was the Stormy Petrels' fourth consecutive to start the season. He simply enjoyed the experience.
"I've been here before, to the city of Redlands," he said. "I know my family has a history of having orange groves and is well-known in Redlands. I made it out here in 2016 to visit family and I love the city. It's just rolling hills and orange groves and I really like the vibe of the town."
John Murphy may be reached at jmurphy@redlandscommunitynews.com.