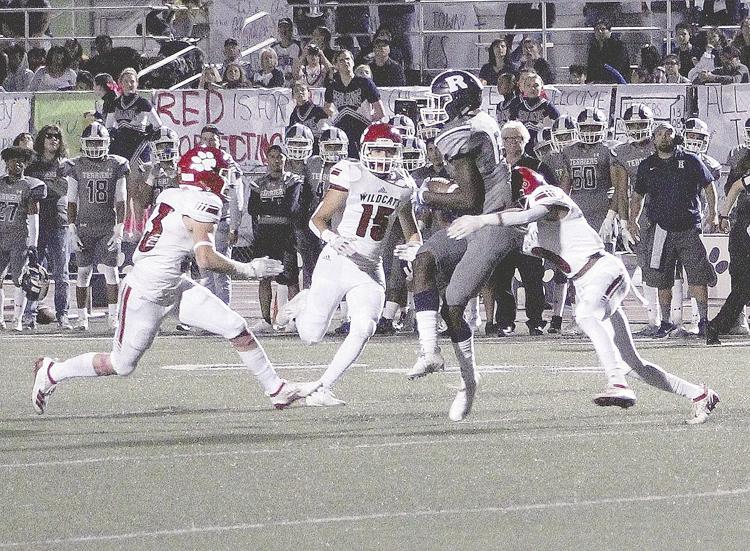 PREP FOOTBALL: Terrier WR Jamal Hines' 25-yard TD pass to Olivares won it in OT … REV remains ahead in series … Young throws for 280 … 248 yards in total penalties.
It seems like an awful lot of trouble to take for a smudge pot, the trophy associated with winning the annual Redlands East Valley vs. Redlands football showdown.
Tears flowing down the faces of those Wildcats' players verified that it was the Terriers who had won, 20-17, in overtime last Friday night.
The game-winning play had been set up in a pair of third quarter plays when Terrier QB Trent Young fed WR Jamal Hines on a pair of jet sweeps. When that third time came, REV finally lost the smudge pot trophy it's held since 2012.
"It was a great call by our coach," said Young, who wondered how many yards he'd thrown for (280 on 22-of-31) in a penalty-marred, physically pounding slugfest.
Matthew Olivares caught the game-winning TD, but he had to wait for a short, up-in-the-air pass to come down while Wildcat defenders tried to shut Hines' sweep right. Instead, Hines pulled up to pass. Olivares was alone, the Terriers having decoyed REV's defenders.
"When coach (Mike McFarland) called the play," said Olivares, "I was nervous. They were biting (trying to me shut down) on me the whole game." REV had the OT lead, 17-14, when Kapena Kawakawiwoole kicked a 38-yard field goal after Redlands High's defense held off REV's offense.
Wildcats' coach Rich Lunsford, who had his team in position to win that smudge pot trophy for the seventh straight year, mused over the youthful roster of players that "showed up in our defensive backfield."
Missing was free safety Isaiah Bradford, a 2018 all-leaguer, for no specified reason.
In a game marred by yellow flags, Redlands held a sizable edge, 149-99, with 30 yards waved off on off-setting unsportsmanlike penalties in the game's final moments.
"This game was winnable," said Lunsford.
Young's QB counterpart, Jeramiah Donahue, put it up 33 times with 12 completions (130 yards total, plus Kevin Character's interception as regulation play ran out), but Lunsford's head would probably hit the pillow that night thinking about a couple handfuls of missed or dropped passes.
Brandon Wells, who worked himself free along the REV sideline, dropped a sure TD pass from the Wildcats' 14 on a ball placed perfectly by Donahue.
"That was one," said Lunsford, who pointed to a handful of other spots on the field in which REV receivers couldn't haul in a pass.
"Over there was one," he said, pointing to the west end goal line, "and there … and there … and there," referring to various spots on the field.
Regulation time scoring:
• Character caught Young's 18-yard TD pass to cap a 16-play drive with eight seconds left in the first half.
• Wells snagged Donahue's 14-yarder to knot the score, 7-7, on REV's opening third quarter drive.
• Hines (7 catches, 142 yards), getting tight coverage at the line of scrimmage, worked an inside move, caught a Young pass and sprinted past that youthful REV secondary from 50 yards out.
• Daylan Acevedo's 2-yard run over REV's left side behind sophomore tackle Alex Gutierrez tied the score, 14-14.
The hitters came out, REV's defenders led by Jacob Saldivar and James Scearce. Jonathan Ramos recovered a late-game fumble after Scearce knocked it loose.
Redlands' Jake Mainaky and Blake Marriott recovered fumbles -- each side getting a QB sack, REV's Jake Green and RHS' Jess Luna.
Even Donahue's incomplete passes, many on the mark, "it doesn't get the job done," said Lunsford.
"All the missed chances," he said, "is what I'll probably be thinking about from this game."
Lunsford, stunned at midfield in the game's immediate moments afterward, watched his players tearfully assemble in the east end zone on RHS' field.
Tears?
"There should be tears," he said. "This one should hurt deep down inside."
Lunsford probably wasn't trying to be hurtful, but educational in looking ahead with a young team. "The light shines bright in a Friday night varsity football game," he said.
Forgotten, perhaps, were a handful of scoring plays negated by penalty flags. Emotion from both sidelines was rampant, especially when highlight-reel plays that drew cheering bedlam were called back by officials.
It's a rivalry game that dates back to 1997. Before kickoff, longtime Redlands High assistant Anthony White had no clue what to expect.
"It's a rivalry game," White said, "which means anything can happen."
"We've played against those guys for years," said Olivares, referring to pre-high school days.
"We grew up together," said Young. "With the history of the schools, if we'd have lost this (game), we'd have heard about it."
Bragging rights, sure. Redlands still trails, 13-10, in the all-time series.
Said Olivares: "I'll wait until (this) weekend to make some (bragging) calls."
Sniffing out the game-winning play, though, made it sweet for both Young and Olivares. In a pair of third quarter jet sweep calls, Hines ran for a six-yard gain on the first attempt. On the next one, Scearce stopped it for a five-yard loss.
REV was awaiting a third time. Hines, in motion, took Young's handoff. Sweep right. Pull up. Olivares darted upfield and waited. Hines' toss created bedlam.
"That's what we wanted," said Young. "That set up the (winning) play from Jamal to Matthew."
(A smudge pot is an oil-burning device used to prevent frost on fruit trees. They were used extensively in the Redlands area until about 10 years ago.)