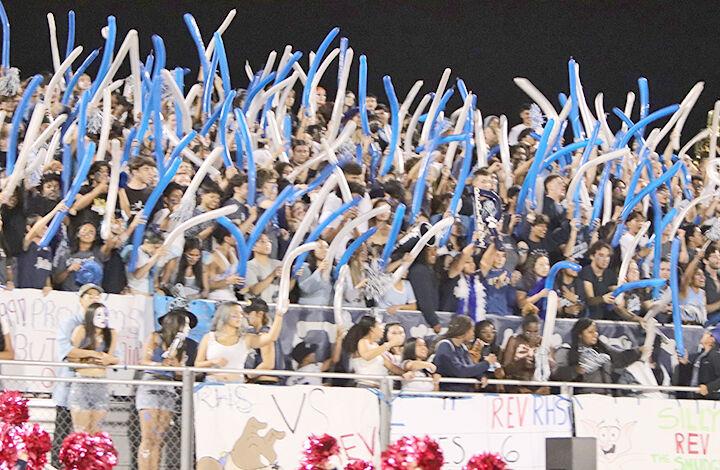 The pivotal play in Redlands High's tense 20-19 Smudge Pot Game victory against Redlands East Valley came with 25 seconds left on the REV 1-yard line.
There was a handoff to A'Maen Lockett, then a tangle of bodies, then the ball squirting free in the end zone and Redlands' Jayden Woods diving on it.
It was unclear at first if Lockett crossed the goal line. But unmistakable were the officials thrusting their arms to the heavens, signifying a touchdown. And the blue-and-white bathed Terriers' cheering section exploding in cheers.
"I'm just glad my boy, Jayden Woods, picked it up," Lockett said. "My brother did it. He finished for me."
There were still 20 seconds left in this 26th Smudge Pot Game. A smudge pot was a device used decades ago to heat citrus groves in the area. But nothing was necessary to comfort the crowd on this chamber-of-commerce night, with fans in short sleeves and hopped up on school pride.
REV (0-9, 0-4 Citrus Belt League) quickly advanced the ball to midfield but could get no farther. Then it was over, and Terrier players hugged and danced on the artificial turf until assistant coaches barked at them to line up to shake hands.
Next was Jordan Woods (brother of Jayden) and Lockett seizing the coveted smudge pot and raising it triumphantly before their team, a phalanx of cheerleaders and the Terrier cheering section.
"I was in the right place at the right time," Jayden Woods said of his fumble recovery. "It was a great game — we fought hard. We made some mistakes, but you have that over there (the smudge pot) and that's what it's all about."
Turnabout is fair play. REV won pulse-pounding Smudge Pot Games the previous two seasons on late touchdown catches by Laviel Pickett. Now it was the Terriers' turn.
REV still leads the Smudge Pot rivalry series with Redlands 15-11.
Things did not look so rosy for Redlands (3-6, 1-3) with 1:37 left when REV's sophomore receiver, Andrew Akinpelu, caught a 4-yard pass from Izaiah Holley in the right corner of the end zone. The Wildcats led 18-13 before kicking the extra point for a six-point lead.
The Terriers returned the kickoff to their own 37-yard line, 63 yards from victory.
"I thought we had the players to do it," first-year Redlands coach Bob Stangel Jr. said. "I was just hoping we could get into a little rhythm."
Ethan Olivares caught a 10-yard pass from quarterback Dawson Martinez. But then Redlands was flagged for offensive pass interference, moving the ball back to the Terrier 32.
No matter. Martinez completed a 37-yard pass to Julien Scarborough to the REV 31 with 1:05 left. Everyone was on their feet now and the Redlands cheering section was screaming.
Alex Villa ripped off a 23-yard run to the REV 8. But then the Terriers were penalized five yards, moving the ball to the 13. There were 32.3 seconds left.
Martinez (162 yards passing, one TD) completed a 12-yard pass to Jordan Woods down the left sideline and Woods tight-roped the sideline. It looked like a touchdown, but Woods stepped out at the 1, setting the stage for Lockett's final thrust and Jayden Woods' huge fumble recovery.
"It feels fantastic," Lockett said. "We haven't had the season we wanted, but it feels great to bring home the trophy like this. I had no doubt in my mind. I knew the (offense) was going to get it in."
On the opposite side of the field there was disappointment. The Wildcats slowly left the field while a knot of coaches lingered. REV coach Gavin Pachot accepted the blame for the loss, saying he should have gone for a 2-point conversion following his team's late touchdown.
"We were down 5 (before the score)," Pachot said. "The two-point chart says to go for two and I kept looking at it and looking at the scoreboard, and apparently the moment was too big, and I choked. I went for one and the right call would have been to go for two."
Alex Delacruz's 1-yard TD run with 1:57 left in the first quarter gave REV a 6-0 lead. Redlands took the lead on its ensuing drive on a 1-yard run by Lockett for 7-6.
REV regained the lead with 2:04 left in the third quarter on a 46-yard touchdown pass from Holley to Akinpelu. A two-point try failed and the Wildcats were up 12-7.
Redlands bounced right back, using hard runs by Villa (110 yards rushing) to get close to the REV goal line, then scoring on a 15-yard pass from Martinez to Luke Butler-Hoagland. Redlands led 13-12 with 11:09 left.
That score remained until Akinpelu's second touchdown from Holley (132 yards passing, two TDs) with 1:37 left and Pachot's fateful decision to kick the extra point.
"Our fans deserve better than what they're getting," Pachot said. "They have a team that plays really hard. I wish I could have got them this win tonight because they've been super supportive all year."
Jacob Marion, Ryan Campos, and Jayden Woods led Redlands with nine, eight, and seven tackles, respectively.
The smudge pot is destined for the Redlands coaching office where it will reside for at least the next year.
"We've worked hard all season, and we deserve this one right here," Jordan Woods said.