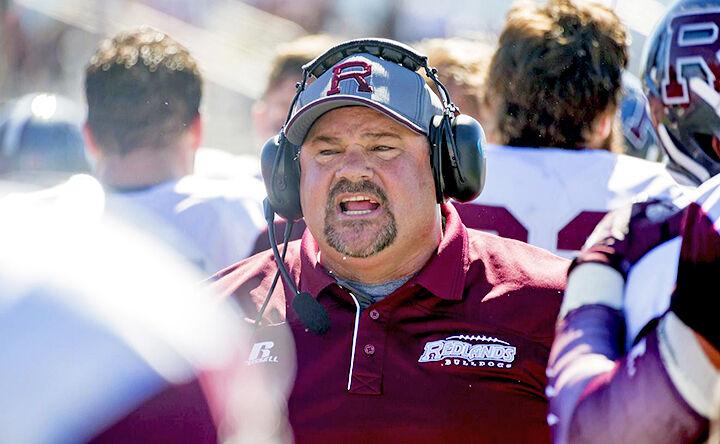 It might have been a football gold mine interrupted.
For years, youth football players have been showing up at June football camps at the University of Redlands. Hopes are to showcase themselves in front of head coaches from various Pacific-12 Conference head coaches. The idea is to play college football.
Don't think the Bulldogs weren't out in full force taking a peek at players that weren't headed for, say, USC or Colorado.
"In my 14 years here," said 14th-year Bulldog assistant coach Joey Mariani, "we've always had a camp."
Guess what? COVID-19 reared its ugly presence, forcing the cancellation of a camp that might bring in 1,500 high school-aged players, grades 9-12.
"That's 1,500 young people — and their parents," said Mariani, Redlands' defensive coordinator who notes there are handfuls of other campuses, like Dixie (Utah) State, Northern Arizona, University of San Diego and Colorado School of Mines, all showing up to gaze at these prep prospects.
It's the kind of business that would warm any coach's heart. Imagine getting $50 a head for each kid. Exposing those kids to, say, Arizona State head coach Herm Edwards or Arizona's Kevin Sumlin or head coaches from USC, Colorado and Utah.
After an eight-hour camp run by college-level coaches — some of whom with professional experience — those prep players are now listed in a team's recruiting data base.
Yucaipa High's Nathan Martinez, Mariani said, "came to every camp we had since he was in the ninth grade. I've known his parents forever. Started coaching him when he was 9 years old. It just morphed into coming to the skills camp."
Martinez is Redlands' starting QB.
A trio of players from CIF champion Temecula Valley — lineman Coleton DeFalco, RB Blake Frazier and WR-DB JoJo McKnight — have worn camp T-shirts. They'll be on the Bulldog roster.
So will La Verne Damien's QB Jordan Barton, LB Devin Escobedo and blocker Nikko Contreras — committed to Redlands.
Mariani seemed excited about landing Santa Fe Springs' Andre Owens, not only sporting experience at safety but also a 3.8 GPA and an 1100 SAT.
There's a twist of irony to this whole thing.
Owens was picked up right underneath Whittier College's nose.
Escobedo, Contreras and Barton were plucked right out of the neighborhood where the University of La Verne operates.
Colleges like Claremont-Mudd and Pomona-Pitzer might have been interested in Rancho Cucamonga Los Osos' blocker Kyle Freitas.
Get it? Whittier, Pomona, Claremont and La Verne are all rivals in Redlands' SCIAC.
"The (Inland Empire) is a hotbed of recruiting," said Mariani, whose own recruiting assignment covers this area, which might explain why Rialto Carter's DT Ben Martinez, Riverside Poly's fullback Kamdin Karmin, Chino Hills' WR David Espinosa and Indio Shadow Hills' Jaden Donavon, a six-foot, 200-pound DE that shifted to RB last season (1,859 yards, 22 TDs) will be wearing maroon and grey jerseys on Saturdays whenever Redlands hits the field again.
It's a pure gold concept. For dozens of coaches, including Redlands, it's a chance to showcase their organizational skills, communicate and "just trying to make a young person better," says Mariani.
As for those camps, plenty of "campers" would be working under a different set of eyes from their high school coaching staff.
"We do a lot of things on defense that (USC, Washington, Utah and both Arizona schools) do," said Mariani. "I think that connects them to us.
Running back Andrew Kellstrom, from nearby Aquinas, among others, are some of the immediate local players added to Redlands' roster via its June camps.
Then there's Washington head coach Jimmy Lake, Oregon State's Jonathan Smith and Oregon's Mario Cristobal on hand to personally witness those scheduled camps.
"I think of the times I'm on the field with Cristobal or Edwards," said Mariani, "talking about running a defense. I mean, we're really getting into it."
No June camps in 2021?
"It's hard to tell at this point," said Mariani, "how much it's affected us. Not having them, though. We'll feel it in recruiting."