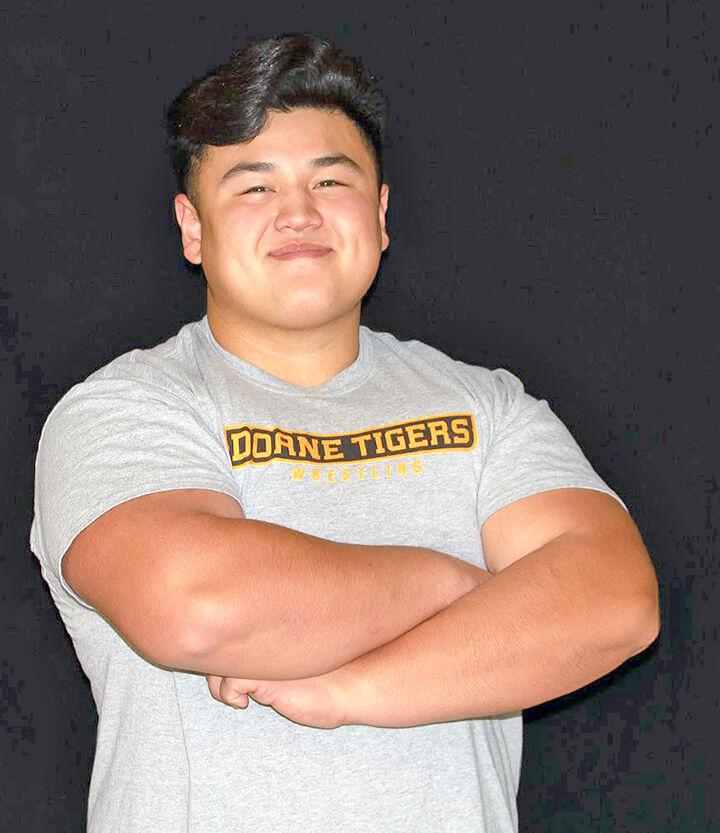 YEAR IN REVIEW: Ex-Terrier had a hand in NCAA football championship … Locals had shots at a World Series, Super Bowl and March Madness … Swimming, soccer, softball claim top headlines … Eagles' net surprise.
So what might football's Dave Aranda and basketball's Gabe Torres, wrestling's Sebastian Gutierrez and baseball's Jacob Nottingham, plus auto racing's Leah Pruett and softball's Brandon Ford all have in common?
As events unfolded this past year, each turned into a headliner on Redlands sports pages throughout a severely curtailed 2020, one totally capsized by a worldwide COVID-19 pandemic. It stretched its viral connections into local schools, medical centers, bars, gymnasiums and restaurants while shutting down all local recreation centers in never-before-seen activity.
There were, of course, a few others.
Some of that activity killed off such events as the Redlands Bicycle Classic, plus a spring, summer and fall of fully scheduled activities beyond just the high-profile local university and high school campuses.
All season long in a shortened season for NHRA speed duels, Pruett was in striking position for the ultimate Wally trophy in the sport's sizzling Top Fuel division.
DAVE ARANDA
Topping the list has to be Aranda's prominent place on LSU's coaching staff.
Aranda, blessed with an assortment of All-American defenders and future NFL draft choices, pulled off a brilliant game plan to slow down Clemson QB Trevor Lawrence in a 42-25 win for the NCAA football championship back on Jan. 13.
How's that for a highlight from a local product?
Weeks before anyone ever heard of a coronavirus, it was Aranda — a long-ago Terrier football product — running LSU's defense in a storybook finish to win the 2019 college football championship.
Celebrations weren't even complete for Aranda, who left LSU as head coach for Baylor University's depleted roster when Matt Rhule took over the NFL's Carolina Panthers.
JACOB NOTTINGHAM
World Series or bust?
It was an injury spotted by TV viewers. The onetime Redlands High School bopper, who also played catcher and a prime defensive position for the Terriers' football team, was on the field against the next world champions.
He appeared to be suffering. Game 2, bottom of the sixth, Milwaukee Brewers' southpaw Josh Hader pitching: Nottingham aggravated a left hand injury — the hand that takes pitches from the hard-throwing fireballers. It's also the lead hand on any at-bats a right-handed power hitter like Nottingham might take.
Too bad. In the playoffs, eventual World Series champion Los Angeles eliminated Nottingham's Brew Crew in two games, 4-2 and 3-0.
In a pandemic-shortened baseball season, Nottingham was in Milwaukee's starting lineup in both the Brewers' playoff games against Los Angeles.
NO BIKES, BUT A ROAD RACE
Believe it or not, 2020 did have some highlights before COVID erased the final nine months of a local sports season.
Lost was the Redlands Bicycle Classic, an absolutely zenith locally produced race with national and international tentacles — a headline removal if there ever was such a thing.
Road racing got in its annual Run Through Redlands. It's been severely dismantled as a high-functioning, top-tier event for competitive runners.
It's a fundraiser for area charities, which is a nice tradeoff for race organizers.
There were some pure efforts on local roads: Wins came from Jimmy Grabow (men's 10K), a 2012 Olympic hopeful, Lisa Chase (women's 10K), while 5K triumphs came from David Salas and Micaela Pulliam.
Repeat men's half-marathon winner Greg Hale, for instance, topped all 350 runners in a 13.1-mile joust by knocking off teenager Cole Cooper — a 2019 member of a state-placed Redlands East Valley High School cross country team — by over six minutes.
Highland's Neelam Kahlom-Pfister's 1:35.17 clocking to win the women's half-marathon, winning by less than a full minute.
Wasn't it interesting to see that Joanna Reyes, a two-time women's Redlands 10K champion with a course record under her wing, the U.S. Olympic
Marathon qualifier in Atlanta?
She ran one day before Redlands.
ARROWHEAD
CHRISTIAN ACADEMY
It was a strange season that actually began in Nov. 2019. The Eagles, little known in CIF-SS basketball hierarchy, brought in a new coach, Lance Evboumwan just days before the season started.
By the time it ended, the Eagles got a CIF Player of the Year season from Gabe Torres. When the winning basket, a second try off a missed layup by ACA's David Howerzyl, dropped through the net, the Eagles' 62-60 triumph was the school's first CIF championship in that sport.
REV STRUCK DOWN IN SOCCER FINALS
Interesting how Redlands East Valley forward Garrett Lindfelt, goalkeeper Robert Everhart and defender Danny Starkweather wound up as All-CIF selections — players from all points of the pitch for a well-rounded Wildcats' side. The Wildcats are coached by Mario Urbano.
If not for North Torrance High's historical run, REV's talented bunch (21-4-2) would've notched a second straight CIF title. Instead, the Saxons pulled off a 3-2 finals triumph in extra time. It was REV's third straight double OT match.
MURPHY & LACEY
It was the Year of Years for the women's basketball team at the local university.
For openers, the Lady Bulldogs notched their first-ever NCAA playoff win at a far distant location. Nationally ranked No. 8 Wisconsin-Whitewater fell to Redlands, 70-62.
If that wasn't enough, Redlands carried the SCIAC Player of the Year, Cassandra Lacey (26 points), on that lengthy road trip. If not for a bump on her head in their next game against Trine (IN) University, Redlands might have closed the gap in an eventual 69-49 loss.
Redlands had played to within two points.
Finally, this: Longtime Lady Bulldogs' coach Rich Murphy, once recruited to play at Redlands by men's coach Gary Smith, eventually notched NCAA Division West Region Coach of the Year honors.
Murphy constructed a game plan that held Whitewater scoring leader Becky Raeder to just nine points.
As for Lacey, she had plenty of help — Alyssa Downs' 18 points with four 3-pointers, Dack's 6-point, 12-rebound effort, along with Hannah Jerrier's 6-point, 9-rebound performance.
Murphy went with his five starters — Dack playing the entire 40-minute contest — while using his bench to near perfection.
By March 20, there were virtually no results of anything local to report to Redlands readership.
Curiously, Redlands High's successful track coach, April Berry, was asked to comment on the notion it might take for her athletes to run a road race like, for instance, A Run Through Redlands. Maybe, she said, they could make it a fun run environment.
"Sunday is our rest day," said Berry, "and a hard race (on Sunday) would not fit with the training schedule."
If she'd only known what was about to take place via a worldwide pandemic that claimed plenty of eventual local patients. In retrospect, sending an entire corps of Terrier distance runners for the local run might not have seemed so bad.
Meanwhile: On a Saturday afternoon in July — after the pandemic was well underway — longtime University of Redlands assistant football coach Joey Mariani was working in his office.
Two of Redlands' SCIAC rivals, Claremont-Mudd and Pomona-Pitzer, had recently canceled its fall schedule.
"I'm preparing for the season," said Mariani, "until they tell me there won't be one."
They told him, all right. By Dec. 1, the 2020 year was over.
Quick hits
• Jaelan Phillips, an ex-Redlands East Valley star, is more than holding his own as a Miami Hurricane defensive end.
• Can there be anything better than two softball teammates — Citrus Valley's Ella Nadeau and Mika Lee — turning up at Bay Area Pac-12 rivals Stanford and UC Berkeley?
• No matter how much he plays — or doesn't play — onetime REV defensive monster Kylie Fitts' spot on the NFL playoff-bound Arizona Cardinals' roster is a major achievement.
• Speaking of Aranda's LSU connection: Ex-LSU All-American Savannah Jaquish, still armed with a heavy bat, is still cranking out power blasts in the pro softball ranks; still one of the most prominent ex-REV athletes, male or female.
• Zac Arteche took over Redlands High's diamond duties for longtime coach Estevan Valencia, who took a promotion into the school's athletic administration.
• First order of business for Valencia: It was replacing himself, then replacing the school's brilliant softball guru, Ford, who left the Long Blue Line.
• REV softball: Hiring Ford away from the Long Blue Line.
• University of Redlands football coach Mike Maynard, suspended pending an investigation over an irrelevant comment on Twitter, was brought back without any further difficulties.
• Autumn D'Arcy, a former CIF swimming champion from REV, won Western Athletic Conference Swimmer of the Year honors at Cal State Bakersfield … winning events in the 200-IM, 100 and 200-butterfly, plus a leg in the 4 x 100 freestyle relay.
• Well-rested from a nearly complete season of overcoming concussion protocol from football, Gutierrez, REV's heavyweight, knocked off second-seeded Omar De La Torre of Hesperia Sultana, 2-1, in the Eastern Division finals.
• Every campus had big plans — University of Redlands' women's golfers, not to mention a handful of track & field runners — plus Citrus Valley High's softball fully loaded softball team. There were plenty of others with high hopes.
• Lost, too, was a highly anticipated football showdown between Citrus Valley and nearby Aquinas.
• Kim Aiken Jr., a onetime REV basketball ace, was en route to the NCAA Tournament after Eastern Washington University