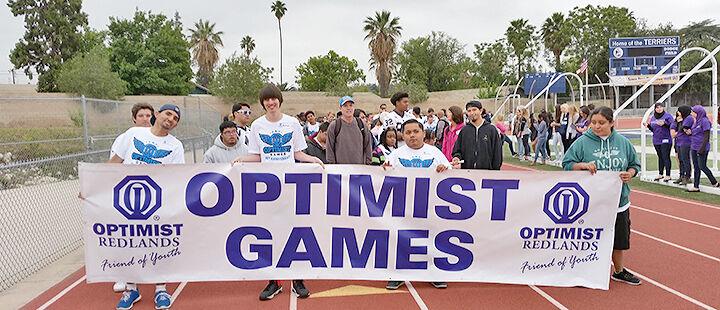 With a rousing cheer from the attendants and volunteers, about 300 special needs students marched around Dodge Stadium at Redlands High School on Thursday morning April 28 for the start of the 37th annual Redlands Optimist Games. This unique event mirrors the format of the Special Olympics, and lets special needs students from Redlands schools select from among dozens of fun games and compete in a sport where everyone becomes a winner.   
With band music playing in the background, the children bowled, kicked soccer balls, threw softballs, played with a brightly colored parachute, tossed Nerf footballs, bean bags, rings and Frisbees, and ran the 10-yard and 25-yard dash. Every participant received award ribbons and huge cheers afterward in a special ceremony.
The event is sponsored by the Redlands Optimist Club in partnership with the Redlands Unified School District. Participating members of the Optimist Club were assisted by 100 RUSD  staff and over 250 student athletes, club members and student leaders from the region's high schools.
It was a special day for Martha Mendoza, an adaptive special education specialist for Redlands Unified, who will retire this year.
Mendoza has acted as coordinator from the district's side since the event's inception in the mid-1980's.
"She is the heart and soul of the Olympic Games," said Optimist President Todd McMeans. "It has been a great privilege for the Optimist Club to work with her all these years."
The games end with lunch and the medal ceremony, where every child goes home with participation ribbons for every game they played.
The teenage volunteers run the games and cheer on the eager participants, and also assist in the preparation and cleanup.
"Our volunteers are an amazing volunteer workforce," said McMeans, who also complimented the teens for coming to the games with great attitudes.
The Optimist Club has been active in Redlands since 1947, and is one of the largest and most active of all 2,600 clubs that are part of Optimist International worldwide.