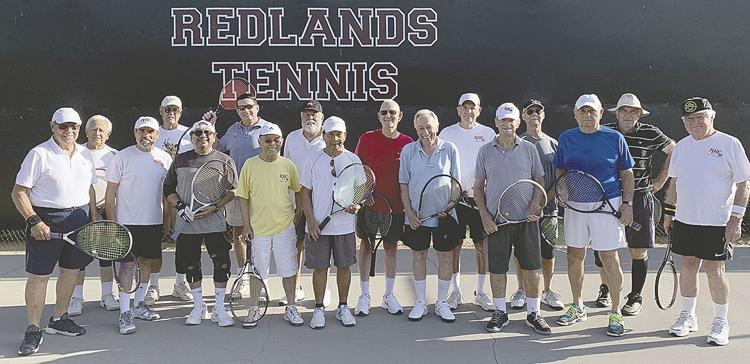 At 7 a.m. every Tuesday, Thursday and Saturday a group of tennis players meets at the Verdieck Courts at the University of Redlands. They are not your average weekend rec players.
The Redlands Racquet Club is made up of men spanning from ages 66 to 87. Their oldest member George Thomas is 87 years old.
Watching him plan, one would never know he was only three years from 90.
In a white T-shirt, black Nike shorts and a U.S. Border Patrol hat that he wears every time he plays, Thomas says members travel from all over the Inland Empire to compete.
"We have guys who live in Redlands, but also Banning, Beaumont, Grand Terrace, Fontana and Running Springs."
A member of the racquet club since the 1970s and a Redlands resident for 58 years, Thomas shares that there are 150 active club members. Eighteen of them filled the courts on Saturday, July 6.
Jokes and witty banter fly as easily over the nets as the tennis balls served by the RRC members.
"Most of us are military veterans," says Thomas, who adds a few seconds later, "...of the Civil War."
The men laugh, used to Thomas' one-liners.
"We have a couple doctors too," Thomas says motioning to Hum Bui, 76, and Ravi Rao, 66.
For doubles gameplay, the club members rotate through each court, depending on if their team wins or loses.
Rao steps forward, nodding at Thomas who is the designated "clipboard captain."
"The captain always sacrifices playing time if someone new wants to join in."
Thomas laughs, "That's because I'm tired!"
The racquet club was started in 1963 and still going strong 56 years later.
To join, it is an annual fee of $120 and there are some fun perks besides just playing tennis on a National Collegiate Athletic Association court.
The club puts on multiple events throughout the year. Off the court, they do a mixer with the University of Redlands Bulldogs tennis team, a post-tax day potluck, an annual dinner party in November and get together for club members' birthdays.
Besides playing in the morning during the week, the club also does a Twilight Tournament. Spanning over six weeks, four teams play until a champion is crowned.
If that isn't enough to spark an interest in joining, the men just have a fun time being together, cracking jokes to the sound of sneakers squeaking.
When asked if there are any women who compete with them, Thomas smiled,
"Sure there are — Charlie will wear a skirt sometimes."
The men laugh, taking a short break from competition.
One member boasts that he has 46 grandchildren.
"I don't have any, can I rent some out?" jokes another.
Make no mistake by the abundance of humor, the racquet club is not some frivolous club. When you watch the men play, you are watching some quality matches.
They are good, and they know it.