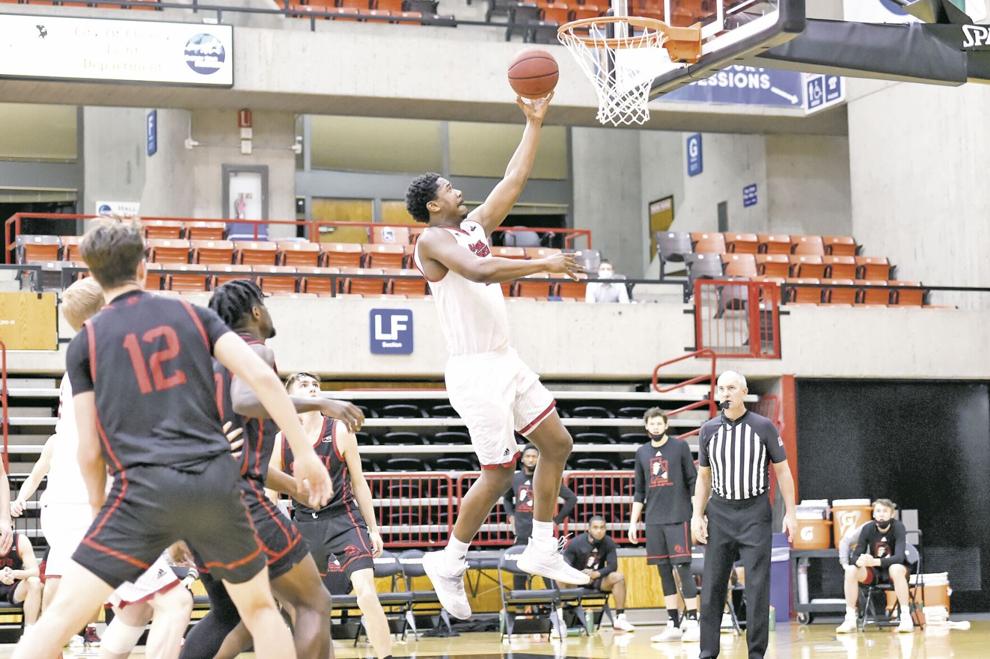 That photo told a huge story.
It depicted Eastern Washington University's junior, Kim Aiken, Jr., while tending to Montana's point guard Brandon Whitney.
Whitney, a quick-striking, heady, intelligent ball handler, wasn't going anywhere — not with 6-foot-7 Aiken, a committed defender, playing him tightly.
"Eighth grade," said Aiken, a Redlands East Valley High product. "That's when I really started to make an effort to play defense."
It's catching-up time with the ex-Wildcat, current Eagle and longtime all-around hoopster.
Dude can shoot the 3-ball and, as a defender, can take on an opposing team's best attacker.
Plus, there's glass duty. On errant shots, he's corralling a team-high nine rebounds a game. Teammate Tanner Groves holds a slight edge as Eagles' best shot blocker.
Can Aiken pass? Second, only to point guard Tyler Robertson, in assists.
Upon his arrival in Cheney, Washington, from Redlands, Aiken contributed quickly.
His 500 minutes-played as a freshman in 2018-19 was doubled by last year's sophomore season. This season? By far, he tops EWU in minutes-played.
It shouldn't come as any shock to area hoops followers. During his four seasons at REV, Aiken lifted the Wildcats to some prime time moments.
There was longtime varsity coach Bill Berich, plus JV coach Jim Simpson, and veteran assistant Mike Aranda.
The way Aiken sees things, he learned something from each man. Even longtime freshman coach Ben Myers, with whom Aiken averaged 18 points on REV's ninth-grade team, had plenty of insights.
"Really smooth dude," says Aiken. "He gave great advice. What I needed to do differently. How to guard a guy better."
As of Monday, EWU was 12-6 overall, including a first place 11-2 mark in Big Sky Conference play. Last Friday, he was named Player of the Week after scoring 49 points and getting 18 rebounds in a pair of 90-76 wins over Montana.
Aiken, passed over as conference Defensive Player of the Year in 2019-2020 for Northern Colorado's Jonah Radebaugh, might be laying claims for an even bigger prize in 2020-2021.
Try Player of the Year honors. If Aiken's not the eventual winner, he should get some attention.
Last year, Aiken made third-team all-conference.
This season, he's making an even bigger mark on a team headed for a Big Sky Conference championship.
"We lost a couple of guys from last year," said Aiken, noting top-scorer Mason Peatling was among those, "but we haven't missed a beat."
EWU, battling it out with the likes of Southern Utah, Weber (Utah) State and Idaho State, has just two games remaining — both against fourth place Idaho State (12-7, 7-3).
The Eagles have split against Southern Utah and Northern Colorado during Big Sky play. Since back-to-back losses against both schools, EWU has won nine straight.
Best game of the season, says Aiken, might have been that Northern Colorado triumph.
Head coach Shantay Legans, 52-19 over four seasons in Big Sky play, had the Eagles pointed in that direction.
It was Legans' locker room rant that might've inspired Aiken & Co. in Greeley, Colo. EWU had just lost to NoCo by two.
Part of Leg's rant: "Were you guys recruited by Northern Colorado? Montana? Idaho State?"
No.
"We recruited you to Eastern Washington," said Legans.
It was, said Aiken, just the right touch.
Thing is, Aiken might use anything as motivation.
His dad, Kim Sr., sent him a text in early February.
"Be the green," he texted.
A reference to the Incredible Hulk, an Aiken favorite TV show character.
There was that girl he met at chapel service one Sunday. "Pray for me," Aiken told her.
EWU coaches call him "Draymond," as in Golden Warriors' front court defensive whiz Draymond Green. The 6-10 Green is known for playing hard. For Aiken, it's further motivation.
It's all headed for this:
The 2021 Big Sky Men's Championships takes place March 10-13 at Idaho Central Arena in Boise. The tournament champions will receive automatic berths to the NCAA Division I Basketball Championship, a spot the Eagles were headed for last year when the pandemic struck down an entire March Madness campaign.
It's a far cry from Aiken's REV days, which is where he built up a college-bound approach.
There were those tutoring sessions with University of Redlands instructors — statistics and Spanish.
Those long-ago REV days were spent in class, playing Inland Empire Basketball Program (coaches: Julius Patterson and Keith Howard) — two summer trips to Las Vegas, plus spring tournaments, not to mention Showcase games.
Mix that with those weekly REV grade checks.
Freshman football, then onto basketball, followed by volleyball spring season.
Football's Kurt Bruich had each kid hit up their teachers.
So did Berich.
Trish Vansant let nothing slide during spring volleyball.
Anything less than a C-average left athletes out of action.
"Redlands' schools strive for that," said Aiken. "We're already suited for college by the time we graduate."
He's serious at studying, both in classes (business major, politics minor) and the basketball floor.
On that floor, Aiken journeyed down to Boise last summer. Since COVID-19 struck down throughout California, there was open gym play in Idaho.
Think it doesn't hurt to venture from Cheney over to nearby Spokane? Some open play. A little gym time with the Zags? It's where Gonzaga University holds court, literally.
Yeah, Aiken has gone up against Zags' star Corey Kispert.
"Thing is, they're the No. 1 team in the country," says Aiken.
He's full of ways to self-motivate.
"I can hardly wait for what's ahead of us," he said.
Like what?
"Sweet sixteen."