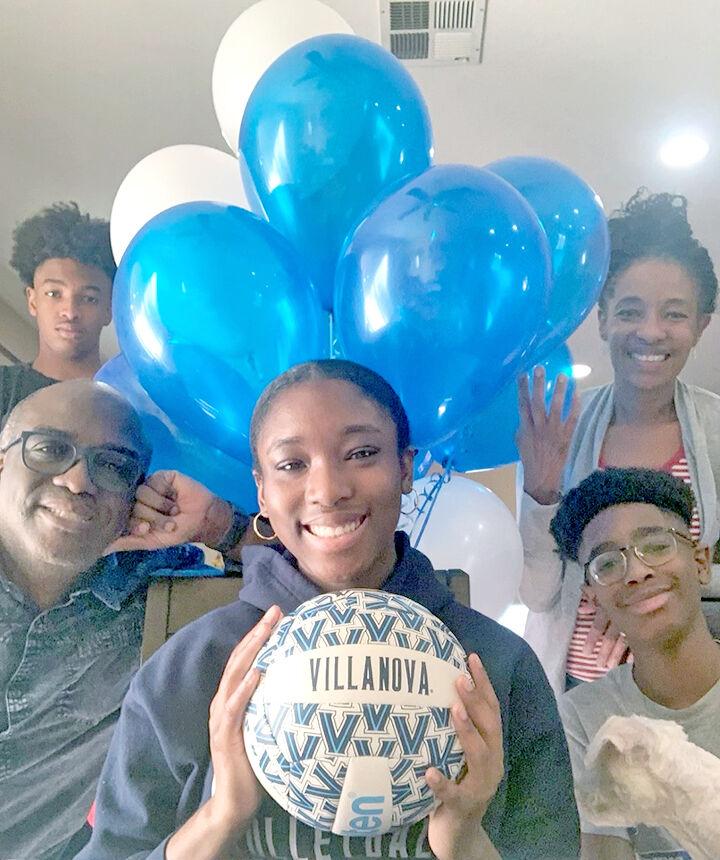 Oziomachkukwu Ozonoh, a 6-foot middle blocker coming into her junior season at Redlands East Valley High, remembers a little trip to Los Angeles back on Sept. 14, 2019.
On that night, Villanova University was taking on 20th-ranked USC in a NCAA Division I volleyball duel. The Lady Wildcats had already knocked off Yale and Howard on two preceding nights. Taking on USC would prove to be a tougher matchup.
"It was a tournament at USC," said Ozonoh. Truth is, she recalled, "there was a spot open on their team … and it was between me and another girl. I wanted to go there so bad. So I decided to go watch them play. I drove up to LA."
Another name for Ozonoh, incidentally, is Ozzie, which is pronounced O-Zee by friends, teachers, family and volleyball colleagues.
Villanova volleyball?
"The basketball school?" said Ozzie, referring to a lengthy run of that school's hoops-playing excellence. "I really didn't think of Villanova volleyball. No way!"
This was an exciting brand of recruiting. "I'm the first in my family to be recruited."
It's a Big East Conference campus — neighbors with Philadelphia, famous Merion Country Club close by, right down the street from LaSalle University and just across the Delaware River from New Jersey. "That was my top school," she said. "As soon as I heard they were interested in me, I got excited."
This ain't no cheap deal, either. Cost of a 'Nova education is around $73K annually. Here's what the Lady Wildcats will get in return:
Ozzie offers up A-level classwork. She'll bring an attacking model of excellence at the net.
Plus, a joyous smile that'll disarm anyone within viewing distance.
"When I was there," she said, "everyone was nice — not just the players who were trying to get me to go there. I visited the campus on move-in day."
Ozzie wasn't even into volleyball until eighth grade. Her dad got her started at the local YMCA. Eventually, it led to a tryout with this area's club-playing leader, Rancho Volleyball Club, which is centered in San Bernardino.
At REV, she's joined into a lengthy and growing list of superb hitters, blockers, setters and liberos that have helped the Lady Wildcats claim righteous superiority in just about every gymnasium around these parts.
The Lady Wildcats, who have produced the likes of Krista Vansant, Tori Brummett, Johnna Fouch, Sascha Dominique, Kayla Fitzgerald, among dozens of others, were no match for Auburn-bound Jackie Barrett at Citrus Valley the past two seasons.
Ozzie, for her part, was just growing into the sport. "Club," she said, referring to her Rancho squad play, "is so intense."
Counting high school, she'll play 150 matches in a calendar year. Those 14-team draws at each tournament provides loads of opportunity.
She'll throw a 3.6 grade point average into play along with 2.9 kills per set and a .365 spike percentage.
"I've got all A's and a B in French," she said.
Ozzie seems jazzed by remote learning — though teachers are openly complaining that more students are failing in that method of education — "because it's easier to get ready for tests. I have a little more time for myself."
Remember, club play is multiple hours a week.
Homework, at least for Ozzie, is 1½ hours before her 4:30 Rancho practice, plus another hour afterward. "My grades have always been good. In my sophomore year, I had all A's and a B-minus in chemistry … because they had a lot of staff changes."
On that August 2019 trip to 'Nova's campus, Ozzie figured she'd fit right in.
"I hit with them," she said, referring to a little scrimmage with incoming freshmen. "I blocke
d some. I figured if I can block them now, what will I be like in two years?" Plus, she noticed the trees "as soon as I stepped onto the campus. They have every species of trees there is."
'Nova's Big East Conference schedule will reflect the likes of Creighton and Providence, Xavier, DePaul and Marquette, plus Georgetown, Seton Hall and St. John's — not to mention a cross-town duel with La Salle.
That September 2019 match at USC was a Lady Trojan sweep, three straight over 'Nova — a 22-9 team last season.
Ozzie made that trip to L.A. to watch for a single-minded purpose. "I really wanted to sell myself. I wanted to be part of their team. I wanted to show them that I cared.
"I really think it made a difference that I went," said Ozzie. "After the game, I texted some of the players. I felt like I should do that. They texted back.
"Even Josh (Steinback), the coach. They were a little embarrassed that they didn't play that well in the match."
Said Ozzie: "I think it made the difference because they offered me that spot."