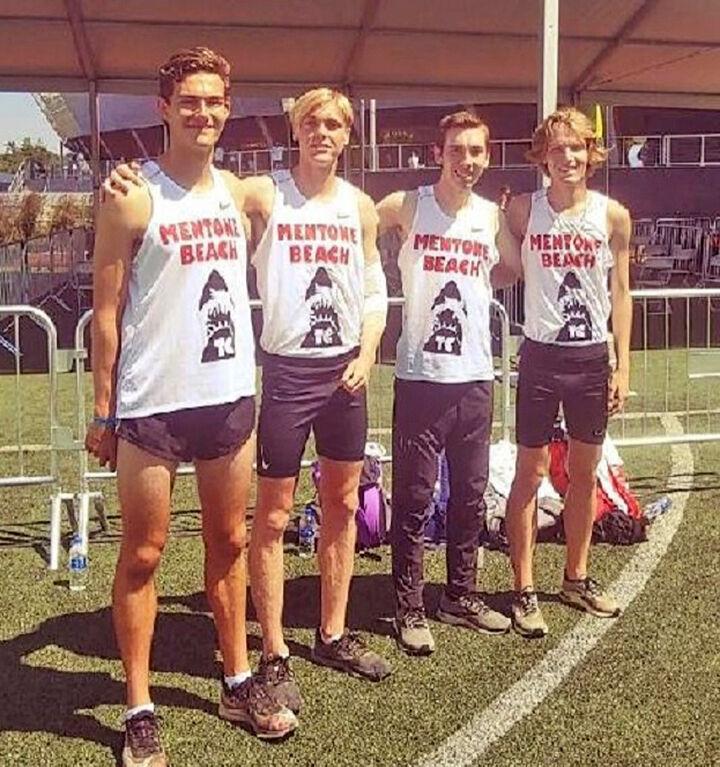 Simon Opsahl, Corey Ford. Liam Mapes. Matt Hornung. The Redlands East Valley High quartet are newly minted All-Americans, just in time for the Fourth of July.
It happened Saturday, July 3 at the National Scholastic Athletics Foundation Outdoor Nationals. The REV distance medley relay team finished fifth in 10:07.11 at historic Hayward Field in Eugene, Oregon.
The venue is where the U.S. Olympic Trials took place and where the famed University of Oregon middle distance runner Steve Prefontaine ran before his death.
"I feel awesome," Opsahl said. "It was a great way to end the season. I don't think it's really hit me yet. I'm definitely grateful we got to run this year (despite the coronavirus pandemic) and I know my teammates are grateful, too."
The team ran under the moniker East Valley Track Club since three of its athletes are high school graduates.
Opsahl began the race by running three laps in 3:04, followed by one from Ford (50.8), two from Mapes (1:54.5), and four from Hornung (4:17).
Opsahl ran with his left arm wrapped after dislocating it playing basketball the previous Tuesday. He said the injury hindered him a bit, but the adrenaline of the meet and the excitement of the stadium were motivating.
"It was exciting," REV coach Matt Sartori said. "I didn't actually know if we were going to run the race (due to Opsahl's injury). We did really well considering everything that went on. We were in it for first place until the very end so you can't ask for much more than that."
Opsahl and Hornung would have swapped distances if Opsahl wasn't injured, Sartori said.
The Wildcats got personal bests from almost everyone and ran 11 seconds better as a team than it did at the self-dubbed California State Championships at Arcadia where they finished second.
Commemorating their achievement, the REV runners received batons with the name of the meet and T-shirts that declared them All-Americans.
Other highlights for the runners was seeing the underground track at Hayward and running "Pre's Trail" – the running trail dedicated to the late Prefontaine, a folk hero in the 1970s for many runners.
"His image is everywhere, throughout Eugene and at Hayward Field," Opsahl said. "And, of course, the trail is dedicated to him."
Ford, a junior, has one year left at REV but everyone else recently graduated. Mapes embarks on a two-year Mormon mission and then will run at Brigham Young University. Hornung will run at Washington University in St. Louis. Opsahl – he of the 4.75 grade point average — will compete at the Massachusetts Institute of Technology.
"I leave Aug. 22," Opsahl said. "We get there a week before the rest of the students. It's amazing. I'll be going to school with some of the smartest people in the world, so I have a lot to learn."
Mapes, who is a triplet, is also eager for his next adventure. His mission will take him to Panama City, Panama.
"I'm a little bit nervous," Mapes said. "The weight of it hasn't hit me yet. I'm waiting for that to happen."