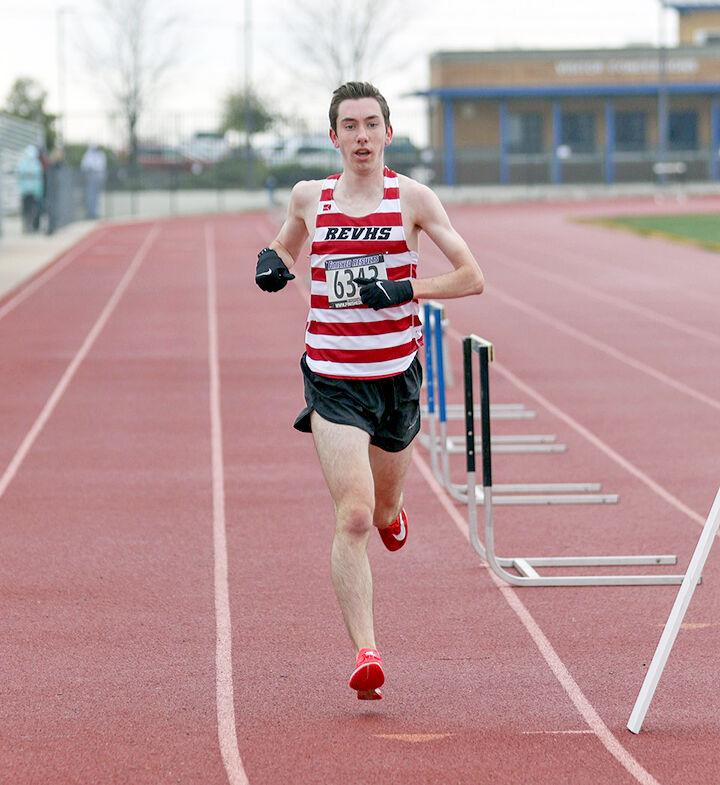 The Redlands East Valley boys and Yucaipa girls won the Citrus Belt League finals cross-country finals on Saturday, March 27, at Yucaipa Community Park.
The event was held in a dual-meet format, with the first race of the day being the Yucaipa girls against the Citrus Valley boys. Other matchups were: REV boys vs. Citrus Valley boys, REV girls vs. Beaumont, Yucaipa boys vs. Beaumont, Redlands girls vs. Cajon and Redlands boys vs. Cajon.
Matt Hornung had the best boys' time on the 3-mile course, finishing in 15 minutes, 8 seconds. The Wildcats, who finished with 24 points, had the first three finishers, with Simon Osahi (15:17.1) taking second and Liam Mapes (15:49.7) third. Also finishing in the Top 10 for REV were Emmanuel Wallace (eighth, 16:23.8) and Sean Walker (10th, 16:25.9).
Overall, REV individuals took the 1-2-3-8-10-16-23 places.
Beaumont finished second with 59 points. Dustin Berger placed fifth in 16:16.7 and Marcus Shin was fifth in 16:16.9.
Citrus Valley finished third, paced by fourth-place individual Jake Caliva (15:54.7) and ninth-place Juan Montes (16:25.6).
Yucaipa placed fourth in the boys' division, led by Brady Woods' seventh place finish of 16:23.1.
Yucaipa swept to victory on the girls' side with 21 points. The Thunderbirds took eight of the first 10 places, led by winner Kaitlyn Townsend (18:49.3).
Hausmann wins
Beaumont event:
Sophie Hausmann of Nottuln, Germany, shot a 2-under-par 70 Sunday, March 28, at the IOA Championship at Morongo Golf Club at Tukwet Canyon in Beaumont. Her score was enough to win the event on a breezy day that made shooting par difficult.
The two-time Big Sky Conference Player of the Year from the University of Idaho finished the second round on Saturday, March 27, with an eagle, and a birdie to set her up for the victory on Sunday.
Maude-Aimee Leblanc of Canada and Sophia Schubert of Oak Ridge, Tennessee, and the University of Tennessee tied for second place in the event.
Hausmann earned a check for $22,500 for winning the tournament.
The Top 10 finishers on the Symetra Tour advance to the LPGA Tour.
REV baseball off to quick start
The Redlands East Valley baseball team won two of three games to start the season. REV defeated Shadow Hills 7-6 on Friday, March 19, fell to Paloma Valley 8-7 on Saturday, March 20 and defeated Los Osos 7-5 on Thursday, March 25.
Blackhawk baseball opens strong
The Citrus Valley High baseball team won two of its first three games to start the season.
The Blackhawks defeated Paloma Valley 11-10 and fell to Palm Desert 6-5.
Against Paloma Valley, Riley Hunsaker went 3 for 4 at the plate and had two runs batted in. Also for the Blackhawks, Jacob Horner and Cy Robertson had two hits each.
Redlands baseball gets first win
The Redlands High baseball team earned its first victory of the season, defeating Xavier Prep 5-4 on Tuesday, March 23. The Terriers scored two in the seventh to win it. It also dropped a 2-1 decision to Paloma Valley on Friday, March 19, and lost to Centennial 4-0 on Saturday, March 20.
Eagles' baseball flying high
The Arrowhead Christian Academy baseball team defeated Rim of the World 7-3 on Monday, March 22 and Notre Dame 13-3 on Wednesday, March 24.
Brothers Gama and Nick Martinez each had two hits and an RBI against Notre Dame and Bradley Gilbert hit a home run.
Against Rim, Jesse Najera went 2 for 3 with three RBIs, Bradley Gilbert went 2 for 4 with two RBIs and Jayden Loera went 2 for 4 with one RBI.
U of R women win
The University of Redlands women's water polo team edged Chapman 10-9 on Saturday, March 27, in a Southern California Intercollegiate Conference game. Katrina Nielsen made a steal with 20 seconds left and scored with just 13 ticks left to win it for Redlands. Holly Kvanvig led Redlands with three goals and goalkeeper Tori Zielinski had 10 saves.
Hood's hat tricks lift Eagles
Madeline Hood scored three goals (a hat trick) to lead the Arrowhead Christian Academy girls' soccer team to a 5-0 victory Thursday, March 25, against Ontario Christian. Alice Kok and Elia Luna scored one goal apiece.
Hood also had three goals Tuesday, March 23 in a 3-2 win against Linfield Christian, including the game-winner with less than two minutes left.
Bulldog soccer prevails
The University of Redlands men's soccer team defeated host Cal Lutheran 2-1 on Friday, March 26. Collin ChubbFertal and Arian Mogharei had goals for the Bulldogs. Goalkeeper Griffin Gettman made four saves.
REV softball struggles
The Redlands East Valley softball team dropped three games to start the season. The Wildcats lost to Hemet 12-9 on Monday, March 22, fell to Vista Murrieta 10-1 on Tuesday, March 23 and lost to Riverside Poly 9-0 on Wednesday, March 24. Poly pitched a perfect game in its victory.
Against Vista Murrieta, Ivy Walker led REV with a 2 for 3 effort at the plate with one RBI. Hannah Nordby and Kylie Johnson led REV against Hemet by each collecting three hits and knocking in a run. Kenzie San Pedro and Walker both went 2 for 4 with one RBI.
Terrier softball starts slowly
The Redlands High softball team lost two of three games to start the season.
The Terriers fell to Vista Murrieta 12-0 on Monday, March 22, defeated Riverside Poly 8-7 on Tuesday, March 23, and lost to Valley View 11-0 on Thursday, March 25.
Jacey Leyva had Redlands' only hit against Valley View.
Lindsay Cabral went 3 for 3 with two RBI against Poly and Jennifer Rubalcava went 2 for 4 with three RBI.
Redlands was outhit by Vista Murrieta 17-2. Kaelyn Jewell and Rubalcava had the Terrier hits.
ACA football falls to Ontario Christian
The Arrowhead Christian football team (1-1) lost 21-6 to Ontario Christian on Friday, March 26.
The game was tied 6-6 at halftime.