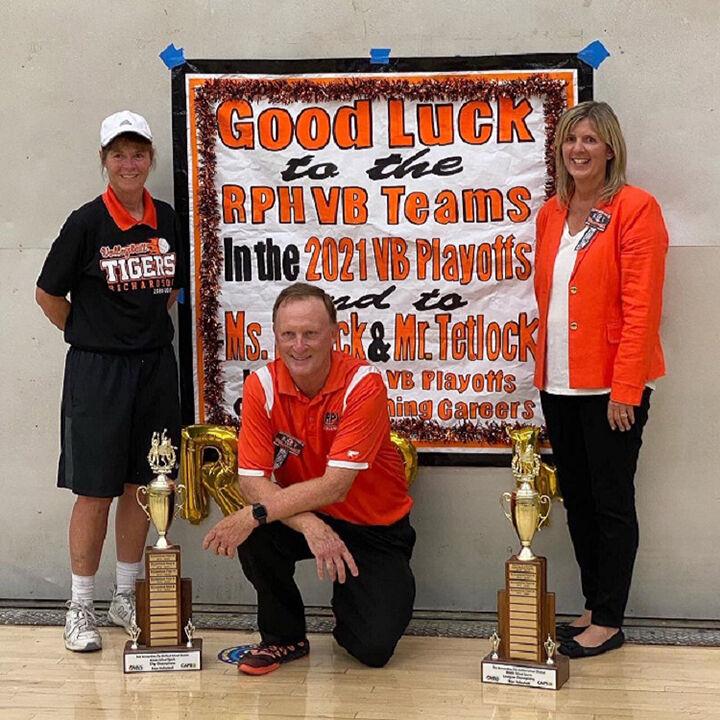 The Richardson Prep volleyball team was one point from victory.
Coach CR Tetlock nervously checked with the scorer's table. The ball was served. And a Richardson player rose from the hardwood and spiked one home for the win.
The jubilant Tigers dissolved into a happy, dancing scrum.
Final score: Richardson Prep Hi defeated Cesar Chavez Middle School 25-9, 25-15 Thursday, Oct. 7 for the school (and coach's) sixth consecutive city title.
But there was no time to waste. Tetlock herded his players into a straight line in front of the net for a post-match ceremony. Then he consoled an outstanding Chavez player before shaking the hands of all his players who made his final match such a success.
Not only was this Tetlock's final hurrah, but the longtime Highland resident, his educator wife Pamela, and his sister Jo Ann – who also led a Richardson team (the girls) to a title Thursday night -- are all retiring from education in the spring.
Think about that: Three teachers, all with the same last name, all at the same school, all of them uber involved with students for decades, retiring simultaneously. It happens, well, almost never.
Said Chavez boys' volleyball coach Lawrence Quenga to the hundreds in attendance at Cajon High, "I believe this is Mr. CR Tetlock's last game coaching, so can we give him a round of applause? I have not met a better coach, nor a better man than CR."
Asked to explain that statement, Quenga said, "Every interaction you have with CR is a positive one. The Tetlocks have a motto, to always have a positive impact. Jo Ann is hard-nosed, but nobody has a bigger heart for the kids."
And the plaudits continued to flow.
"Mr. Tetlock has been a big influence for a lot of kids in the district, including my own," said Cajon High athletic director Rich Imbriani to the hundreds in attendance. "I can't say enough about someone who is retiring after 39 years with the district."
Not to be forgotten is CR's wife Pamela, who kept score at Thursday night's matches. She and CR met while teaching at Golden Valley Middle School. Pamela has been at Richardson for 24 years, serving as math department chairperson, as well as a seventh-grade team leader, Associated Student Body advisor, scorekeeper for Richardson athletics and occasional coach. She even coached cheerleading for a while.
Last week's volleyball title was CR's 45th city championship. CR (the initials stand for Charles Robert) for the past 36 years has been the only middle school athletic coordinator the San Bernardino City Unified School District has known.
"In other words," said Highland resident and former Golden Valley teacher and coach Jim McGarry, "if it wasn't for CR Tetlock, middle school sports would not exist in our district."