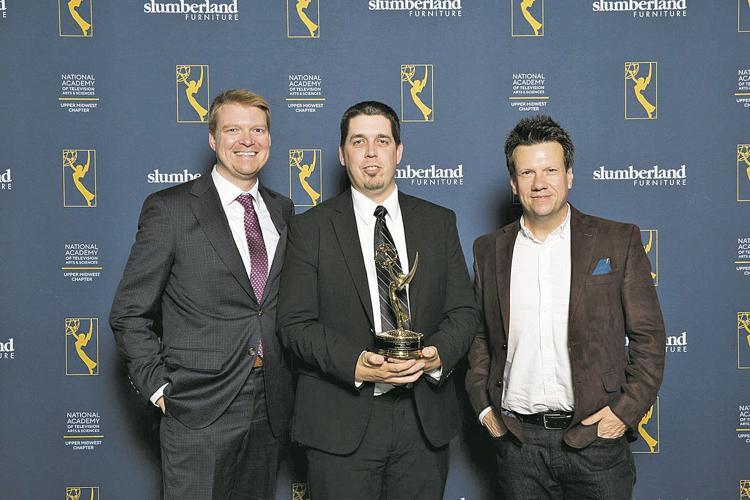 A female Mixed Martial Arts fighter, Mariah Prussia, had all the gear — cameras, microphones, lighting — pointed in her direction for a hopeful outcome in a well-plotted documentary.
She lost in her MMA debut, badly in fact. There was, however, a deeper purpose in mind.
It turns out that an Upper Midwest Emmy Award was on the line for a group of video production artists from Click Content Studios, of Fargo, N.D.
Aaron Godard, 37, a 2000 Redlands East Valley High School graduate, was on that team.
"She owned her own gym," said Godard. "We followed her around, watching her train for one of her big matches."
All that energy paid off. Sure enough, the Click Content Studio trio, copped the award for Best Documentary back on Oct. 5.
It may not have been the highly acclaimed Emmy honor that engulfs mainstream Hollywood, along with its surroundings, but the milestone of a local Emmy was no less enthralling for Godard, 37.
He showed up in the Midwest in 2003 with dreams of a videography career.
"I've always been into video," he said. "If you count high school, I've been doing this for 20 years."
Originally, Aaron showed up in the Midwest to attend Minnesota State University-Moorhead. That morphed into a job at a Fargo TV news station that his father, Michael Godard, helped him land.
As for Prussia — pronounced Pru-zia — she is a trainer who also fights. "She's known around town as a motivational trainer," said Godard.
Cameras aimed, hopes high and certainly aiming for a different outcome, Prussia failed. "She did not win."
In fact, it was a rather quick loss — 40 seconds to a minute, estimated Godard, who was shooting the duel, saying, "It was rough."
Still, the cameras rolled on. Win or lose, it was a documentary, not some staged event where the spotlighted subject was pre-determined to prevail in the outcome. "We followed her for two of her fights," he said.
Both were losses.
Coincidentally, one of Prussia's fights was staged at the Mystic Center Casino, near Minneapolis, which is where the Midwest Emmy Awards were later held.
"We joked that it was like going back to the scene of the crime," said Godard.
Godard was third man on the project, topped by Cody Rogness, photographer, editor and producer, with Jim Manney, executive producer and producer, fronting Godard's photographer's duties.
There was just one statuette for the trio from Click Content Studio, retained by Rogness. Godard, at a cost of $395, will have to buy his own. "It's worth it," he said.
Winning that Emmy validates his own claims that Godard picked the right profession, "that what I've been working at the last 20 years has been worth it."
Prussia was not the first — and won't be the last — documentary that Clint Content Studio will produce. If anything, the Upper Midwest Emmy will be viewed as a highlight for any prospective employers looking for a videographing company. "Definitely," said Godard, "it's going on my résumé."