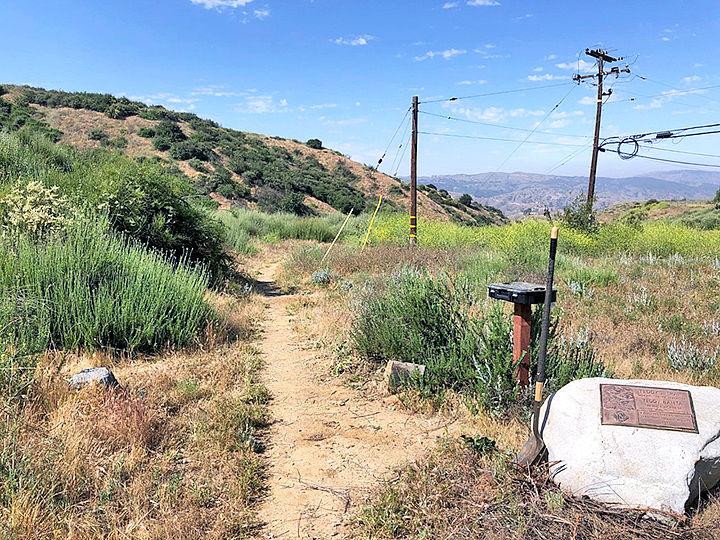 Jonathan Baty wastes no time in letting anyone know there are lots of people involved.
Dozens more are taking advantage.
A trail system of mountain bike connections that are logged in from anywhere between Colton and terrain-laden Angelus Oaks has now gotten notice.
When the International Mountain Bicycle Association (IMBA) hit this area's trails system with a bronze award earlier this year, it became a big deal — a first for California.
It's an award, a designation, an honor, that covers 150 miles of area trails that created a new look.
"The application for the award," said Baty, "has taken about two years." Baty is founder of bikecommuter.com, which is strong evidence that he's really involved.
Maybe the most well-known of the bike paths is that paved Santa Ana River Trail (SART), plus miles and miles of off-road terrain through Loma Linda and Redlands, Highland and Yucaipa, plus Mentone and Crestline — and more.
Cleaning, signage, basic yard work and organization has largely been its main project.
Said Baty: "It is a boatload of work." It'll continue to be a boatload. That IMBA committee will return, he said, to "see if we've progressed in connecting any of the trails."
There is a large throng of riders on those trails. How many? Who knows?
"It would be such a wild guess to try and say how many people use these trails," said Jeff Stanners, president of nonprofit Bike for Bender, who lives in Mentone near Highway 38.
It's similar to winter months, he says, "when you see lots of cars with skis and snowboards on their roof during a good snowy weekend. Mountain bikes are very common on cars coming down the 38 — especially on the weekend."
"I don't know of anyone keeping count," said Eric Shamp, "but at 7 a.m. (on June 4), I was out at Hulda Crooks Park (Loma Linda) and easily saw two dozen bicyclists on the one trail I rode — and more in the parking lot."
Shamp owns Econobike in Redlands, having created a mountain bike rental program — an IMBA recommendation — so riders can sample local trails without bringing their own bikes.
Considering it may someday connect with the Pacific Crest Trail — a boon to all outdoorsmen and women — it has diversity that might connect with Big Bear Valley.
Some technicalities prevented that connection.
Baty, meanwhile, proclaims this trail perfect for both times of year — hot or cold weather.
"When it's snowing in the mountains," he said, "you ride in the valley. When there's heat in the valley, you go to the mountains."
There's an idea, of course, lodged into all this. Out-of-area cyclists, based on IMBA's designation, might come here, lodge themselves into a hotel, dine at local eateries and spend four or five days on those massive trails.
IMBA talks about "amazing rides" like a restaurant reviewer inhales those secret sauces at dinner.
As noted, it's a bronze-level ride center, noting such official descriptions like "crowned jewel of Redlands" … "an all-day ride with 7,000-feet of descending through varied ecosystems" … "some of the best views in California" … "love the connecting trails through town" … "amazing meals."
There are 41 such spots around the world. Naturally, Colorado is well-decorated in such landscape. Moab, Utah, and Sedona, Arizona, are both in the club. Redlands has the lone designation in California.
As to the people involved in creating this "destination," it's an impressive list. There's the U.S. Forest Service, plus the District Ranger manager, Southern California Mountain Trail Foundation, area bicycle shops, plus various cities, Redlands and Yucaipa high schools and a multi-source Inland Empire Bicycle Alliance, among others.
Fundraising was part of this project. Some $11,500 was needed to bring a committee out to vet the trail system. There was a lot to vet.
That 11 grand might have paid off in eventual money paid to local hotels and restaurants, plus local bike shops — all spent by visitors coming to ride the trails.
Redlands, said Baty who noted former City Councilman Jon Harrison, donated $2,000 of that $11,500.
It was beyond just a group effort, said Baty.
"There's a core group of about 20 active participants," he said, "that took this on."
Bennett Rossell is trails manager for SoCal Mountains Foundation. Rossell shared signage ideas, connecting the group to the front country ranger district volunteer manager.
Redlands Cyclery manager Jon Ankenman has "adopted" a trail section of the Santa Ana River Trail (SART) with Rossell in the mountains district. Shamp has shared support of trail care efforts in the lower mountain, especially in the Santa Ana River Trail.
U.S. Forest Service's Travis Mason, part of the Front Country organization, took part in working on grants, organizing trails and getting signage.
Jackie Resigne is program manager at SkyPark, at Crestline, helping to promote mountain biking in that region.
Stanners' group, Bike for Bender, support youth mountain bike development programs and fallen rider support. BFB has taken on two major mountain bike rides in this region annually, plus trail work.
Chris Orr is a trail evaluator, designer and builder for IMBA.
"He helped us through our evaluation process," said Baty, "and also ran a trail stewardship summit with (Los Angeles') IMBA's chapter … which I was able to attend."
Inland Empire Biking Alliance President Marven Norman helped create nonprofit status. Said Baty: "(Without him) we could not have raised the money to get this done." At times like this, being outdoors on a bike is a major achievement.
Said Shamp: "Since the stay-at-home order, I've been seeing more people on the trails — all users, not just bicyclists.
"On the really popular trails, at peak times, you'll pass other riders every minute or so. There are still a few trails where you can really get away from people, but fewer and fewer all the time, and that's not entirely a bad thing."
Memories might include Robert Bender, who died at age 26 in 2010 — a rabid mountain biker who has got Bike For Bender, a foundation in his name that aids riders.
Redlands Conservancy might have the best data on check-ins, especially for the trails' open spaces. Thousands each year, said Baty, "and it's been a critical outlet for folks to recharge their spirits amidst the pandemic."
Executive Director Sherli Leonard, he says, "has her pulse on that data for Redlands' open spaces and trails."
All of which leads to multiple uses.
"Take a bus ride up and ride it downhill," says Baty, adding, "only the most experienced cyclists will ride it uphill."