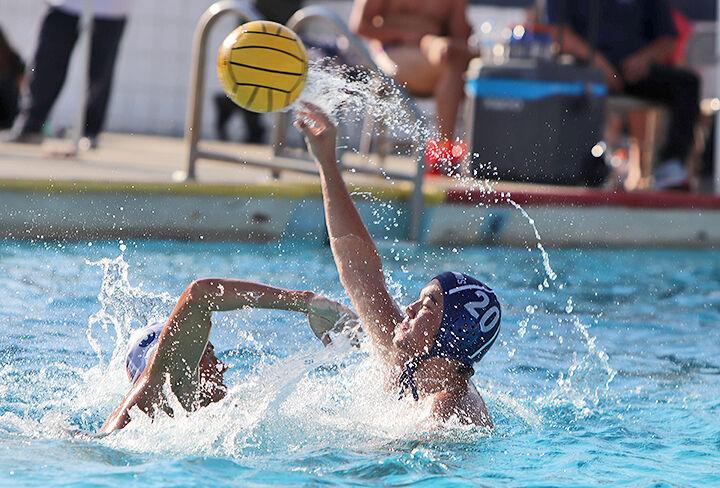 Beaumont High boys' water polo coach Chris Carlson showed up in the city where he lives and the pool where his two sons played.
But it wasn't a happy reunion as host Redlands defeated the Cougars 15-5.  
The Citrus Belt League match was played on Thursday, Oct. 6. It was Senior Day for Redlands.  
"It's our old stomping grounds," Carlson said. "I had two sons who played here (Christian and Cash) and I had great experiences with them. We live in Redlands, and they do a good job here. They have good players and a long tradition, so we're happy to come in here and compete."  
It was an important victory for Redlands (6-6 overall, 3-0 in league), which is battling Redlands East Valley and Citrus Valley for the Citrus Belt League title.   
Beaumont competed well the first half and only trailed 7-4. But the Terriers outscored the Cougars 8-1 in the second half.  
"We had good chemistry today and everyone performed well, even the JV guys that we brought up to varsity," said Ethan Kuan, a senior who led Redlands with four goals.
"It was our Senior Day, and it might be our last home game before our home crowd and all of our families and friends, so it meant a lot to us today."  
Said Redlands coach Austin Kent, "I feel pretty good. We have nine seniors on the team, and so this is a big deal.
Most of them have started for four years. And they're all home-grown." Kuan scored twice in the first quarter as Redlands seized a 5-1 lead.
Beaumont (2-12, 0-4) twice closed to within two goals in the second quarter but the Terriers nudged the lead to three with 14 seconds left on a goal by Jace Johnson.  
Redlands overwhelmed Beaumont with eight consecutive goals in the second half including two apiece by Kuan and Andrew Lambert.
The Cougars did not score in the second half until 59 seconds left in the game.   
"We're just super young and inexperienced," Carlson said. "It's going to take a little while. I think our fitness level is pretty high, but we just lack experience."