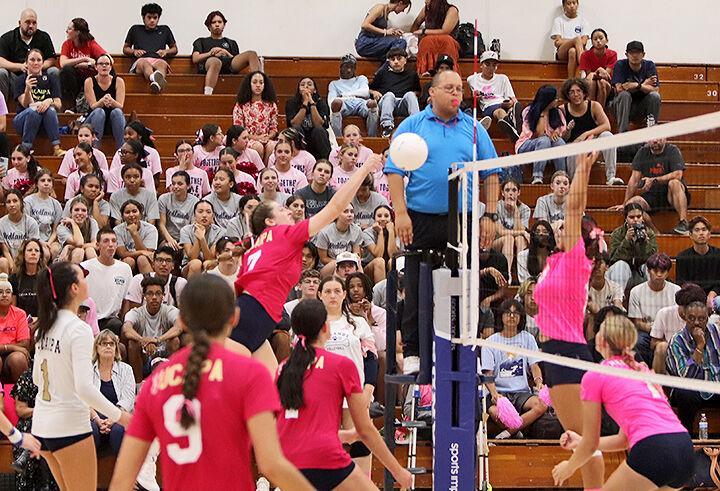 Riveting. Thrilling. Exhausting. That's what the marathon 72-point first set between visiting Yucaipa High and Redlands was last week.  
It stood to reason one team would suffer a letdown after such an emotional set, and that team was Yucaipa. Redlands won the match on Tuesday, Oct. 4, after dropping that first set, 35-37, 25-15, 25-11, 25-22.  
Redlands achieved history with the victory. The triumph earned for the Terriers (26-7 overall, 8-0 league) at least a piece of the Citrus Belt League title for the first time since 2006. Two days later they won again, clinching an outright title. It was the 12th league girls' volleyball title in Terrier history.   
"That was really tiring," said Redlands outside hitter Julia Tolstova who had 12 of her match-high 21 kills in the first set. "It was really back and forth. It's the longest match I've ever been in. It was intense. I was thinking, whoever is going to win this set is going to win the (match)."  
The set was the longest and most thrilling anyone could remember.  
Said Yucaipa coach Amber VonKaenel, "It was pretty exciting. That's fun volleyball right there. You can't dream up that kind of stuff. It's a tough one to come back after. We just had a tough time with some runs, both in set 2 and set 3. But then we came back in set 4 and I wish we could have held on in that one."  
Redlands coach Corinne Flowers found the first set thrilling.   
"It was exciting," she said. "I knew that Yucaipa would be coming after us. We have that undefeated title on our back. Usually it's the team that loses (a close set) that has a letdown, but we kept our cool."  
The day had special meaning for both teams. It was the "Dig Pink" match, an event for breast cancer awareness. Both teams wore pink; posters commemorating the day decorated the gymnasium.   
Yucaipa (12-10, 4-4) won the wild first set after fending off eight set points. The Thunderbirds secured the victory when Phoebie Miller's shot ticked the top of the net and fell in front of a Redlands defender who steered the ball back into the net.  
Redlands led the second set 10-9 and then outscored the Thunderbirds 12-2 en route to an easy victory. Tolstova's kill ended the set.  
Trailing 3-0 in the third set, Redlands scored 17 of the next 20 points to blow out the Thunderbirds. Saniyah Sobers' ace ended it.   
Torey Barnthouse's third kill of the set gave Yucaipa a 9-1 lead in the fourth set. But then here came Redlands, who rallied to take a 19-18 lead.  
Cailin Brokaw's second consecutive ace gave Yucaipa a 22-19 lead, prompting a Redlands timeout. The Terriers regrouped and won the last six points to win the match and the league title – the last point coming on a Sobers ace.  
Terrier fans rose, threw their hands up and screamed after the final point.   
"Our team is a tight-knit group," Tolstova said. "Everyone is there for each other."
Besides Tolstova's 21 kills, Redlands got four kills and three blocks from Kaley Joye; three aces from Lauren Reiter; three blocks from Diana Castro; 12 kills, six aces and 13 digs from Sobers; three kills, 13 digs, and 29 assists from Maddie Brown; two blocks and four kills from Hanalei Martinez and 25 digs from Bella Farrokhi.