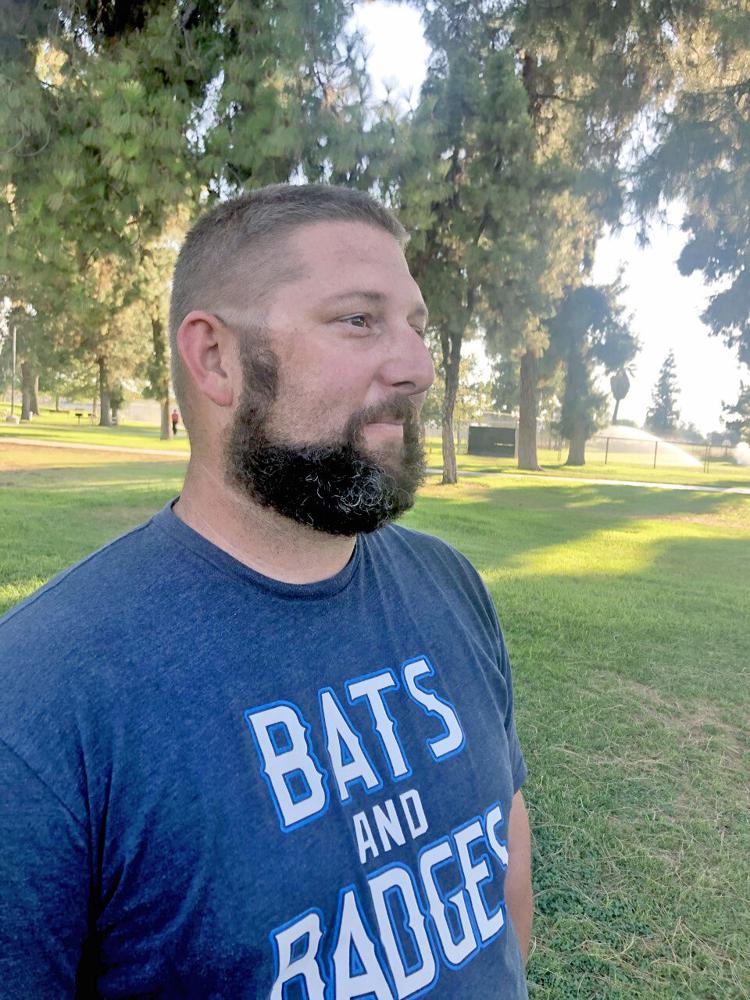 So many misunderstandings.
A lot of over-reactions.
Plenty of antisocial behavior.
And, yes, there were some outright false allegations. Some are still pending.
It should all be part of the advertising if you're ever seeking new youth baseball leadership. It's like, "This is what you can expect when you run a league."
Redlands Baseball For Youth's unparalleled short season that started in March and, in fact, ended in March, thus turning into a bit of a mess.
Someone got poked, a member of the board, enough so that it was considered an assault.
Another board member got spit on.
Josh Forbey who, for the past couple of years, has been president of Redlands Baseball For Youth.
The man appears to be honest, hard-working, carrying around a bagful of total integrity, calm, intelligent, a visionary — just the kind of guy who ought to answer that ad seeking a president.
"My dad was president of a Little League," he said.
In Rialto.
"I had 500 kids in my league," Randy Forbey told his son.
Josh Forbey gave him the good news. "I've got over 1,000."
That many kids carry some additional weight — parents.
Take last season, for instance.
RBY, like every league from coast to coast, was placed in that unenviable position of having to cancel its season because of COVID-19.
Forbey's board kept trying to pump it back to life. By May, it was no use.
One board member showed up twice a week to mow the grass.
Another showed up to drag the infield.
A bunch of parents, though, wanted refunds.
Almost overnight, Forbey & Co. were surrounded by naysayers.
RUNNING RBY: A NUMBERS CRUNCH
On the surface, it seemed like a righteous call — give back all that money.
"We would essentially go broke doing it," said Forbey.
It costs $125 to sign a kid up at RBY. Candy sales fundraisers, plus team sponsorship brings that overall total to around $250 a kid.
RBY, for instance, spent $170,000 before opening day. Little things like candy ($69,000) for the fundraiser, $55,000 on uniforms, $10,000 for insurance — you know, critical costs like those.
Some of those injured parents, whose children had high hopes of swinging the stick, catching a ball or scoring a run, still demanded refunds. And explanations. Plus, apologies.
There might be, in fact, a difference in "voicing your opinion" as opposed to "running your mouth." It's the day and age of social media, so watch out. They all piled onto RBY leadership — and anyone that might side with them.
Full disclosure: Josh Forbey had a couple kids in the program, too. Cost him $250 — same as everyone else — per kid.
Said Forbey: "I got two games for each kid. Some parents got six games for their kid. Some didn't get any."
The season, despite holding out for hope, just didn't get played out. By May, Forbey had to call it.
Money. Money. Money. Refunds.
Longtime treasurer Dave Eason has all expenditures on line for full review. Check out RBY's website.
Speaking of money: Forbey declared, "If I offered a $50 signup discount for 30 days and a thousand people signed up … I'd lose $50,000."
Folks, that's eye-opening.
It's even more eye-opening that he's plotting to cut the candy sales and raise registration fees.
Let the emails begin — again. There were 70, maybe even 80, emails calling out Forbey and his RBY board for bad behavior. Stealing. Misappropriation of funds.
Deep breath, Josh.
"Lot of financial questions," he said. "The snack bar — we had a new vendor this year — was doing some good sales."
There were open board meetings. Under COVID-19 restrictions, it had to be on Zoom.
A couple of rules to go by:
Folks who get worked up are relentless. Amateur legal experts. Activists.
Few want to reasonably listen.
Many wanted a call to action.
More numbers:
"If those 70 or 80 people each had two kids playing," said Forbey, "that's 12 percent of my program."
RBY BOARD CANDIDATES
A couple of complaining parents — women, in fact — attempted to join the board.
One was a property manager. Forbey said, "We could use some help with financials. Dave Eason (RBY's 37-year treasurer) might need a break some day."
The other was a web designer. Said Forbey: "Our website could use a facelift."
RBY board members convened to vote on these folks. They didn't get voted in. Said Forbey: "We felt they didn't have the purest of intentions."
Naturally, RBY was charged as sexist.
Forbey chuckled: "The softball half (women, that is) at my house should really be getting involved, but that's another story.
"We'd love more women on the board."
A few unhappy parents kept pecking away. One kept writing to news outlets — ABC7, Fox News, plus area newspapers — while others followed up with persistent phone calls.
Others kept hammering away with emails, appearing as angry viewers on Zoom board meetings.
Saw people using RBY fields, despite COVID-19 restrictions.
Yes, there was a softball game under the direction of a board member.
"I asked him to stop — and he did," said Forbey.
Anything over 10 people — violating the spirit of those physical distance rules — seemed to be ignored.
Outsiders took over the field on a Sunday, or two. RBY has zero control of its fields on Sundays. Out-of-commission police cars were used. They parked a car right on the field. City trucks were parked on the field. Finally, dumpsters blocked the base paths.
"On the outfield," noted Forbey, echoing some concern that it would harm the grass.
During which time, RBY officials showed up, opened their doors and welcomed parents seeking the photo packages. At least that part of a shattered season got played out.
"I guess," said Forbey, "it made it look like we were running that softball tournament."
To those complaining parents, whose kids weren't allowed to play, it seemed unjust.
These are single moms.
Families with multiple kids.
First-year T-ballers. Or a Bronco all-star.
Forbey & Co. have to serve 'em all.
Plans are to rebuild the restrooms.
The LA84 Foundation — still part of that 1984 Olympic charity still paying off — gave RBY a chunk of money.
A local auto dealership showed up with some handouts.
Trying to implement a five-year plan might help rebuild RBY's aging facility.
"A new roof," said Forbey, "on the snack bar might be nice." All during which time he's got to fight off a few parents.
Get set for a new thread of emails.