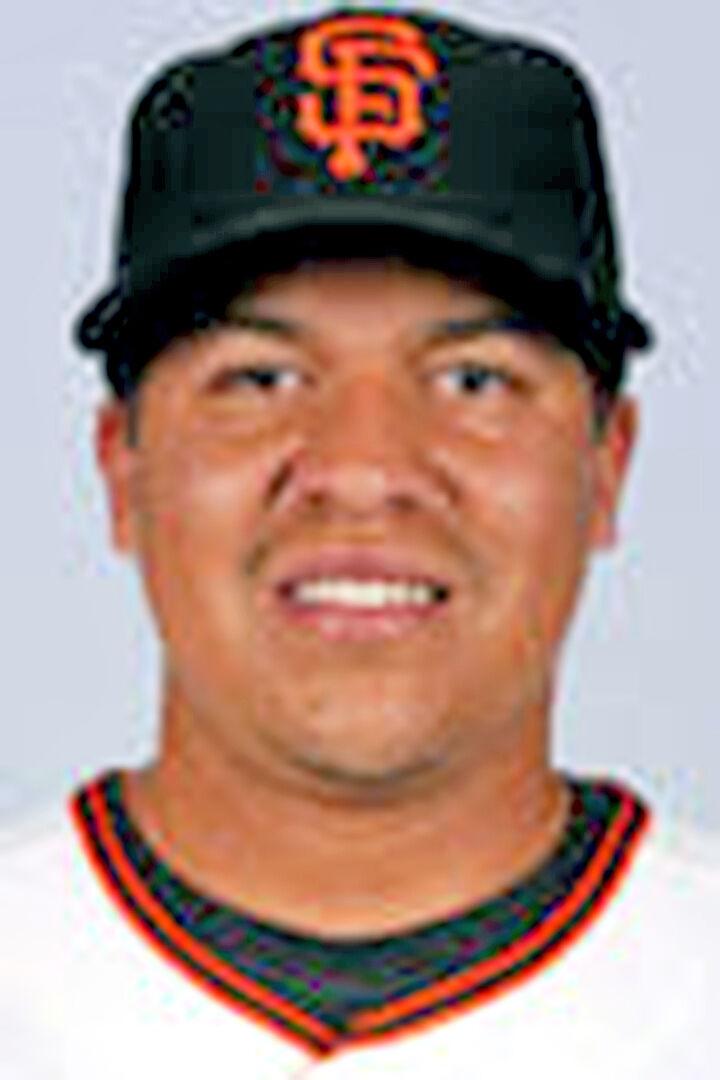 He was a roommate with eventual World Series hero Sergio Romo, a relief pitcher who struck out Miguel Cabrera for the final out in 2012.
Brandon Belt, who homered in the 18th inning of a National League championship game, was his teammate at Class A San Jose.
Then there was Pablo Sandoval, who smoked three home runs in a 2012 World Series game against Detroit — another onetime teammate.
Redlands High's David Quinowski, a 2004 low round draft pick by San Francisco, could look back at getting cut in 2012 with a little sadness.
"I was 26," he said. "They wanted to take their chances with someone young. That's when I learned this is a business." Remember the Giants, whose minor league system developed guys like Matt Cain and Tim Lincecum, Madison Bumgarner, Romo and Brian Wilson — fixtures on three World Series rosters.
Quinowski, despite some fairly impressive minor league numbers, doesn't seem overly saddened by his eventual outcome.
"They made me a relief pitcher right away," said the Terriers' one time starting southpaw flamethrower. "I was the type that said, 'gimme the ball' and then throw as hard as I could. In high school, I just had one pitch.
"In junior college (at Riverside City College), I learned to throw a change-up."
It was just one year at RCC. "The first year in pro ball with going to the bullpen, I struggled. I'd pitch to one hitter, maybe two. I had to learn how to throw strikes. That's when I started to take off."
Quinowski, now 34, might be echoing thoughts of other past RHS pro draftees — Raymond Cervantes, Mike Eason, Ervan Wingate Jr., David Renteria, John Herrera, Pete Jenkins, Larry Wilson and Blake Trudeau — that never reached the major leagues.
These days … Quinowski's using his pro background like a lot of other area ex-pros … by teaching private lessons.
Quinowski, who underwent Tommy John (arm ligament) surgery along the way, hit minor league Class A stops in Augusta, George; Salem-Keizer, Oregon; San Jose of the California League, plus Class AA Richmond, Virginia.
Throw in winter ball at places like Hawaii and the Dominican Republic.
Once the Giants cut him, he turned up at Independent League ball — Somerset, New Jersey; Gary, Indiana; Lincoln, Nebraska; and Grand Prairie Texas.
In 2013, there was a brief spring training trial with Baltimore, while suffering from a flexor tear (forearm), eventually getting cut after two bullpen outings.
Huh?
Quinowski unveiled quite a difference between spring training workouts between the Giants and Orioles.
"You were there all day with the Giants, learning from all their great coaches. At Baltimore, we'd work out for an hour, or two. They said, 'We're done.' I looked at my watch and said, 'What time is it?' It was 10 a.m."
"We went over every aspect of the game with the Giants," he said.
His numbers with the Giants turned Quinowski from a 46th round pick into a "prospect."
There was that 1.43 ERA in 2006 with Class A Augusta — 44 games, 75 innings, 76 strikeouts — plus 1.77 at Salem-Keizer in 2009 (22 games, 53 strikeouts in 40 innings) a year after his surgery.
In 2010 with San Jose and Class AA Richmond, he posted a 2.44 ERA, 55 innings, 65 strikeouts.
"It wasn't about the numbers that I was cut," said Quinowski, "because I had great numbers. They had younger guys."
Chock in up to the business of baseball.
All of those travels, incidentally, came courtesy of a seven-pitch tryout out in Chino one day during his Riverside City College days.
Seven pitches?
"I threw a couple at 95-mph," said Quinowski, "and the scout just said, 'that's enough.'
There might have been 150 would-be pros on the diamond that day — major college turnouts, some former pros, fifth-year seniors, not to mention a bunch of longshot hopefuls.
"The scout told us that day 'we might not find anyone out here to sign,' " he said. "The draft was in two weeks." Surprise! Quinowski was drafted.
There was some excitement on that 2004 date when the Giants tabbed him in the late rounds.
"I'm not that big," said Quinowski, who was 5-10, maybe 180 pounds. "My game has always been to let the other team think of me as just a little guy. I like the element of surprise … then come after them with my fastball.
"The Giants were all about winning," said Quinowsi. "My first year (at Class A Augusta), we won 95 games. We were the Minor League Team of the Year.
"I was part of four minor league championships."
He threw against future N.L. MVP Andrew McCutcheon, not to mention Dexter Fowler, Paul Goldschmidt and Anthony Rizzo — all fellow minor leaguers. Not bad for a kid that came up through Redlands Baseball For Youth, leveling up through a growing system of club and travel ball play.
"I beat (Redlands East Valley) once," he said, not mentioning that triumph happened to be a no-hitter.
It's a far cry from his current days — his teacher-wife, Dana, who's at Etiwanda High School. Two kids. Living in North Fontana.
Private lessons from 3-9 p.m. in San Bernardino.
Tough coach?
"No, not at all," he said, chuckling. "I know how hard it is. It's like homework. If you don't do it, you're not going to be ready for the weekly test."
Seriously, he says, "You don't get where I got without working at it. You've got to love it every day. The work behind it will pay off."