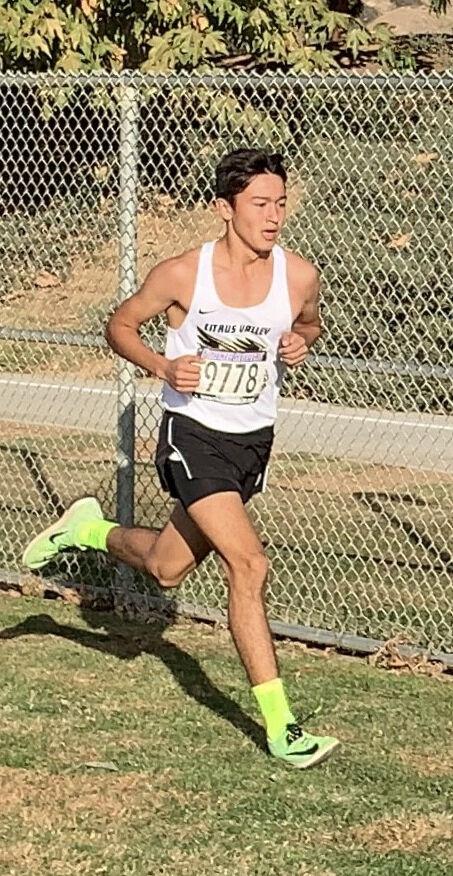 It was bound to happen sooner or later.
A high school sports event, not seen around these parts since last March, was set up for a return on Saturday morning at Redlands East Valley High School's cross-country course.
Here's the setup:
REV, fifth place dating back to November 2019 state cross-country championships that were held in Central California, must stand off a hungry bunch of Yucaipa High runners who are anxious to reclaim their Citrus Belt League domination.
"Yes," said Thunderbirds' No. 1 runner, Brady Woods, "we're looking for an upset."
There's a game plan, he says.
"If we can put seven runners in front of their five guys," said Woods, a recent commit to NCAA Division 1 University of Montana.
That could happen on Saturday in a time trial event.
Teams will be sent out over 20-minute intervals, each runner timed in order for seeding in ensuing meets.
Keep an eye on a contingent of Beaumont High School's boys. Last time the Cougars ran a prep race — November 2019 — junior Dustin Berger and sophomore Lawrence Eastland ran 5-8. San Jacinto edged Beaumont by four points in team scoring.
Beaumont, newly minted to the CBL, has been a force in Mountain Pass League runs for several years.
For now, this week's time trials, plus multi-duals on Feb. 27, March 13 and March 27 — will serve as the full season. There are no CIF-Southern Section championship meets, those having been canceled last month.
A few names to ponder:
• Yucaipa: Woods, Ryan Horspool, Chase Antinucci.
• Redlands: Miguel Paz, Evan Kusko.
• REV: Simon Opsahl, Liam Mapes, Matt Hornung.
• Citrus Valley: Juan Montes, Joseph Gaitan, Ethan Romero.
* * *
Yucaipa's girls, always a dominant bunch, last lost a CBL cross country dual well over a decade ago.
In recent years, there seemed to always be a talented runner off a
Redlands-area roster.
In 2013, Redlands High freshman Karen Jacobs and REV freshman Samantha Aguilar ran 2-4 behind Yucaipa's Tori Dutchover, but the Lady T-Birds dominated the team portion.
By 2014, Citrus Valley's sensational Claire Graves won the first of her two CBL titles before Yucaipa freshman Tori Gaitan edged the Lady Blackhawk senior by four seconds.
Yes, Yucaipa had, by far, the best team scores. The Lady T-Birds, nationally prominent dating back to the 1990s, has long been a force.
Beat Yucaipa?
Beaumont may well fall into the category of the Redlands trio of schools — solid individual racers, but lacking enough depth.
Beaumont's Brooke Beaucaire, then a junior, won the 2019 individual title while then-freshman Kayla Sasser ran a top 10 finish. San Jacinto copped that year's girls' team title.
A few names to ponder:
• Yucaipa: Marisa Cole, Cassidy Jarish, Emily Mueller.
• REV: Ashlynn Walker, Mary Goebbel, Jordan Dennert.
• Redlands: Gisela Benavides.
• Citrus Valley: Brooklyn Timm, Itzel Del Rio, Bridget McNamara.
Footnote: CBL member Cajon was apparently not cleared to compete by San Bernardino Unified School District officials by Monday morning.
Citrus Belt League cross-country competition
Time trial schedule: Saturday morning, Feb. 13, at Redlands East Valley High School.
• Citrus Valley boys, 7:30        • Citrus Valley girls, 7:55
• Beaumont boys, 8:20        • Beaumont girls, 8:45
• Yucaipa boys. 9:10        • Yucaipa girls, 9:35
• Redlands boys, 10        • Redlands girls, 10:25
• REV boys, 10:50        • REV girls, 11:15
Multi-dual meets: On Feb. 27, March 13 and March 27.