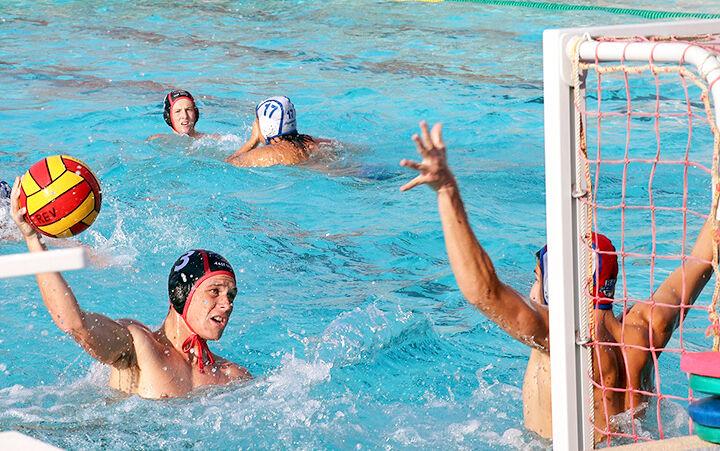 Gavin Oliver's six goals led the Redlands East Valley High boys' water polo team to a 22-4 victory against Beaumont.
The victory came Wednesday, Sept. 29, in the Citrus Belt League opener for both teams.
The triumph also came after a splendid showing by REV (8-4) in the Coronado tournament the previous weekend. The Wildcats placed fifth in an event that included mostly Division I and Division II teams.
REV has not lost a league game in five years and has a league winning streak of 50-plus games.
The Wildcats, as of late September, were eighth in the CIF-Southern Section Division 2 rankings.
"If we had to get a regular game with them, they'd say no," said Beaumont coach Chris Carlson who is in his second tenure as coach of the Cougars. "They're good. I think they're definitely the cream of our league."
REV led 9-1 after one quarter and 15-1 at the half.
"It's hard work," said REV coach Ryan Williams, the former San Bernardino High and UC-Irvine player. "The kids are working year-round, playing water polo. They come to REV and once they put that suit and that hat on, there's a lot of history."
That strive for excellence is why REV's outstanding goalkeeper Luca Smith and Oliver left the Renegades club team based in Mentone and played for the Orange County Water Polo Club during the offseason.
"My favorite part is that most of my closest and best friends have come from the sport," Smith said. "We've done a lot together. We've moved teams (gone from the Renegades to Orange County) and sacrificed a lot."
Besides Oliver, Ruben Villanaueva and Nick Sadowski contributed three goals apiece for REV. Michael McMillan, Lennon Franklin and Ethan Guerreca had two goals each, and Riley Bour, Nico Perna, Logan Featherson and Ralph Veach all had one goal.
Will Peters and Sean Dickinson both scored twice for Beaumont (7-11 following the loss).
Beaumont went 22-6 as recently as 2018 but is rebuilding now.
Carlson has the experience and knowledge to make it happen.
He was the coach at Chaffey College following his first stint at Beaumont. His various teams have won 18 league titles, and three section titles and he's been named an All-CIF-Southern Section coach of the year four times.
"We're trying to lay down the culture of hard work and dedication and intense training. Giving of yourself for your teammates. We're trying to do all of the old school things that seem like they're forgotten," Carlson said.
Asked why he thinks REV is so successful, Carlson said, "They play a lot together. They're year-round. There's more skill. They're swimming. They're doing all these things. Their program is going the whole time."