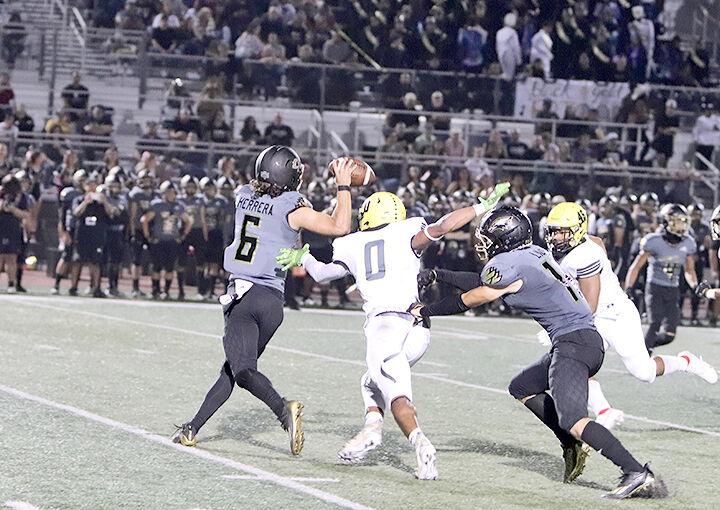 The Cajon High of San Bernardino football team served notice last week.  
The Cowboys made it clear that any Citrus Belt League team it plays should bring its A game and a heaping helping of good fortune. Citrus Valley possessed neither on Friday, Oct. 7, in a 28-7 loss.  
The Cowboys shackled Citrus Valley (5-2 overall, 1-1 league) defensively and ran past the Blackhawks on offense in a dominating effort.
Citrus Valley rushed for minus 25 yards and threw for only 53.  
Cajon running back JeyQuan Smith eclipsed the Blackhawks offense by rushing for 152 yards on 26 carries. Sophomore quarterback Ethan Powell added 159 yards and two touchdowns passing.  
"We knew they were good on defense – that's the strength of their team," Citrus Valley coach Kurt Bruich said. "We knew they were good at running back. The problem is, we killed ourselves in the first half. We made so many mistakes. We've been great on special teams, and we weren't great tonight. We had snap problems on the field goal. We had snap problems on the punt to give them their first touchdown. We were missing signals. It was just bizarre how tonight went. I don't know what to say."  
Bruich expressed concern following a tepid rushing night in a victory against Beaumont the week before. His worries were warranted.  
"You can't run (against Cajon)," he said. "They have 7,000 men in the box. They're playing press man. They're playing zero coverage with all those guys in the box. You need to loosen them up by throwing the ball, so that they'll take their safety away from playing linebacker and then you can run the ball. But we couldn't get anything going. We did this to ourselves. We played poorly."  
Cajon has not lost to a league opponent since falling 38-32 on Oct. 28, 2016, to Redlands East Valley.
 That was the same year the Cowboys also lost to Yucaipa quarterbacked by Nathan Martinez 61-60 in overtime. Martinez has already graduated from the University of Redlands, did a year of postgraduate study and is a Bulldog assistant coach.  
Citrus Valley's woes began in the second quarter when a bad snap on a punt attempt gave Cajon the ball on the Blackhawk 8.
Philander Lee, wearing No. 88, scored from the 1 to give the Cowboys a 6-0 lead.  
Cajon faced a fourth-and-one on its first possession of the second half. Smith bolted for seven yards, eventually leading to a 4-yard touchdown run by Martinez Miles Jr. Miles' 2-point conversion run made it 14-0 with 3:24 left in the third quarter.  
With Cajon crowding the line of scrimmage and pressuring Citrus Valley quarterback Hunter Herrera, the Blackhawks offense was stymied. Herrera was sacked six times.  
"Our defense has been doing this for a few years now," Cajon coach Nick Rogers said. "Our defense has been carrying the load for us this year. They play lights out. Guys like PJ Lee and Asaad Chapman. The job they do is outstanding."
Following a Blackhawk three-and-out, Powell hit receiver Mike Anderson in stride with a 47-yard touchdown pass for 22-0.  
He later also connected with Ian Beauregard on a 25-yard TD pass.  
Citrus Valley did not score until 5:33 left in the game on Herrera's 1-yard run. The score was set up by Herrera's 33-yard pass down the right sideline to Brock Lium.  
Asked if he was surprised at the margin of victory, Rogers said, "This is a great program they have over here at Citrus Valley, and we've been there (against it) where it's tight and this was a little different. But were we surprised? I believe in our guys."