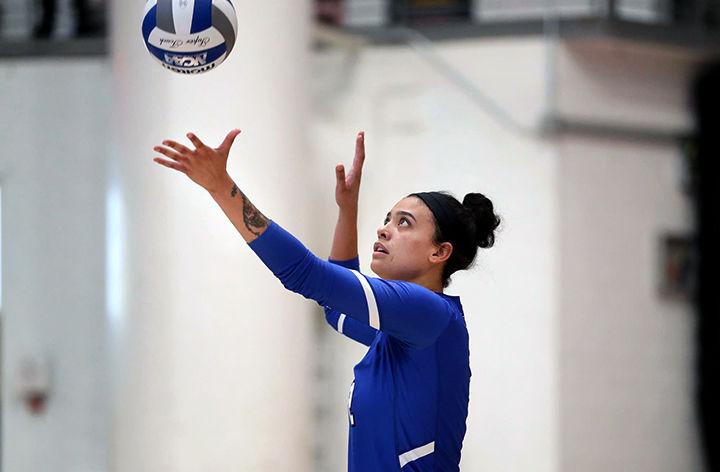 DENVER — For once, Cal State San Bernardino had the jump on America.
Lady Coyotes' volleyballers pounced on all comers at the Dec. 12-14 NCAA Division II championships at Metro State (Colo.) University.
Their coach, Kim Cherniss, had to overcome the loss of injured middle blocker Sascha Dominique, but nevertheless cranked out a dangerous lineup to knock off Molloy (N.Y.) College, Regis (MA) College and, finally, Univ. Nebraska-Kearney to win the 2019 NCAA Division II championship.
That lineup included Alexis Cardoza, dubbed the National Player of the Year — a spot she's occupied in her own California Collegiate Athletic Association for the past two seasons.
The top-ranked, unbeaten (32-0) Lady Coyotes have appeared in a championship match before as an undefeated side, that coming eight years ago.
Thirty-three, as it turns out in 2019, was the magic number — a 33-0 final record.
Only twice in those 33 matches — Nov. 23 against Cal State Los Angeles and Dec. 7 against Azusa Pacific — did a team take the Lady Coyotes to five games.
Against Molloy, Cardoza bashed 17 kills and hit .630, Jalyn Hayes contributing eight kills and seven blocks. Stephanie Doak and Moira Murphy combined on 13 more kills.
Cherniss noted that Cal State's 4-game win over Regis was a "fun match to be a part of with two high-powered offenses going at it.
"I can't say enough about the job we did keeping our composure."
Cardoza's 22 kills, meshing in 13 digs — Leilia To'omalatai digging 22 more Regis attacks — with setter Mahana Ma'a spreading out 28 assists.
It set up the Lady Coyotes to their first NCAA finals appearance since 2011.
Nebraska-Kearney evened the match at 1-1 after a 25-23 second match triumph, but the Lady Coyotes unloaded a 25-17 triumph to set up their first-ever NCAA title.
Marlee Nunley, a freshman setter recruited from nearby Murrieta, set up Cardoza's final blow — her 20th kill of the match.
Nunley came up with 35 assists, Doak going for 20 kills.
Lydia Morohunfola and Mikaela Grove combined on 12 kills. Asia Clarke, who came up with nine digs, delivered a service ace. Cal State's defense held off Kearney to a .169 attack percentage.
To'omalatai's 27 digs probably devastated Kearney's attack, the last of which led to Cal State's 25-20 triumph.
Dominique, a prime time middle blocker with a Redlands East Valley High pedigree, had been procured by transfer from NCAA Division I Loyola Marymount a couple years earlier. But she turned up too injured to play in the tournament.
Another REV product, Diana Maile, was a backup setter that saw very little court action throughout the season.
Just making the Lady Coyotes' roster, though, was no easy task.
Cal State had been coming close to an NCAA title for years.
Western Washington's win over Cal State (28-3) out of the 2018 playoffs.
At the 2017 NCAA tourney, Southern Florida eliminated Cal State (24-8).
A 25-5 Lady Coyotes' side lost to Western Washington in 2016, losing to that same squad in 2015 — both times at the NCAA Western Regionals.
Sonoma State in 2014, BYU-Hawaii in both 2012 and 2013, each stopped the Lady Coyotes' title march.
Cal State took its 32-0 record into the 2011 NCAA championships, ultimately losing in three games to Concordia-St. Paul.
After all these years, the Lady Coyotes finally topped the full nation of volleyball teams seeking a national title.
NCAA Division I champions — Stanford swept Wisconsin to win its second straight championship.
NCAA Division II champion — Just to reach the national finals, Cal State San Bernardino had to knock off Central Washington, Alaska-Anchorage and Azusa Pacific in the Western Regions.