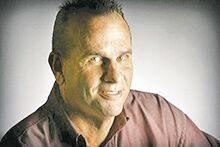 It has been scorching lately. The needle is near 100 degrees. The oppressive heat has made my walks through Redlands challenging.
Normally my strolls are pleasant, but last Thursday it was like I had a pebble in my shoe the whole way.
Because recent stories in the Orange County Register and Los Angeles Times have me thinking:
Mater Dei High must make a change
The change, though unlikely to happen, is Mater Dei dumping football coach Bruce Rollinson. The Monarch program, for those who haven't followed, has been out of control under his watch.
Despite the team's state Open Division title last season, the program has teetered on chaos, as reported by the newspapers.
Most prominent was the gladiator-like fisticuffs last August in the Monarch locker room. Player 1, a 175-pounder who was new to the program, took on Player 2, a 235-pounder. Player 2 predictably pummeled him.
The Monarch players even have a name for this rite of passage; they call it "Bodies." Only it's supposed to be limited to blows to the torso. Player 2 instead delivered three shots to the head that caused gashes over both eyes of Player 1, a traumatic brain injury and a broken nose that required surgery. It doesn't end there.
Mater Dei officials did nothing for 90 minutes after the player was injured. Parents weren't initially notified, and medical personnel weren't promptly summoned.
Rollinson later told Player 1's father that "If I had $100 every time these kids played 'Bodies' or 'Slappies,' I'd be a millionaire."
Despite that statement, Rollinson told police he had, "No knowledge of Bodies," or any form of hazing in his program.
Rollinson is also accused of saying he couldn't discipline Player 2 because his father is an influential youth football coach who has worked with some Mater Dei players. At Mater Dei, winning and keeping a lid on this stuff is paramount.
Recently, it has also come to light another player was allegedly sexually assaulted last August in the Monarch locker room, which is next to Rollinson's office. Where is the supervision?
It's a sordid mess. Player 1 and his family have filed a suit alleging negligence, violation of California's hazing penal code, failure to protect the player and infliction of emotional distress.
That's a suit I think Mater Dei and the Catholic Diocese of Orange will lose. And while they're at it, they should lose Rollinson, and any other school official enabling this disaster.
Another notion of mine during an otherwise tranquil stroll through Redlands:
Cal women's swim coach must go
Reporter Scott Reid of the Orange County Register has done a heroic job of covering the train wreck in Berkeley involving women's swim coach Teri McKeever.
That is, the alleged verbal and mental abuse, the bullying, body shaming and weird inquiries into the sexual lives of the female swimmers that has allegedly happened at the University of California.
"She needs to be out of the swimming world," former Cal swimmer Lindsey (King) Loncaric said of McKeever to the Orange County Register.
Cal placed McKeever on administrative leave last month.
If the McKeever name sounds familiar, it's because — in addition to Teri's success over the past 25 years as the Golden Bear coach — her father Mike McKeever and uncle Marlin McKeever were All-America football players at the University of Southern California.
The Cal fiasco is a long, involved story deeply reported by Reid. If even half of the allegations are true, then Cal should dump Teri McKeever.
John Murphy may be reached at jmurphy@redlandscommunitynews.com. Follow him on Twitter at @PrepDawg2.