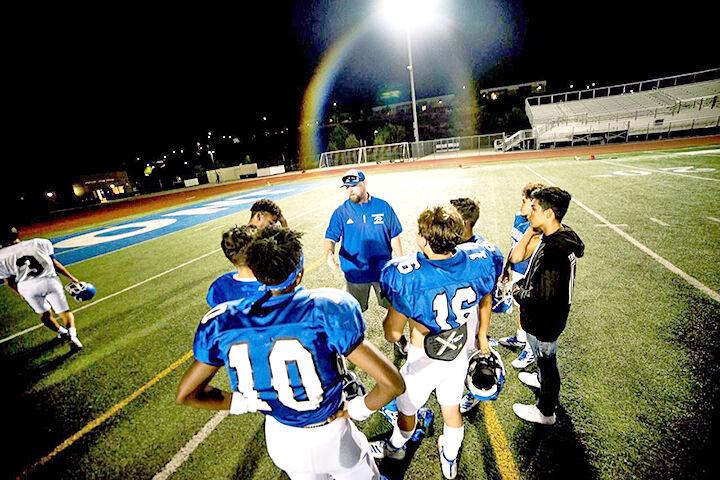 Derrick Dial figures he went to sleep at around 3 in the morning. It was on Nov. 17, 2018, maybe six hours after his team lost a heartbreaking CIF Division 11 semifinals playoff game. At home. To Anaheim Western High.
It had been a long season for Beaumont High's defensive coordinator.
"So many ups and downs," he said.
"We had an interception with 1:40 left. "Then there was the safety (that put Beaumont behind by one).
"Then we (recovered) the onside kick."
Recalling one week earlier when it took three plays to overcome Pasadena for a 20-17 win, this game had to be another miracle in the making.
It didn't turn out that way. Western 35, Beaumont 34 — one step short of reaching a CIF championship.
"The one thing you'll always feel after a game like that," said Dial, "is that you had a chance to win a close game."
Dial, not to mention Beaumont's remaining coaches, must have been licking their chops at the future.
For openers, consider that everyone in Beaumont "grows up to be Cougars."
It was like that way in Redlands for years, at least until Redlands East Valley and Citrus Valley joined the district. Dial was one of those Terriers, from Micros on up through Junior Pee Wees. He might have been a perfect candidate for that Terrier opening in 2018.
Youth football days: Played a little defense, but took snaps at QB once he got to Redlands High.
Dial spent more than a handful of years trying to build a business after graduating Redlands High in 1999. By 2010, he was back in coaching. Returned to his alma mater. Did anything they'd asked. Coach football. Classroom sub. Coach lower level basketball and baseball.
He didn't quit on Redlands High. Rather, it was Redlands High that quit on him. Once longtime coach Jim Walker retired, the campus tried to find a replacement. Lots of names. Lots of ideas. Nothing sprung to life. For 2017, they settled on Dial as "interim coach."
Dial coached an improving Terriers to a 4-6 record in 2017. He might have been up for the post as permanent replacement, but Redlands tabbed Mike McFarland instead. At REV, according to a selection panel member, Dial was passed over for Rich Lunsford.
REDLANDS TO BEAUMONT
Curiously, as Beaumont went from Will Martin to "interim" coach Frank Fabela and, eventually, hired Jeff Steinberg, Dial got a break.
Steinberg's longtime connections with Walker — the two were coaching rivals in the early 2000 when Steinberg was at Fontana Miller — turned into a recommendation for Dial.
"It wasn't even an interview," said Dial. "I was finishing up coaching basketball at Redlands one day. Jeff was there to pick up his daughter from a club volleyball practice. We met at Starbucks … near the high school."
Not surprisingly, they talked football. Talked various roles in the program. Steinberg had some guys in mind. Dial said, "If any of them don't work out, give me a call."
A couple weeks later, Steinberg offered Dial the job as defensive coordinator. On July 1, 2018 Beaumont also hired him to teach freshman math.
Dial probably wasn't aware that he'd have a bunch of new Varsity-level guys. In their 2018 season-opener at Palm Desert, a 28-21 loss to the eventual No. 1-ranked Aztecs, it looked like the Cougars lost a pillow fight.
In other words, the hitting wasn't all that impressive.
Said Dial: "We had six guys (starters) who never played a Varsity football game before. That was their first game."
Little by little, seniors started getting help from those younger guys.
Dial and Steinberg were searching for guys that could play.
LOOKING FOR A LINEUP
Dial figured some 18 to 20 guys started at one point or another on the Cougars' defense in 2018. Three sophomores started on Beaumont's defense.
"Sometimes, it just takes time. Games played," said Dial. There were times at other larger schools, he said, "guys didn't start until their junior or senior years."
Some players were pressed into service earlier than normal.
That long season concluded at home. A 35-34 loss. A safety, of all things, was the decisive blow. The entire season had been a building block.
"You feel bad for the seniors that worked so hard," Dial said.
Except that in previous years, those seniors would have turned in their gear three or four weeks earlier. Remember, there'd been no playoffs around Cougar Stadium since 2012.
"That's one way of looking at it," said Dial, noting all that chaos Beaumont's football program had been under in 2017, ranging from head coach Will Martin's well-publicized brush with charges he'd struck a player.
Said Dial: "Those kids (in 2017) had been through a lot. They deserve credit. There was a lot of resiliency there."
Steinberg's hiring was a brilliant move by school district leadership. It erased the canvas. Started from scratch. A whole new direction.
"He's got an outgoing personality," said Dial, "that attracts to kids and the assistant coaches. He always listens to his assistants."
The shutouts, six, in fact, plus a second half shutout in that 28-20 War of the Wheel rivalry game at Banning.
QB sacks totaled around 25. There were 14 interceptions, 16 recovered fumbles. Nearly 100 tackles for lost yardage.
Point is, though, there was a pass rush. "The future," Dial said, "looks bright for us."