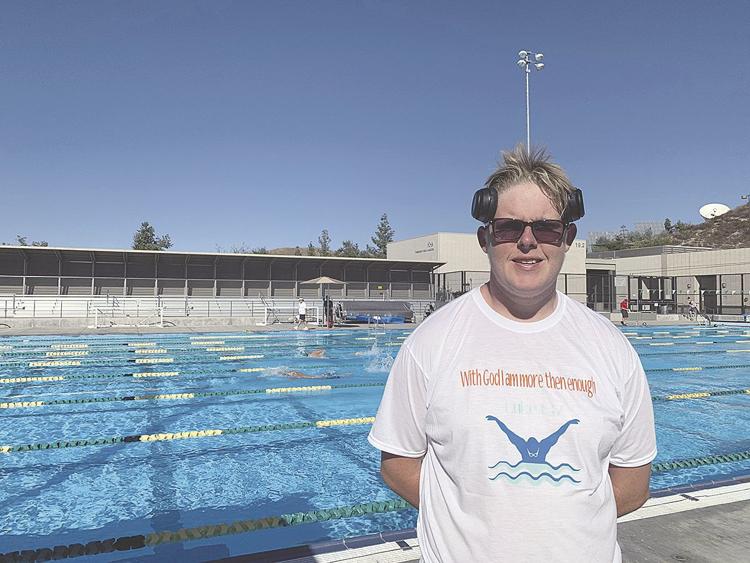 Forty-five para-athletes competed in the California Classic Para Swimming Open at Crafton Hills College Aquatic Center last weekend. The athletes came mainly from the United States but also included a contestant from India. Local para-athlete and Crafton Hills College student Austin Olive, from Yucaipa, competed in several disciplines at the event.
Erin Popovich, assistant director for the U.S. Para Swim Team, explained how her organization partners with Crafton Hills College to run the event. Emerging and elite athletes are invited to compete to improve their personal times to qualify for the Paralympic Games. Hopeful para-athletes of all ages participated with the youngest participant being a 9-year-old who's planning to qualify for the Paralympic Games in Los Angeles in 2028.
At the swim meet the para-athletes might be assisted in the water but are on their own after that. Each heat contained multiple classification levels simultaneously rather than everyone competing against opponents in the same classification category. Instead competitors were set up against athletes with similar expected finish times to provide in an extra element of competition. That way each individual got the chance to give their best results to qualify for the Para National Championship in Texas in December.
"It is a lot of fun for multiple abilities to be swimming at a hard and elite level competition," Popovich said. Popovich is herself a highly decorated para-athlete in the S7 category with achondroplasia — also known as dwarfism — including three wins as Paralympic Champion with several current world records and 14 career gold medals. She retired from competition in 2010 and is today on the sidelines helping others.
"Fly, Back, Breast, Free – I just got to be me!" it said on the back of Austin Olive's T-shirt. His disability is placed in category S10, the physical impairment classification group. He started studying radiologic technology at Crafton Hills this summer, turns 19 next month, and began swimming six years ago.
"I like the energy people have here," Austin said. He and his sister, Dakota, both compete. They were both born with cerebral palsy, a form of chromosome deletion, and hypohidrotic ectodermal dysplasia, a rare genetic condition where the body can't sweat.
Austin's aunt and main caregiver CoraFaye Olive explained how Austin always had been an active kid growing up playing baseball, football and soccer, but would get sick and was told he couldn't play with able-bodied peers. Today he is on the able-bodied Crafton Hills water polo team besides being a para-athlete swimmer.
The pool keeps him cool while working out, making the hard physical activity doable. He was able to shave off 2 seconds of his personal best in the 50-meter long-course meet on Saturday. On Sunday, he finished another meet with a time that enabled him to qualify for the Para National Championship in Texas in December based on his combined accomplishments over the weekend.
"When I am out of the water I feel stressed out about school and water polo. When I am in the water I focus about getting to the other side. My stress and anxiety goes away," Austin said.
At the Para Swim Meet two professional para-athletes competed as well. Elizabeth Marks from Colorado who won Paralympic gold and bronze in Rio and Robert Griswold who won gold in Rio as well. Both compete in physical impairment categories S7 and S8. Marks won gold at the world para swimming championships in September in London.
She is an active duty staff sergeant and combat medic and has been in the military for twelve years since she was 17. Her initial serious injury to her hip area occurred in Iraq in 2010. In 2014 she went on life support after a cardiac episode and her left leg was amputated in 2017 from continuing complications. She deals with PTSD for survivor's guilt and neurologic impairments, but when she swims, she takes off her leg and feels free.