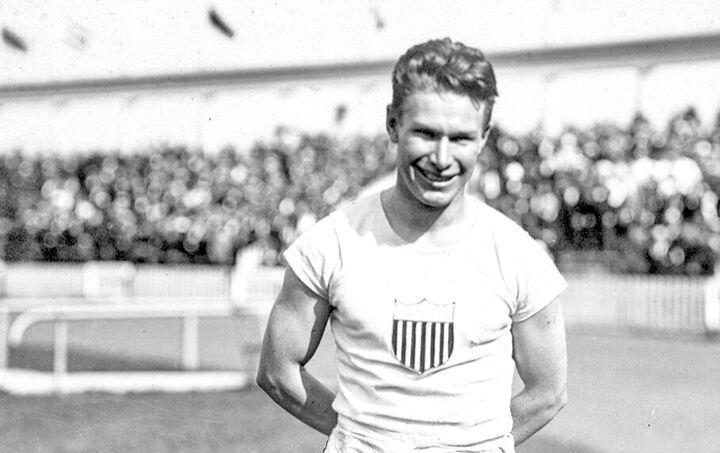 The weather was bitterly cold when Charley William Paddock toed the starting line at the University of Redlands before a few thousand spectators. The date was April 23, 1921, (100 years ago) and the occasion was the Southern Pacific AAU meet.
The University of Southern California runner, known as the "Fastest Man Alive," set world records that day in the 100-meter dash (10.4 seconds), the 200 meters (21.2), the 300-yard dash (30.1), the 300-meter (33.8) and tied the world mark in the 100-yard dash (9.4).
There was no all-weather track a century ago; the athletes ran on cinders. Sportswriters may have worn fedoras and carried pocket watches.
Paddock, a flamboyant native Texan, only ran two races. But there were timers dispersed to both yard and meter marks, explaining Paddock's fistful ofrecords.
The champion runner broke all the barriers with his familiar leap across the finish line, captured in many photographs during his career.
Paddock's excellence could not secure the team victory for USC, as conveyed by the Los Angeles Times in prose perhaps also not seen in 100 years. This was recounted five years ago in an article by the Inland Valley Daily Bulletin.
"Despite the performances of Sir Charles, Grand Pooh Bah of the court of Montenegro, University of Southern California lost the meet to Pomona College," the Times wrote.
Tiny Pomona whipped the Trojans 39-33. Odd as that may sound, consider that two years later the University of Redlands defeated UCLA in football 12-6 and held a 3-1 advantage against the Bruins in all-time meetings.
Eight years after Paddock's feat, Currier Gymnasium on the Redlands campus opened; it still hosts indoor athletic events for the venerable university.
Paddock competed in the 1920 Antwerp Summer Olympics in Belgium, winning a gold medal in the 100 meters, a silver in the 200 and copping a medal with the 400-meter relay team. He also picked up a silver in the 1924 Paris Olympics.
Like John Wayne who played football at USC in the 1920s, Paddock took up acting. But he was better known for writing a sports column for his father-in-law, a newspaper owner.
Although Paddock did not achieve John Wayne-like status as an actor, he was portrayed by Dennis Christopher in the 1981 Oscar-winning film "Chariots of Fire," which recaptured the Paris Olympics.
The film premiered five years after he was inducted into the National Track and Field Hall of Fame — partially due to his exploits 100 years ago today on that frigid day in Redlands.
John Murphy may be reached at jmurphy@redlandscommunitynews.com