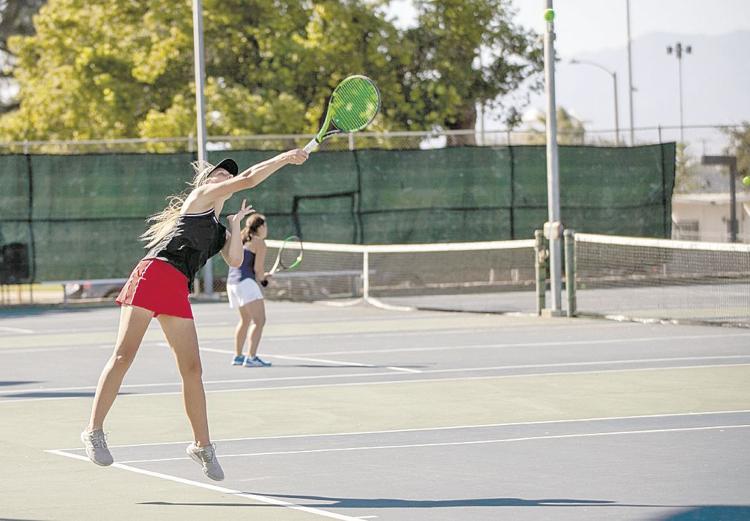 TENNIS NOTES: Jimenez next in line to claim CBL singles title? … No playoffs for Lady Blackhawks, who still had strong season … Local tennis hero Marshburn returns to Bulldogs … Two-time CBL singles champion lands at U of R.
Layla Jimenez probably broke a sweat somewhere along the line when she posted a trio of 6-0 singles wins over visiting Redlands East Valley's rebuilding girls' tennis squad last week.
Redlands High's junior, a two-time Citrus Belt League doubles champion, went virtually unchallenged in temperatures that probably started dipping toward 90-degrees between 4 and 5 p.m.
Two days later against the city's other rival, Citrus Valley, Jimenez stamped herself as the clear favorite to become the next Redlands High player to notch a CBL singles championship.
It's almost expected in Redlands High's continuous run of team success under the proven leadership of veteran coach Sean Comadena.
Truth is, Yucaipa beat Redlands twice for an uncontested 2017 title, tying for the 2016 championship when they split team duels. Face it, though: CBL championships run through Redlands High.
Individual titles — both singles and doubles — seem to follow.
"It's not like the boys," said REV coach Ed Stark, who coaches both boys and girls, "where everything is so close."
Tenth-ranked in CIF, Div. 2, Redlands' girls beat REV, 13-5.
Citrus Valley, off to a 6-1 start before its CBL opening loss, 13-5, to fifth-ranked (Div. 5) Yucaipa, then dropped its next match to Redlands, 14-4.
Redlands and Yucaipa squared off this week.
CBL tennis almost always seems to revolve around Redlands, primarily because the Lady Terriers claimed a 2017 CIF Southern Section Division 3 title, plus back-to-back runner-up titles a few years earlier — plus the boatload of CBL championships.
At No. 2 singles, Redlands' Jia Sharma backed up Jimenez, winning 6-4, 6-0, 6-3.
Doubles is where REV racked up four points, topped by two wins from Lindsay Woodland and Jillian Stark, the latter a first-team all-leaguer from 2018. Ellie Larson-Mimi Contreras and Maryn Strong-Abby Washburn accounted for two more wins.
REV's No. 1, Maddie Lee, picked up the Lady Wildcats' lone singles triumph, 7-6 (7), as the sun was setting on this clear, hot day.
"We're a blue collar team," said Stark. "We don't have any superstars … or drama."
The clearly intended message, he says, is to "have fun."
Washburn, for instance, took advice from her older sister, Hannah, twice a CBL singles semi-finalist before graduating. "I wanted to play volleyball," said Abby Washburn, "but she said, 'no, play tennis.'
"I went to the first practice and I liked it."
Comadena is operating on a different foundation.
Prior to the final round of matches against REV — three singles, three doubles — he gathered his group. A partial message was simple: "Finish everything."
He's trying to light the fuse: Complete the shot, he'll tell them. Complete the point. Complete the match. Run down every shot.
Jimenez and Sharma will rack up plenty of singles points. In doubles, Nidhi Kejriwal-Cassidy Chiong, Sachi Pa-Melanie Daniel and Lou Friche-Kenyael Cooper will net additional scoring.
Kejriwal, a senior, plus Cooper, Jimenez and Daniel, all juniors, are each returning first-team all-leaguers from 2018. Sharma, a sophomore, was a second-team pick.
Weakened, perhaps, by the loss of the Castro sisters — Allison and Emily, both first-team all-CBL as sophomores in 2018 — the Lady Terriers have a full lineup. Comadena says "they're not playing this season."
After the final point against REV, Lee's win over RHS' No. 3, Claudia Cosenescu, Comadena gathered his team around him. "You're playing better now than you were two weeks ago."
Comadena's teams, which has included immense success in springtime with boys, haven't won consistently with such a cheerful tone, however. He dug in a little on them.
"You need to learn to finish. You need to learn to play better."
Excuses could be plenty. Sure, it was hot. It's early in the season, but play was slow. Shots were inconsistent. Traditionally, Redlands notches CBL championships, hosts round one in the playoffs and, hopefully, moves on from there.
"We're young," he said.
CITRUS VALLEY
Nancy Lopez is coaching this team. Pre-season wins over Temecula Chaparral, San Jacinto and next year's CBL opponent, Beaumont, plus Fontana Summit, Hesperia Oak Hills and Lake Arrowhead Rim of the World was a nice start to the season.
Returning all-league first-teamer Shreya Gurunathan was a junior last season; another junior, Queennie Nguyen was a second-team All-CBL player from 2018.
In a CBL consisting of Redlands, REV and Yucaipa, the Lady Blackhawks seemed to hold their own last season, winning seven out of eight non-league matches before winning three and tying 9-9 against Yucaipa, winning on games — 11-8 overall.
There was no playoff appearance for that, but note that Beaumont and San Jacinto, not to mention Yucaipa, all reached the post-season from other divisions.
COLLEGE TENNIS
Two-time University of Redlands All-American Steve Marshburn, a long-ago Citrus Belt League boys' singles champion at Redlands High, started as the Lady Bulldogs' associate head women's tennis coach.
Marshburn, who is part of the Bulldogs' lengthy tennis heritage, said he was "humbled and extremely excited to join the Redlands family again. I love tennis with an absolute passion …"
He has been a past Bulldog assistant coach (2014-2016), having coached for more than 20 years in high school and private club. He was the director of tennis at Pocatello (Idaho) Swim and Tennis Club.
While playing at Redlands under both former coach Jim Ducey and current coach Geoff Roche, Marshburn, who has numerous non-tennis accolades including the military and a Masters Degree from Idaho State, was a two-time SCIAC Athlete of the Year.
Said Roche: "It's great to have him back on staff." ­
Kendall Bolock, who has won the past two CBL singles championships for Redlands High, has landed at the University of Redlands. The Lady Bulldogs won eight out of 20 matches last season (4-3, SCIAC), losing three seniors in the process.