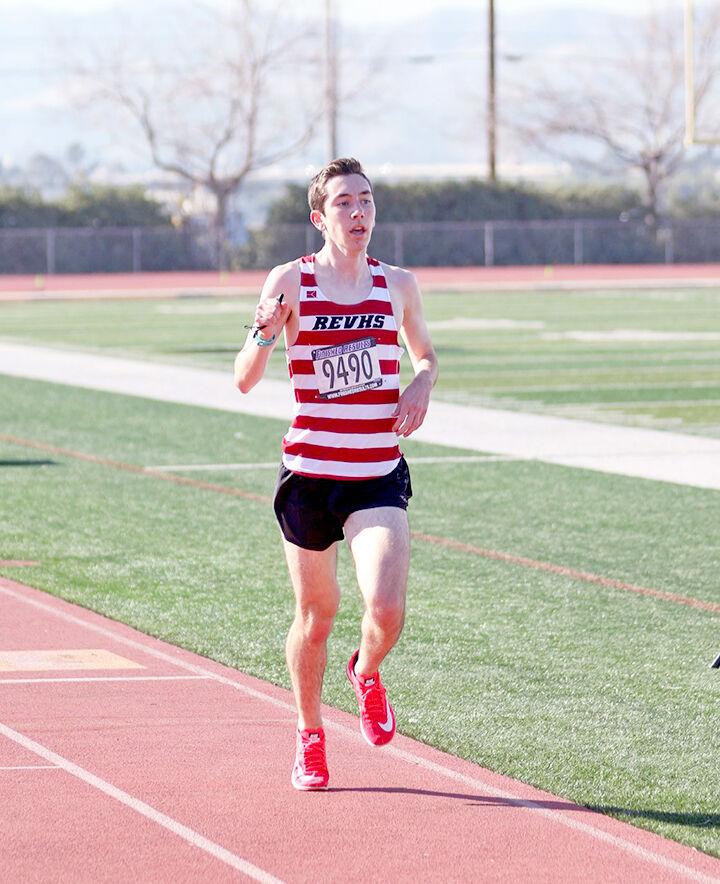 Matt Hornung had his hands full with the stopwatch.
His Redlands East Valley squad filled the top 10 with six of its runners.
Yucaipa's girls, like REV's boys, are standout teams beyond Citrus Belt League battles.
Few runners match up with Hornung, who put up another powerful display over Citrus Valley high's flat course last Saturday.
Citrus Valley's Jake Caliva, running in a different "dual" than Hornung, smiled.
"I used to run with him on the (Southern California) Roadrunners," he said, "about two years ago.
"I was about the same as him. Since then, he's gotten super fast."
Here's the evidence: Hornung sped to a 14:55 clocking over a "slow" CV course. Caliva, a highly respectable fourth place, was nearly a full minute slower in 15:52.
Said Hornung: "I guess the real disappointment is not being able to show as many people as possible the hard work I've been putting in."
The pandemic-related shortcoming, Hornung said, "taught me it doesn't matter what other people think of you."
Think anything you like: There've been two CBL meets. Hornung was the only sub-16 minute clocking in a REV time trial on Feb. 13. Two weeks later, he was the lone runner clocking in less than 15 minutes.
"You only worry about the goals you can achieve," said Matt Sartori, REV's coach. "We're fortunate to have a team with guys who can push each other."
REV's state championship-level squad — Liam Mapes, Emmanuel Wallace, Simon Opsahl and Alex Miller in 2-3-4-6 finishes — held to only a few area meets due to COVID-19 restrictions, let it all out last Saturday.
"Anybody," said Sartori, "can be our first guy. They're always close together."
A questionable statement, perhaps, especially since Hornung has shown little signs of getting caught by anyone, teammates or otherwise.
Citrus Valley's course record (14:39) is held by current Cal Poly-San Luis Obispo runner Elias Opsahl, REV's super racer from a few years ago.
The girls' course record, of course, is held by Claire Graves, now running at Boise State.
By far, the Citrus Valley and Beaumont boys' dual was the most competitive — a 1-3-4-7-8 Blackhawks' triumph over the 2-5-6-9-12 finishes by Cougar runners.
Under the rules of this year's mini-CBL season, last weekend's dual meet outcomes weren't officially scored.
Finished Results, the website that electronically tabulates results, registered overall point totals. Coaches, however, said only the top five times are counted.
BEAUMONT vs.
CITRUS VALLEY
Girls
Mythical score — Citrus Valley 16, Beaumont 42
If there's any team deep enough to make a strike against Yucaipa, it might come from the Lady Blackhawks' lineup. In streaking past Beaumont, it was freshmen Gabriella Romero and Hailie Lomeli, plus sophomore Itzel Del Rio crashing the finish in 1-2-3 against Beaumont.
Overall, only Romero took a top 10 placing (18:56), but subtract all the seniors from Yucaipa, plus REV's Ashlynn Walker (19:17), and it shakes out to be quite a future of competition between the Lady Blackhawks and Lady Thunderbirds.
Boys
Mythical score — Citrus Valley 23, Beaumont 34
Caliva got pushed a little by Beaumont's Dustin Berger. The result was in doubt until the final 300 meters on CV's track. Caliva sprinted across the line in 15:52 to Berger's 16:06.
"I was really hoping to break 15 minutes today," said Caliva.
Trouble was this: Very little competition, virtually no season of challenging events and minimal connection with rival teams.
"I hope they have CIF in track," said Caliva, noting a spring sport that's right around the corner.
Look no further than Boyd Lium, CV's athletic director, for that update.
"I think all the spring sports will be going to CIF," said Lium. "That's my opinion right now. Why wouldn't they?"
Numbers, he noted, are coming down in cases per 100,000 in San Bernardino County.
All of which brought a smile to Caliva's face.
Moments earlier, Juan Montes chased CV teammate Ethan Romero across the line in a 3-4 finish that might have been the difference in the outcome.  
Without Montes, who missed the Feb. 13 run, the Cougars might have turned out winners against CV.
YUCAIPA vs. REDLANDS
Girls
Mythical score — Yucaipa 15, Redlands no score (4 runners)
Topped by the 1-2 finish of sophomore Taylor Becker and junior Kaitlyn Townsend, the Lady Thunderbirds claimed the first dozen spots and 10 of the first 16 spots in the overall merging of times.
Redlands' lineup is missing plenty of multi-sport athletes that chose to play other sports (soccer, volleyball, basketball) under the "cohort" rule that forces prep athletes to select just one sport.
Boys
Mythical score — Yucaipa 18, Redlands 42
Yucaipa's Brady Woods expectedly led the way (16:11), but Redlands' Miguel Paz (17:05) led four Terrier runners to top 10 finishes. Yucaipa's depth, which included runner-up Nick Bloom (16:26) and freshman Xander Merkwan (16:57), is just too much for all but REV.
REDLANDS EAST VALLEY
vs. CAJON
Girls
Mythical score — REV 18, Cajon no score (3 runners)
Ashlynn Walker won this race easily, but her 19:17 clocking was nowhere close to the Yucaipa duo posted by Taylor Becker (18:22) and Kaitlyn Townsend (18:27) in a prior "dual."
Cajon, which missed the Feb. 13 meet, was no match for the deeper Lady Wildcats, especially with just a trio of runners. Vivian Frisk, though, took third behind Walker and Jordan Dennert's 21:18.
Boys
Mythical score — REV 16, Cajon 62
If it seemed unfair that Cajon's overmatched squad had to go up against a state favorite (that is, if there was a state meet), then watching REV's runners romp home with its top runners occupying five of the six top spots might be overwhelming evidence.
Truth is, Cajon sophomore Vinnie Quiroz (6th, 16:15) and freshman Myles Gutierrez (9th, 16:45) showed signs of life against the Wildcats' senior dominated lineup.
Unable to officially train, by dictate of San Bernardino Unified, Quiroz said, "
"It's a little bit disappointing they kept us away."
"We've been training since March," said Gutierrez.
Boys results
1. Redlands East Valley — Team time, 1 hour, 17 minutes, 30 seconds. Top 5 individuals: 1. Matt Hornung 14:55; 2. Liam Mapes 15:14; 3. Manny Wallace 15:39; 4. Simon Opsahl 15:46; 6. Alex Miller 15:53.
2. Citrus Valley — 1:22:53. Top 5 individuals: 5. Jake Caliva 15:42; 12. Ethan Romero 16:23; 14. Juan Montes 16:37; 19. Arian Mayorga Ornelas  16:58; 20. Chris Ontiveros 17:01.
3. Yucaipa — 1:24:12. Top 5 individuals: 8. Brady Woods 16:11; 13. Nick Bloom 16:26; 18. Xander Merkwan 16:57; 24. Nick Schmidt 17:13; 26. Domanack Merkwan 17:24.
4. Beaumont — 1:24:36. Top 5 individuals: 7. Dustin Berger 16:06; 16. Lawrence Eastland 16:45; 17. Marcus Shin 16:53; 22. Caden Ellsworth 17:09.
5. Cajon — 1:31:41. Top 5 individuals: 9. Vinnie Quiroz 16:51; 15. Myles Gutierrez 16:45; 30. Niko Gutierrez 17:45; 39. Adrian Tellez 20:23; 41. Lukas Salgado 20:31.
6. Redlands — 1:28:21. Top 5 individuals: 21. Miguel Paz 17:05; 25. Evan Kusko 17:23; 27. Ayoob Amaar 17:32; 32. Jacob Echevarria 18:03; 34. Brian Sanchez 18:16.
Girls results
1. Yucaipa — 1:34:05. Top 5 individuals: 1. Taylor Becker 18:31; 2. Kaitlyn Townsend 18:27; 3. Cali Good 18:52; 5. Cassidy Jarish 19:10; 6. Savannah Ganter 19:16.
2. Citrus Valley — 1:41:01. Top 5 individuals: 4. Gabriella Romero 18:56; 10. Hailie Lomeli 19:30; 11. Itzel Del Rio 20:23; 12. Kira Hooper 20:52; 14. Bridget McNamara 21:17.
3. Beaumont — 1:48:42. Top 5 individuals: 13. Magdalen Kouch 21:08; 17. Danielle Torres 21:33; 20. Brooke Beaucaire 21:51; 21. Mariana Ruiz 22:01; Hailey Mayfield 22:25.
4. Redlands East Valley — 1:51:04. Top 5 individuals: 7. Ashlyn Walker 19:17; 15. Jordan Dennert 21:18; 23. Jennifer Lopez 22:27; 29. Audrey Yoh 24:22; 30. Emma Miller 25:18.
5. Redlands — DNP, only four runners. Top finisher: 16. Katelynn Powers 21:19;  
6. Cajon — DNP, only three runners. Top finisher: 32. Emma Fiero 25:30.