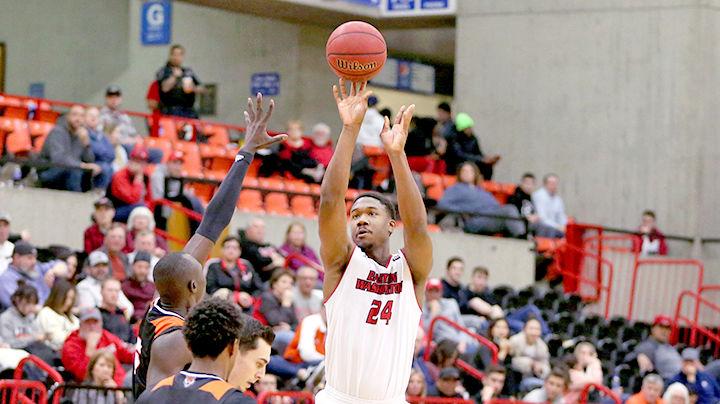 CHENEY, Wash. — Kim Aiken Sr. had taken the unusual step of traveling to Idaho earlier this month.
His son, Kim Jr. of Eastern Washington University, would be playing in the eagerly awaited 11-team Big Sky Conference tournament, scheduled for an all-out showdown in Boise.
After that, UWU would be off to something called the NCAA Tournament. It's all part of the annual March Madness epidemic.
Kim Jr. represents at least the second player from a Redlands East Valley roster — New Mexico's Eli Chuha was the first; three times at New Mexico State — that reached such college basketball fulfillment.
"I was up there (in Boise) a couple of days," said Kim Sr. "Kim (Jr.) was ready to go (into the tournament), but he was extremely disappointed."
March Madness, cancelled for this year over all those COVID-19 issues, was lost. That was, by far, the disappointing part. EWU needed to win the Big Sky Tournament, which got cancelled on March 12.
"We had the No. 1 seed from our conference," said Kim, Jr., "so we were going (to the NCAA Tournament) no matter what the results of the (Big Sky Tournament)."
Sixty-four teams at about a dozen guys per roster, multiplied by countless family members ready for that mega-excitement … plus all those people back on those players' former high school campuses … works out to an awful lot of disappointment.
Guys like Bill Berich, who was Aiken's Wildcats' coach from 2014 through 2017, probably would've been leading that excitement.
Kim Jr. won't be hard to remember. At Redlands East Valley, he rang up a batch of studly statistics — scoring, rebounding, all-around play — while helping drop his Wildcats into a full course of CIF-Southern Section playoffs.
In Cheney, they call them the Eags, which is short for Eagles. Aiken, a third-team pick for All-Big Sky Conference, is teammates with guys like conference MVP Mason Peatling and second-team All-Big Sky Jacob Davison.
Those guys, among others, were those pulled aside by Eags' coach Shantay Legans at the team hotel.
"Everyone was ready to go to the game," said Aiken. "We were getting our ankles taped in one of the rooms."
No one knew what was about to come.
"No tears," said Aiken. "There were a lot of down faces. It was a scarred moment, like a movie."
Nick Booker, the assistant head coach, had spent all night breaking down video of Sacramento State's team, EWU's opponent that night. "He didn't get any sleep," said Aiken.
More fallout: Peatling, who is from Australia, "wants to go home," said Aiken, "to see his family."
In only its third-ever trip to NCAA tournament play, there won't be another chance for Peatling.
"We're a small school," said Aiken, eschewing the term mid-major, which is a nice term for a March Madness longshot team.
Aiken, for his part, is a red-shirt sophomore. In his frosh season, he came up with 11.3 points, 8.3 rebounds and two blocks a game in 2018-2019.
"Five years ago," said Aiken, "is when they last went to the NCAA. That was Tyler Harvey's team."
Harvey was the best player on a 26-win team in 2015. An original draft pick by the Orlando Magic, Harvey has been a developmental player — currently with the Memphis Grizzles' G League roster.
"We were a young team this year," said Aiken. "There's a nice future ahead for us."