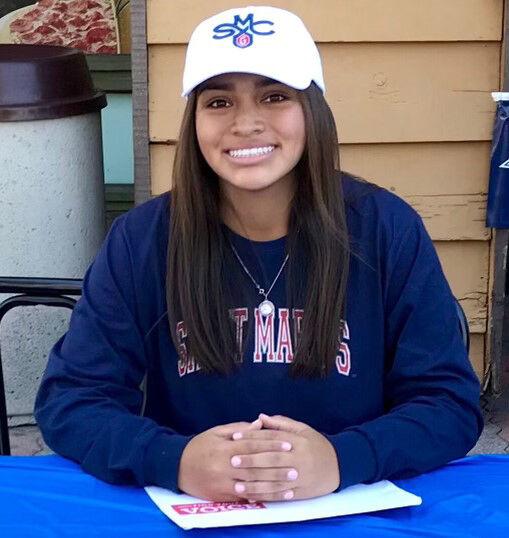 Ever since she was 10 years old, Redlands High senior softball player Lindsay Cabral has suited up to play … somewhere.
It almost seems like everywhere.
Cabral rattled off a string of those travel ball clubs — Team Houston, Cal Cruisers, So Cal Athletics' under-14s, plus the Firecrackers, So Cal Athletics and the Marucci Patriots.
"I know," said Cabral, "that it looks like I've jumped around a lot."
Steadily aligning herself with Bill Jaquish, who is the father of one-time NCAA All-American Sahvanna Jaquish, Cabral, an infielder, has worked her way into a variety of spots.
"I go wherever Bill goes," she said, chuckling.
Finally, she's picked a spot where Jaquish isn't on the coaching staff.
Committing to St. Mary's College in Moraga, just outside of Oakland, on Nov. 11 put an end to this recruiting madness, a process held up by COVID-19 restrictions.
Those restrictions included travel, NCAA bans, plus a few other hurdles to clear for a batch of 2021 senior class of high school student-athletes.
"It (COVID) blocked the summer," said Cabral. "I had all kinds of trips planned. Most likely, I would've gotten recruited more."
Then, she said, the NCAA granted all senior athletes from this past season an extra year of eligibility. All of a sudden, scholarship money that would've been devoted to this year's incoming freshmen were given to last season's seniors who chose to return.
"I got lucky," said Cabral. "St. Mary's had a few spots still open. They started talking to me in January of my junior year."
Though she was planning her first trip to the Bay Area campus in coming weeks, Cabral had plenty of Zoom meetings with St. Mary's softball coaches.
"I woke up one morning in July," said Cabral, "and said, 'I wanna be a Gael.' I told them in July."
(A Gael is a member of the Gaelic race.) St. Mary's is getting a dedicated player.
It's a staggering number, 400 games, that Cabral said she'll play in a single calendar year. "I've played seven games in one day," she said.
"During the summer, there are tournaments that last from Monday through Sunday. That's 10, 12, 14 games. You're constantly playing games."
Connecting to a college, limited through COVID-19 rules plus normal NCAA restrictions, might've seemed a little tough. "They can't talk to me," said Cabral, "but you know I'm on their radar. You can go to their camps, there's email, but you never knew if they liked you. They couldn't call you."
St. Mary's, a school that liked her well enough, costs over $70,000 in yearly tuition. Cabral's scholarship will eat up a little over half that amount, she said.
"Academics really saved me," she said, noting that a huge chunk of her frosh season will be non-athletic funding. If there's a prep ball schedule this spring, Cabral will be a fourth-year Varsity player, though not under longtime coach Brandon Ford, who has shifted his skills to nearby Redlands East Valley.
"If I could've taken her as a seventh-grader, I would have," said Ford, whose roster also included Cabral's half-sister, Monica Pasillas, a 2015 graduate who hit .451, a school record .578, and .512 after a frosh season at .280.
"She was always hanging around the team, with Monica." Pasillas, incidentally, wound up at legendary Arizona under longtime coach Mike Candrea.
"They wore the same number," said Ford, referring to jersey No. 7.
By comparison, Cabral's three-year Varsity totals come out to .325 over 73 games.
When NCAA officials granted 2020 college seniors an extra season of eligibility, a sudden wall in recruiting the 2021 high school class hit hard — all sports, in fact.
Don't overlook all that extra work some players do, Cabral says.
"Some people don't take it that serious," Cabral noted, referring both to softball and academic workload. "You're constantly working on your game. I don't want to say that anyone can throw a ball, but if you're serious about playing in college, staying on your academics only helps your chances.
"My parents made that happen. It was always grades first."