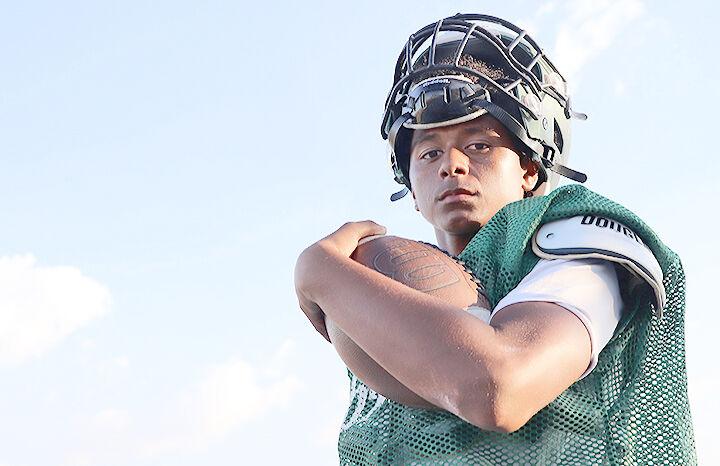 BANNING — Thirty minutes before a recent Banning High football practice, Marquis Vaughn sits in the Bronco team room with his legs draped over a bench.  
The sophomore quarterback watches video and listens intently to his 83-year-old coach John Tyree explain his offense. It is an offense that has helped Tyree win 229 high school games and two section titles during his iconic career.    
"He's a little bitty bleep, isn't he?" Redlands resident Tyree says of Vaughn. "He's only 15 and he's got my paycheck in his hand."  
Vaughn is also deaf in one ear and has profound to severe hearing loss in the other. He excels in part by reading lips and with the help of an interpreter when in school.   
"We noticed when he was about six months old," his mother Darlene Stewart says. "We ran the vacuum near him, and he had no reaction. We knew something was off."  
Vaughn more than gets by. He has a 4.0 grade-point average in regular classes at Banning and starts in football as a quarterback and safety. He also plays baseball.  
"The kids respect his ability and intelligence," Tyree says. And he has an awfully good arm."   
Deaf Awareness
September is Deafness Awareness Month. Vaughn is someone to celebrate. He has a hand in all four touchdowns this season for the Broncos.  
The 5-foot-8, 163-pound player has intercepted two passes and run them back for touchdowns, thrown for a touchdown and rushed for another.  
"I like football because it's fun," Vaughn said. "I have a lot of support from my mom and dad and my family. I know that they believe in me."  
The Broncos also have their QB's back. During calisthenics Beaumont does a clapping routine. When Vaughn doesn't immediately catch on, receiver Kamar Grandberry (Tyree calls him "Gooseberry") jogs over and tutors him.
Determination
That Vaughn attends Banning is surprising. California School for the Deaf-Riverside which attracted national attention last season for its stellar football team is only about 30 miles away.  But there is a reason why he wears Banning green.  
"We never treated him any different than the other kids," Darlene Stewart says. "We kept him in general education because we wanted him to keep speaking and not just do sign language."  
Said Vaughn, "I read lips and I work hard to not let my deafness stop me."  
Tyree patrols practice in tan chinos, a green shirt, and a Banning ballcap. He is a native Oklahoman who once broke his neck riding a bull on a dare. He also races Porches.  
As the Broncos prepare for their rivalry game with Beaumont, Tyree is in his element.     
"Let's go Left Twins 21 Lion," says the coach, calling out a play.
Vaughn darts left and deftly pitches the ball to a running back.  
"Pretty damned good," Tyree chirps. "A lot better than yesterday."  
He's a winner
Dark clouds gather on Friday night. Rain falls.  
"Dog, we should have brought an umbrella," one Beaumont student says to another. The moisture and wind make each play an adventure for Banning. They trail Beaumont by 23 points after one quarter and lose 64-0. The highlight for Vaughn is a first-down pass to Salomon Nicolas.  
Vaughn is a young teen with limited hearing who starts at quarterback, earns high marks in school, and is respected by his teammates. Arguably he won before he stepped on the field.