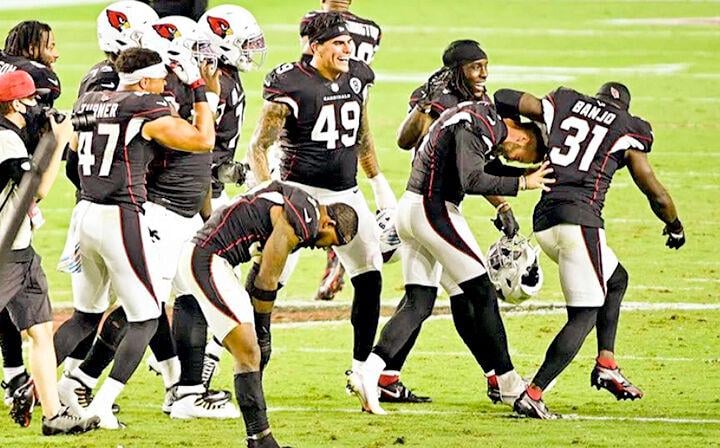 SPORT NOTES: Aranda has Baylor at 1-2 … Phillips speaks up after Miami win … Pruett goes down in second round speed duel … Ex-Blackhawk heads for Humboldt State.
Kylie Fitts was spotted on the field during Arizona's Sunday Night Football game last weekend. Still playing backup outside linebacker to Haason Reddick, Fitts had a few appearances spelling the fourth-year pro.
Arizona, playing in perhaps pro football's deepest division in the NFC West, handed Seattle its first loss of the season, 37-34, in an overtime win Sunday night.
It was an unlikely win at State Farm Stadium in a game the Cardinals never led until Zane Gonzalez' 48-yard field goal went through the uprights with 20 seconds left in the extra period.
Fitts' contributions were limited to just a few plays. Now in his second season after getting drafted by Chicago last season, Fitts has played mostly special teams in 2020.
COLLEGE FOOTBALL
Jaelan Phillips got plenty of chances to take his shots against Virginia in last week's Atlantic Coast Conference duel last week.
"It's one of the first games of the season we've had that went down to the wire," said the onetime Redlands East Valley defensive end/linebacker who had seven tackles in No. 11 Miami's 19-14 win over the Cavaliers. The Hurricanes have won five out of six games, dropping Virginia to 1-4.
Cavaliers' QB Brennan Armstrong, who threw for 181 yards with two TDs against the Hurricanes' defense, was sacked just once. But he was dodging Miami defenders throughout the game.
Phillips, who did a three-minute post-game interview afterward, noted that Armstrong was elusive, leaving Miami with plenty of chances.
"When you can't produce (tackles for losses) and sacks, you've got to rely on the rest of your team to step up," said Phillips.
There were just two tackles for lost yards, no interceptions and Miami recovered a fumble.
Starting safety Amari Carter had been knocked out of the game earlier.
It's a next-man-up mentality, said Phillips, whose team played in a steady rain during the game in Southern Florida.
"Amari getting knocked out, the rain starting to come down," he said, "are things you can't control."
Phillips had four solo hits against Virginia. Miami's next game is Nov. 6 against North Carolina State.