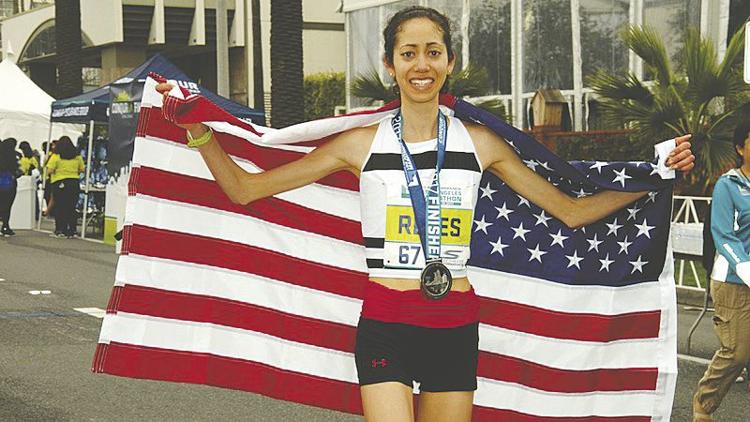 Now that the 37th annual A Run Through Redlands is on tap for March 1, there's a little matter of last year's championship champ.
Defending women's 10K champion Joanna Reyes, a medical school graduate from nearby Loma Linda University, has won at least twice. Not only did she beat all comers in last year's 6.2-mile race, but the San Jose State product failed to crack her own event mark of 35:15.
Last year, she won in 36:14. Russ Huston, one of the race organizers, might have the answer for that 49-second discrepancy.
"I changed the course last year," he said, re-routing it from its longtime Redlands Boulevard starting point to spot by the historical post office on Brookside Avenue.
For Reyes, however, there will be no third time, especially since she's moved back to her home area, San Jose.
In other words, Reyes has two course records — the old and the new.
A Run Through Redlands, around since 1983, has been opened to hundreds of runners of all ages, trekking over the additional Redlands courses — 5K, 10K, half-marathon — that includes mostly scenic Redlands sites.
It's a race for everyone, from the most inexperienced runner to various elite racers.
Southern California Roadrunners coach Mike Leong, a 61-year-old whose presence in distance running has been felt for several years, will turn loose plenty of his youth club squad on this year's field.
"Ever since the race stopped giving age-group medals," said Leong, "the quality of runners has gone down the past few years. The depth (of competition) has gone down."
While the race still attracts plenty of runners, Leong's claim that "it's just dropped to a fun run. Ever since that happened, I have a hard time sending my runners there." Said Reyes: "It's definitely more of a fun run. There are too many people, a lot of families out there."
Leong and Reyes both agreed that it gets in the way of competitive runners.
Said Leong: "They use to give the winners $100 gift certificates, but they don't do that any more. Everyone in the race gets a medal."
Plenty of others show up — for the sights, tradition, participating in a community event that's on a mission to raise money for charities.
Those sights include Smiley Park, near the hospital, streets like Olive, Brookside, Smiley Heights, finishing at the multiple-seat Redlands Bowl with the Lincoln Memorial Shrine as a backdrop.
"I enjoyed running through all the neighborhoods," said Reyes, "running past all the big houses and mansions."
Reyes used Redlands as prep
Last year's Redlands women's 10K finish wasn't even close. Reyes, 26, an elite marathon runner who has already qualified for this year's Olympic marathon trials for the Tokyo Summer Games, graduated last spring from Loma Linda University's School of Pharmacy.
Reyes may have reflected the normal sentiment for most Redlands runners, saying, "The downhills were great, but the uphills were tough. It's a challenging race."
Reflecting on her breakthrough in racing, Reyes was the top USA female finisher at the 2017 Los Angeles Marathon "with a 13-minute improvement in seven months."
Reyes' Olympic goal, she said, "is to place in the top three at the Olympic marathon trials." Such a finish would place her on Team USA for Tokyo. The trials will be held on Feb. 29 in Atlanta.
After racing at San Jose Piedmont Hills High School, Reyes competed collegiately at San Jose City College before transferring to San Jose State, eventually showing up at LLUMC.
Running an average 80 miles a week, Reyes said, "each year, on average I run two full marathons (26 miles and 365 yards), three half-marathons and six shorter races" — 5K or 10K distances.
She is, perhaps, one of the most elite runners in A Run Through Redlands history, having raced at both the Boston Marathon and Sendai (Japan) International Half Marathon last May.
"I found the Redlands race online," she said, referring to 2018. "I needed a race to train for the L.A. Marathon, which was two weeks later."
Local dominance
As for the Roadrunners, consider than Leong's had runners win at Redlands "for at least the past 20 years."
Current Citrus Valley High School distance coach Graciela Padilla Leong, his wife, has won a couple times. Other champions have included Jayme Ambos, Christina Jimenez and last year's girls 5K champ, Alura Markow.
Don't forget multiple champion Claire Graves, a Citrus Valley legend.
Markow, a Roadrunner who attended Redlands Grove, took eighth in last fall's state cross country finals after transferring to Dana Hills High School.
As for the boys, last year's men's 5K champion, Alex Miller, was part of Redlands East Valley's cross country team that reached state.
Throw in Jose Gonzales, a long-ago Rialto High distance champion.
"It used to be that some high school coaches wouldn't let their kids run (in A Run Through Redlands)," said Leong, "because they'd hold it in April. It was too close to league finals.
"When they moved the race up, that's when the high school runners could run."
Another past winner has been Andrea Johnson, REV's longtime distance-running coach.
It might be awhile before Redlands attracts another elite runner like Reyes.
"Last year," she said, "I started running faster, but I didn't feel the pain.
At about mile two, or 2 ½, I was running with two other guys. I just said to myself, 'I've got to stay with them. I can't lose them.' "
At the finish, Reyes beat all 10K runners, male and female.
All those friends on the course, or simply watching the event — not unlike plenty of other participants — "just motivated me even more," said Reyes.
LAST YEAR
Men's 5K
Miller, of Loma Linda, outraced Apple Valley's Aidan Sturtivant by over a minute, winning in 17:09. Redlands' Ivan Wawelo was third in 18:56. The 1-2 finishers are both Roadrunners.
Women's 5K
More Roadrunners in this group: Markow prevailed in 19:14, 50 ticks ahead of Forest Falls' Heidi Esh with Yucaipa's Katie Hornung a few seconds behind in third place.
Men's half-marathon
Needles' Greg Hale was two seconds short of beating runner-up Alex Kyranakis by 12 full minutes, claiming the victory in an hour, 17 minutes and 34 seconds. Highland's Shiloh Sanders ran third (1:31.47).
Women's half-marathon
Loma Linda's Juliette Personius completed that 13.1-mile course in 1:34.31, beating an out-of-towner, Chico's Mary Smith (1:38) and Redlands' Leila Khazaeni (1:38.22).
Men's 10K
Banning's Jacob Potter (36:53) won by a 2:17 cushion, Loma Linda's Peter Reim in second, 30 ticks ahead of Redlands' Todd Rau.
Women's 10K
Reyes beat Kelsey Gormley of Yucaipa, while Redlands' Lisa Chase was nearly nine minutes behind Reyes in third place.
There are, said Reyes, little mental tricks along the way. "I lie to myself," she said. "I tell myself, 'this hill's going to end at the corner … but when I get there, it keeps going.' "
Footnote: Reyes, the female 10K champion, outran the men's champ, Potter, by 39 seconds.
A Run Through Redlands
Early registration fees: 5k race – $35. 10k – $40. Half-marathon – $70. Available until midnight Tuesday, Feb. 25. T-shirt guaranteed for 5k and 10k. Half-marathon tech shirt guaranteed only through midnight Feb. 20. After that deadline, prices increase by $5. Registration on the day of the races increase another $5. There are no refunds.
To register online: Visit register.chronotrack.com/r/52682
To register by mail: Forms available on redlandsrun.com/redlands-run-registration/. Registration and T-shirt pickup is at the Redlands Mall underground parking lot on the weekend of the event.
Every finisher gets a medal.
Kinder Dash: Walking and running on a 50-yard course with parent interaction on the sideline for children up to 6 from 9:30 to 10 a.m. in front of the Lincoln Memorial Shrine. Medals provided to every paid participant.