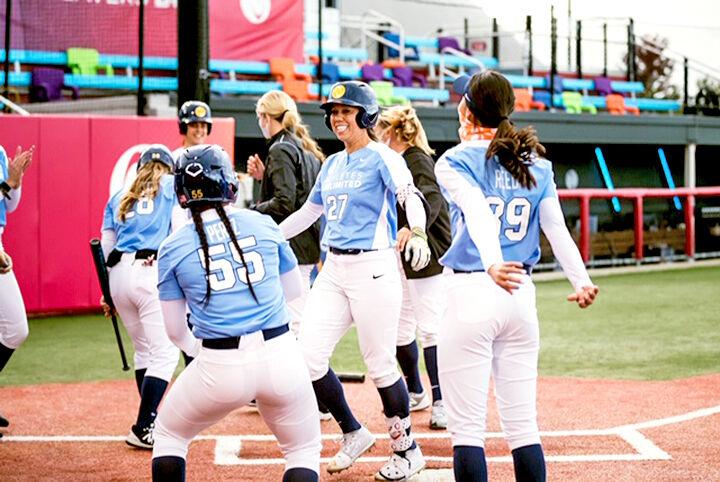 SPORT NOTES: Fitts playing behind NFL All-Pro … Phillips, Miami takes on Lawrence, Clemson this week … Updates on Graves, Carpentier and D'Arcy.
Sahvanna Jaquish homered once, twice … make that six times during a recent high-octane softball tournament. High-octane, that is, including plenty of power hitting.
Jaquish smacked nine out of the park while playing among some of this nation's top softball players.
On the final day of the Athletes Unlimited Softball season, Jaquish's Team Piancastelli overcame a seven-run deficit to post a 9-8 win at Parkway Bank Sports Complex.
The occasion was the final weekend of the season — play will resume in August — in a gathering of this nation's top players assembled in Rosemont, Ill.
It was Jaquish's three-run blast in a fourth-inning burst that started the comeback. Jaquish, a Redlands East Valley High product, eventually tied for the league lead with nine home runs.
The slugging deadlock came with teammate Erika Piancastelli. A friendly rivalry, perhaps?
"Probably not for her, but I wasn't going to let her do that by herself," Jaquish said. "I respect Erika Piancastelli 1,000 times over. She has been one of my friends since McNeese and Louisiana.
"She's just a great captain, and I think we can all attest to that. She is genuinely rooting for you every single time."
Earlier in the season, Jaquish put on a power display that included three home runs over a two-game span against legendary left-handed pitcher Cat Osterman.
Osterman has plenty of collegiate, Olympic and professional accolades to last a lifetime, including a gold medal at the 2004 Athens Games.
Jaquish, meanwhile, barely missed making the roster for Team USA's Olympic roster. Jaquish, a multiple All-American catcher-third baseman at Louisiana State, was named MVP of that tournament played in September. One of her home runs off Osterman gave Team Hayward a 3-1 lead in an eventual 4-1 win in Rosemont.
That turned into Osterman's first loss after winning seven straight games.
"I'm just being aggressive," said Jaquish, who earned 40 MVP points for each homer and another 10 when she was hit by a pitch. "She (Osterman) is a great competitor, like (teammate Hayley Wagner) was saying. So it's a battle every time I step in the box against her. Just being aggressive and trusting myself."
Jaquish, an All-CIF player at REV, wound up hitting .432 in tournament play.
NFL REPORT
It's awfully tough to see much playing time when All-Pro defensive end Chandler Jones is on the field.
That's exactly what former Redlands East Valley High School star defender Kylie Fitts faces in hoping for getting on the field for a team making a serious bid for the NFL playoffs in 2020.
Fitts' Arizona Cardinals lost their first game this season, 30-26, to the Detroit Lions last weekend. Fitts did not pick up any play on defense.
Instead, Jones racked up three hits in Arizona's loss.
Jones, a Syracuse product, was plucked from New England after the 2016 season.
Here's who Fitts must beat out for a spot at left defensive end:
Jones is a three-time Pro Bowl selection (2015, 2017, 2019) and a two-time first-team All-Pro in 2017 and 2019 — one of six players to earn multiple All-Pro selections over the past three seasons.
He was an All-Decade selection (2010-2019) by Pro Football's Hall of Fame committee, a 48-member panel — 96 career QB sacks, 27 forced fumbles, eight fumble recoveries, an interception and 25 passed defensed.
Throw in 66 tackles for lost yardage and 17 forced fumbles during that span.
Those 96 sacks, incidentally, are tops in the NFL since he entered the league in 2012.
COLLEGE FOOTBALL
Can the full force fury of a hurricane tame a top-ranked Tiger?
A spot in a national championship is on the line if they can.
This is the libretto that surrounds Saturday night's showdown between top-ranked Clemson University, hosting the University of Miami — ranked ninth in the AP Top 25 football poll.
Redlands East Valley product Jaelan Phillips, a five-star recruit in 2017, is a pass-rushing specialist at Miami, perhaps making his way toward Tigers' QB Trevor Lawrence.
Phillips, who transferred to Miami from UCLA, has been part of the Hurricanes' defense in a 3-0 start to the 2020 season — if he plays.
Phillips was part of a raging defensive effort in Miami's Sept. 26 win over Florida State, 52-10, In that game, the Hurricanes' defense put together a goal-line stand on Florida State's opening drive, holding the Seminoles to a field goal. Late in the first half, Phillips intercepted a frantic Jordan Travis pass thrown under heavy pressure.
Phillips and Curvan Hall were disqualified from that game, Phillips after a pair of emotional unsportsmanlike conduct penalties. It's not clear if he will be unable to play against Clemson, though Phillips was not flagged for targeting.
Hurricanes' head coach Manny Diaz even commented on Phillips' plays.
"Jaelan had two unsportsmanlike conduct penalties, one after his amazing play on the interception and then another one later on.
"We said, 'Listen, once you have one, another one disqualifies you.' He felt awful about it. I think it's a great teaching lesson, not just for Jaelan, but for everyone else on the roster."
The Tigers are coming off a win last weekend against Virginia.
That game is scheduled for a 5 p.m. (PDT) kickoff.
COLLEGE SWIMMING
At the Western Athletic Conference championships in Houston last spring, Autumn D'Arcy emerged with the following season totals: A total of 25 NCAA Division 1 first place finishes, a school record, three-time WAC Swimmer of the Week honors, plus WAC titles in the 200-IM, 100 and 200-fly, plus a leg of the 4 x 100 freestyle relay.
D'Arcy, a former CIF-Southern Section champion at Redlands East Valley High School, wound up as the highest-scoring swimmer at the meet.
She'll compete at this year's U.S. Olympic Trials (June 21-28).
Her sophomore season nearly complete, D'Arcy has 45 career individual wins and should wind up with the school record of 59 sometime next season.
Until COVID-19 hit, shutting down all collegiate sports, D'Arcy was set to swim at the March 11 National Invitational Championships.
COLLEGE BASEBALL
Catcher Michael Carpentier, who spent his freshman season at Citrus Valley High School before transferring to Yucaipa for his remaining years, left Arizona State last fall, winding up on the roster at California Baptist University-Riverside.
CBU is now a transitioning NCAA Division I program.
The Lancers have a few Citrus Belt League players on their roster besides Carpentier, whose former Yucaipa High teammates — infielder Joseph Lomeli and outfielder Julian Alvarez — are CBU's squad. That trio was part of Yucaipa's CIF Division 2 championship in 2018.
Redlands East Valley products Damon Keith and Ryan Silva are also on CBU's roster. The Lancers were off to a 6-5 start this season.
Carpentier, incidentally, was a 30th round draft pick by Tampa Bay, choosing instead to play collegiately. He originally committed to Arizona State but, according to reports, left Tempe last year for CBU.
Before last season shut down, the Lancers were 7-8.
COLLEGE TRACK & FIELD
Red-shirt sophomore Claire Graves took eighth in the women's 10,000-meter and 14th in the 5000 at the Mountain West Conference championships, the indoor finals taking place in Clovis, Calif. earlier this year.
Graves, a 2017 Citrus Valley High graduate, is a three-time top 10 finisher at the California state cross-country championships.