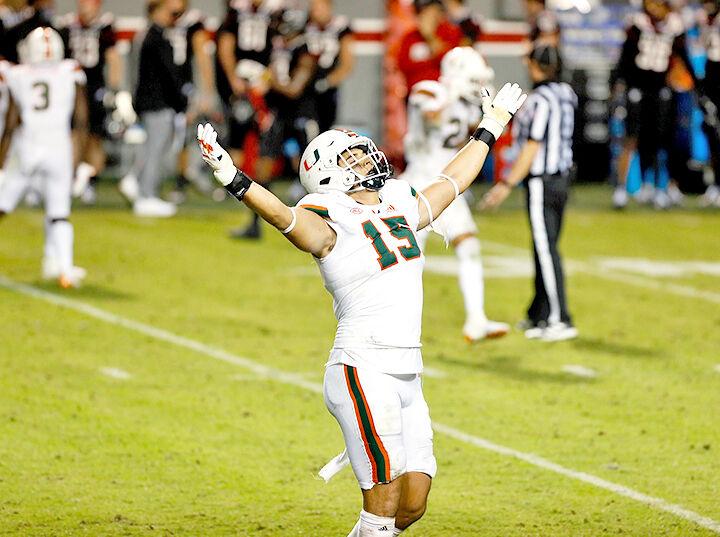 END ZONE NOTES: Phillips, Holiness show up on winning sidelines last weekend … Nationally-ranked BYU-Boise State hoists plenty of locals … Daniels & Co. falls one short against USC … Moi family still football active.
It was an Atlantic Coast Conference shootout when 11th-ranked University of Miami survived a 41-point onslaught by North Carolina State last Friday night. Former Redlands East Valley star Jaelan Phillips, playing left defensive end for Miami, was part of the Hurricanes' attack trying to slow up the Wolfpack offense. They did, barely, winning 44-41.
"Our mentality," said Phillips, "is always to never give up, always be tenacious and play together as a team. I think it was an incredible challenged for us as a defense to stay together.
"When things start to — I don't want to say fall apart — but, when things kind of start to slip a little bit and you lose some yards and some big plays, it's easy to kind of get disbanded."
Phillips has been a force all season.
While racking up huge tackle totals during his REV days, he had team-high 10 tackles against N.C. State, also breaking up a pass.
His total output for the game was six tackles for lost yards, two QB sacks, three QB hurries and a pass break-up.
Phillips sacked Wolfpack QB Bailey Hockman late in the second quarter. It forced a Wolfpack field goal attempt, the Hurricanes watching their lead shrink to 21-17 at the time.
ESPN play-by-play announcer Jason Benneti made the call: "Hockman is sacked, dropped. Jaelan Phillips … the UCLA transfer."
Said color analyst Andre Ware, the 1989 Heisman Trophy winner from Houston on Phillips: "A really good-looking athlete, 6-5, 266. We talked about the two (defensive) ends, he's able to come inside of a nice little game with the defensive tackle … able to come underneath and he's able to get himself home."
In the final minutes of the half, Phillips was flagged for unsportsmanlike conduct on a questionable foul.
ESPN rules expert Matt Austin said, "I didn't see anything wrong. It looks like he tried to jab the ball out. I don't think it was a punch or a slap or anything like that.
"I would just get in there and talk to the player."
With the Hurricanes trailing 41-37 in the fourth quarter, Phillips (7 assists, 3 solo hits) was part of a third down stop that led to a final Miami possession with 3:51 left.
"You've got to play every play and play the next play. Things happen when they're supposed to happen," Phillips said. "As long as you give fanatical effort, we say [the] ball doesn't lie."
Miami, ranked No. 9 in CFP rankings (No. 9, Associated Press) pulled off the victory when QB D'Eriq King, who totaled 535 yards, connected on a 54-yard TD pass with 2:51 left.
Phillips' Hurricanes' defense held on from there.
Up next for Miami: Saturday at Virginia Tech, 9 a.m. PST
San Jose State remains unbeaten
Isaiah Holiness, who was part of some special teams at Redlands East Valley High School, has joined an unbeaten college team.
San Jose State improved to 3-0 off a 28-17 upset win over San Diego State in Carson last Friday night.
Holiness, who had a hand in the Spartans' win over New Mexico State the previous weekend, started at wide receiver but did not catch a pass from either Nick Nash or Nick Starkel.
San Diego State's Jelani Whitmore (Rialto Carter) did not play for the Aztecs.
BYU-at-Boise State had local flavor
Aaron Goldsmith and Petris Papadakis, appearing on Fox Sports 1 Network in the call of Friday night's game, watched ninth-ranked BYU knock off No. 21 Boise State, 51-17 on the Mustangs' blue turf field.
BYU, which shot up to No. 6 (No. 8, Associated Press) in this week's CFP rankings, had a trio of Fontana players, including RB Tyler Allgeier (Kaiser), starting cornerback Chris Wilcox (Eastvale Roosevelt) and defensive tackle Freddy Livai (AB Miller).
Allgeier burst to an 86-yard TD run on the Cougars' opening series, totaling 137 yards rushing on 14 carries.
Wilcox had two tackles and Livai did not see action.
Assistant head coach Ed Lamb, now in his fifth season at BYU, spent some of his formative years coaching at the University of Redlands.
Boise State's roster included four area players, two of which saw action against the Cougars.
Onetime Redlands East Valley speedster Billy Bowens, a redshirt sophomore who could be seen blocking on a few plays early, didn't catch a pass from any of the Broncos' two main QBs.
Safety Tyreque Jones, a redshirt junior from San Gorgonio, made two tackles.
Brandon Hernandez, a freshman offensive lineman from Yucaipa, did not play. Nor did Cajon's Rodney Robinson, a freshman safety.
Up next for BYU: North Alabama (Nov. 21, noon PST, ESPN3)
Moi keeps football floating
There is a Moi family member still playing football.
In this case, Jacob Moi is a freshman linebacker from Citrus Valley High School, has seen the field for the University of Texas-El Paso on a few occasions this season.
The Miners' scheduled game against Florida International University was cancelled. Scheduled to play at University of San Antonio this week, the Miners (3-3) have lost to Texas, Louisiana Tech and Charlotte this season. Jacob Moi is part of a throng of Moi football-playing family, including Jonah Moi (6-4, 240), who played at Riverside City College and Oregon during his collegiate days.
Jacob Moi racked up nearly 300 tackles during three Varsity seasons wearing a Blackhawks' uniform.
The Moi family has stepped up on the football field in recent years — Sua, Dylan, Jonah and Jacob — have made plenty of tackles on Redlands football fields over the years.
Dylan Moi, a top-tackling linebacker at REV who graduated in 2012, died in August, the result of a shooting, according to San Bernardino County Sheriff's officials.
Baylor sinks to 1-4
A trip to Ames, Iowa was in store for first-year Baylor University coach Dave Aranda, whose defensive coaching presence at LSU last year helped the Tigers to a national championship.
Aranda is a former Redlands High School player who has embarked on a collegiate coaching career that has included plenty of stops.
Iowa State's 38-31 win over the Bears, whose defense got three interceptions off Cyclones' QB Brock Purdy, plus another fumble recovery.