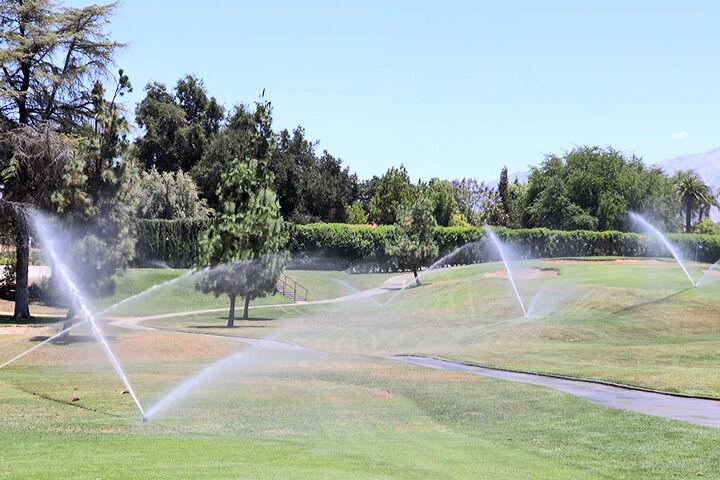 REDLANDS — Thirty men gathered at the Casa Loma Hotel in 1896 to plan the Redlands Country Club.  
By 1922 the sport was played on a "skinned-type" course of nine holes that was 2,129 yards. It had oil-sand greens and dirt fairways.  
Given the severe drought conditions now and with Gov. Gavin Newsom calling on residents to ramp up water conservation or face mandatory restrictions, could non-grass golf courses be far in the future?  
Not likely in this part of California where area courses use non-potable (non-drinking) water. But the water issue and land use are hot-button topics throughout the state, based on media reports and recent letters to the editor in the Los Angeles Times.  
"It is absurd that we subsidize a sport that requires a couple of hundred acres of green grass that needs millions of gallons of water to stay green, while the city has far too little parkland for its taxpaying citizens," wrote William Bergmann of Hollywood to The Times.  
Letter writer Randy Dreyfess of Los Angeles disagrees.  
"Green spaces, which golf courses are, benefit not only golfers; they also help clean air pollution, cool the air, improve ground water recharge, mitigate the heat-island effect, and provide critical habitat areas and passageways for wildlife."    
At the Redlands Country Club, in a high-rent area, officials side with Dreyfess.  
"You're outside," RCC course superintendent Mike Gracie said. "Golf courses are a great natural de-pollutant. I think a lot of people who don't like golf, don't understand golf. The perception is that only rich people play it, and I don't think that's true."  
The survival of golf is not paramount in the minds of all Californians. Not with water restrictions in Los Angeles County in effect that limit watering to two days a week.  
As residents' lawns turn brown and shrivel, some golf courses throughout the state have also been affected.  
In Marin County, the picturesque Meadows Club reduced its water usage in 2021. More than half the course was not watered, and portions turned brown. It is not alone.  
+++
Redlands Country Club general manager Ruben Mendoza sat behind his wood desk and told how the club built a lake in 2005 and filled it with non-potable water. The water is delivered via a pump house on the far side of the course.
"Heat effects the types of grasses we grow here," Mendoza said. "There are some burn spots depending on how short we cut the grass. We hand water some greens. We're lucky we built the lake. If not, we'd be in trouble."  
Later, course superintendent Gracie hopped in a golf cart and wound his way to the lake. Along the way, sprinklers doused parts of the course.   
There are measures that can reduce water usage at courses. They include having an efficient irrigation system (Redlands is due for a new one), using different types of grasses, and replacing some turf with low-water-use landscaping.
+++
The purple sign at the entrance to the Yucaipa Valley Golf Club proudly proclaims, "Recycled Water for Water Conservation."  
"The drought isn't affecting us too much because we use well water," golf club operations manager Scott Flowers said. "Other golf courses not using well water are being affected. Our well is on the 13th hole, 400 feet underground."
The course is mostly green, as are the Redlands Country Club and the Morongo Golf Club at Tukwet Canyon in Beaumont. The Oak Valley Golf Course of Beaumont preferred photos not be taken.  
Although some affluent golfers frequent Yucaipa Valley, regular folks do too. One is Bob Cagle of Yucaipa, a Southern California Edison employee who accompanied his 10-year-old daughter Summer.  
"I'm not rich," said Cagle, who rocked a Cleveland Guardians' baseball cap. "It's just about saving money and I guess having a decent income. I've heard the same, that it's a rich man's sport. It is a humbling sport. You have to put a lot of practice into it, which obviously costs money. But if you want to casually play it like I am today with my daughter, you can."  
+++
The Oak Valley Golf Club in Beaumont uses well water.  
"If we don't get enough rain, we use more well water," said general manager Eric Chen.  
Across town at the Morongo Golf Club at Tukwet Canyon, nobody in charge could be reached. However, a visit to the course revealed a green expanse of grass.  
Fresh off an 18-hole round was Robert Betor of Mentone. Beads of sweat formed on Betor's brow on a cloudless, windless, 100-degree day.   
"It's a nice course," Betor said. "The greens are good, and the fairways are good. The traps are a little hard."
Betor also disputes the notion golf that golf is a rich man's sport.   
"I'm not rich," he said. "I own a pool business."  
Back at the Redlands Country Club, course superintendent Gracie has had his fill of the naysayers.   
"Golf does a lot of positive for the community," Gracie said. "I don't know what the negativity is. I think a misconception is that we waste good water.
"Well, we don't use the same water they use. Besides, if you didn't have a golf course here you would have more concrete and more houses, and what does that do for the environment?"