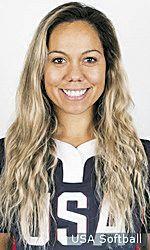 There was a moment, or two, when softball star Sahvanna Jaquish, a Redlands East Valley star softball player, had showed up as a college coach in Redlands.
She was wearing a University of La Verne uniform. An SCIAC duel between visiting La Verne and the University of Redlands in a Saturday doubleheader back on Feb. 29.
That the Lady Leopards took two out of three in a weekend series might have been related
When the COVID-19 pandemic wiped out all sports a couple weeks later, Redlands and La Verne were 1-2 in SCIAC play.
Jaquish has moved on in a big way.
Jaquish, who came within an eyelash of making the U.S. Olympic team after a brilliant career at Louisiana State University, shifted her role as an assistant coach at La Verne to the St. George, Utah-based campus.
Just glancing at Dixie (Utah) State University's softball roster might be one clue on just how much influence that was in landing a onetime star player to its coaching staff.
Randy Simkins, the Trailblazers' head coach, offered plenty of significant praise in landing Jaquish, a Highland product who played four sensational seasons at Redlands East Valley High School.
Dixie State, a onetime junior college program, is currently transitioning from NCAA Division II status to a Division I combatant. Jaquish comes in as the school loses key assistants Justin Buchanan and Maggie Christianson.
That, said Simkins, "left a big hole."
It also left an opening on the coaching staff. Jaquish, who knows the SoCal area well for recruiting purposes, landed the spot.
It's exciting, said Simkins, "to add a coach of Sahvanna's caliber to our coaching staff. Her experience as a player at the Division I and professional levels will provide tremendous knowledge and perspective to our program."
Said Jaquish: "I'm honored to be a part of a culture that already knows how to win on and off the field."
That program has a stunning collection of players from major areas that produce top-flight players — Hannah Hughbanks from Chino Hills Ayala, Ashley Jones from Phoenix Basha High, Maile Maletta from softball-rich Norco High, Lindsay Altfillish from Aliso Niguel and Shea Clements from Las Vegas Shadow Ridge, among others.
Jaquish's background as a player speaks for itself:
Four All-CIF seasons at REV.
A four-time NCAA All-American while playing catcher at third base at LSU, a first for the high-powered program.
While at the Baton Rouge campus, Jaquish set plenty of records while launching the Lady Tigers deep into the College World Series.
Playing for Team USA while a top draft selection in the National Fastpitch Pro League.
Last summer, Jaquish was on the brink of getting selected for Team USA's Olympic roster. Like another former REV star, volleyball's Krista Vansant in 2016, she made it to the final cut.
During her final appearance on Team USA, she played on the gold medal-winning squad at the SBSC World Championship, hitting two home runs and knocking in six runs.
As for Dixie State, the Trailblazers were 19-7 before its season shut down due to COVID-19.
Between 2017 and 2019, Dixie State won 42 games each season — 126-37 in that span — while playing deep into the NCAA Division II tournament.