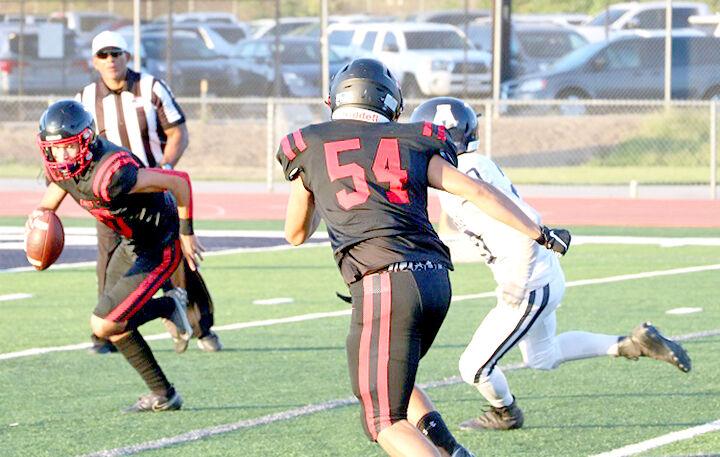 Aquinas defeats  Arrowhead Christian
Freshman running back JoJo Solis rushed for 180 yards and four touchdowns to lead Aquinas past host Arrowhead Christian Academy 55-0.
The game was played Saturday, Oct. 2 at Redlands High.
Dre Robles also had a good night for the Falcons (3-3, 1-0), passing for 213 yards and three scores.
Marco Perez rushed for 62 yards and caught four passes for 66 yards and excelled at linebacker for Aquinas.
Connor Waymire and Zachary Mendieta both contributed for Aquinas. They played their first games for Falcons after transferring from Redlands East Valley High. The seniors had to sit out five games as per section transfer rules.
The Falcons host Long Beach Poly at 7 p.m. Friday, Oct. 8, in a homecoming game. The Eagles are at Ontario Christian
Yucaipa edges Redlands 9-7
Iain Matheson returned an interception 20 yards for a touchdown late in the third quarter to help lift the Yucaipa High football team past host Redlands, 9-7. The game was played on Friday, Oct. 1.
Only a missed late field goal by Redlands kept Yucaipa (6-0 overall, 1-0 Citrus Belt League) unbeaten.
The Thunderbirds struggled offensively, but running back Emmanuel "JoJo" Barajas did rush for 101 yards.
Redlands' only score came on a 25-yard TD pass from Dawson Martinez to Julien Scarborough in the second quarter. Both Terriers  are freshmen.
Yucaipa hosts Cajon (6-0, 1-0) on Friday, Oct. 8 in a battle of unbeaten teams.
"They're athletic and have great speed and those are things we struggle with," Price said. "It's going to be a challenge. We're going to have to play 1,000 times better than we did (against Redlands)."
Beaumont defeats  Wildcats 61-21
Quarterback Christopher Cooper passed for 252 yards and five touchdowns as Beaumont won its CBL opener 61-21 against Redlands East Valley.
Anson Kraut had a big night for Beaumont with seven catches for 94 yards and two touchdowns.
Armando Cuellar rushed for 110 yards and a score for the Cougars and sophomore Christian Davis added 80 yards and two touchdowns.
Izaiah Holley paced REV with 269 total yards. The ninth-grader completed 14 of 19 passes for 146 yards. He also ran 15 times for 123 yards and two scores.
Yakim Halliburton caught five passes for 73 yards for REV.
Both teams play at 7 p.m. Friday, Oct. 8. Beaumont hosts Redlands and REV meets Citrus Valley at Redlands High.
Cajon overwhelms Blackhawks
Citrus Valley trailed Cajon by 10 points in the second half of an eventual 31-21 loss to the Cowboys.
The Blackhawks had the ball near midfield and were looking to cut into the lead when Cajon's Chris Williams recovered his second fumble of the game and sprinted 50 yards for the score to lift the Cowboys (6-0, 1-0).
Freddy Fletcher rushed for 170 yards to lead Cajon.
The Blackhawks lost three fumbles, though Jeremiah Claiborne did rush for 156 yards.
Citrus Valley meets Redlands East Valley at 7 p.m. Oct. 8 at Redlands High. Cajon is at Yucaipa (6-0, 1-0) the same night in a battle of unbeatens.