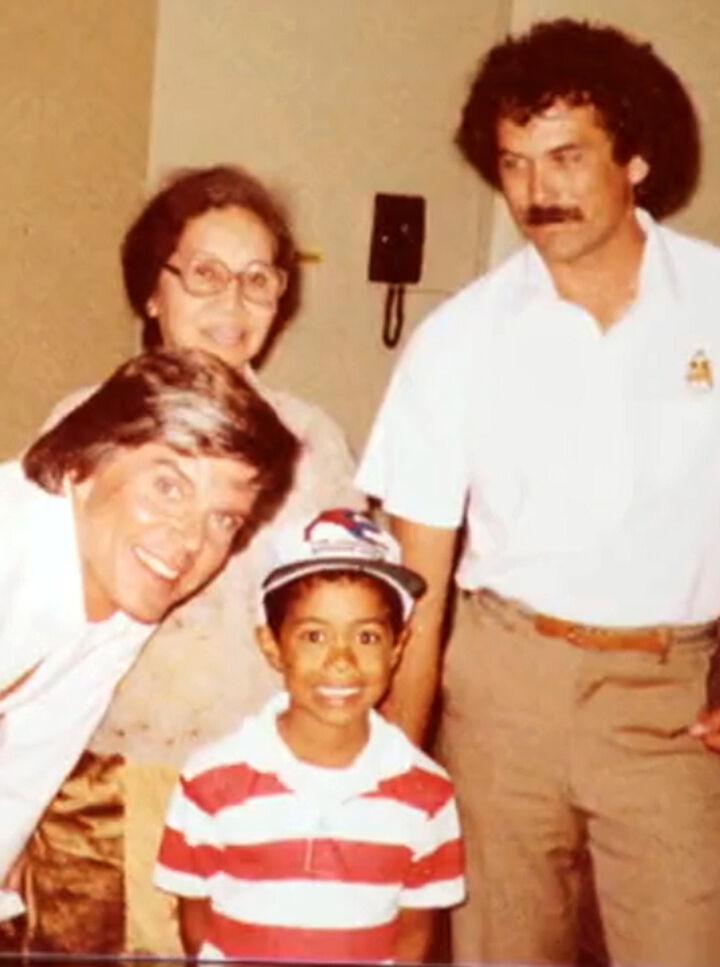 Just like magic, rare footage of a 6-year-old Tiger Woods playing a round of golf at Redlands Country Club has been unearthed.
Highlights of a nine-hole exhibition match between then-12-year-old Michele Lyford-Sine of Redlands County Club and Woods who turned 6 that day are making the rounds. The footage, recently discovered by the Golf Channel, aired on the Monday, April 4, "ET Edition of Golf Central Live From the Masters."
The masters is this week in Augusta, Georgia, and Woods is competing in it.
The decades-old footage from Dec. 30, 1981, shows an almost too-cute-for-words Woods driving, chipping, and putting, and making a difficult escape from a sand trap where the wall was wedged up against the grass.
Lyford-Sine had some trepidation approaching the match, she said by phone from Northern California where she now lives. She saw the tiny dynamo appear on the Johnny Carson Show.
"I was nervous," said Lyford-Sine, a former Redlands High star golfer. "I knew who he was. I also knew there were going to be a lot of people there and I was not looking for an audience. I didn't want to mess up."
Lyford-Sine won the showdown 51-41. Par for the course
was 35. She went on to win a section title at Redlands High and to play at Stanford, as did Woods.
"The amazing part to me is that he shot 51," Lyford-Sine said. "He couldn't hit the ball more than 100 yards."
Afterward, the group which included Woods' late father Earl, his childhood coach Rudy Duran, and Lyford-Sine celebrated. They sang "Happy Birthday" and ate cake with the young prodigy in the clubhouse.
"I've known the video tape existed for a long time because I had possession of it," Lyford-Sine said. "But I didn't share it with the Golf Channel. They discovered it while doing a project on another golfer."
The tape shows the diminutive Woods swinging chopped-down clubs and occasionally being lifted in the air by his father so he could see the ball on the fairway.
Despite his youth at the time, there was never any doubt for Lyford-Sine that Woods would become a megastar.
"I don't think I had any doubt that's where it was going to go for him," Lyford-Sine told the Golf Channel.
"He was so world class, even at 6."